This year was important for Trilogic, a company that developed the eHrana platform and merged in May with the Spanish start-up company Glovo, which is present in 22 countries and 790 cities. The beginnings of eFood date back to 2011, when three friends from high school and later the Faculty of Electrical Engineering designed a platform for online ordering and food delivery.
At this year's autumn teambuilding of SK and P2 companies, which takes place within the Startup Plus Program organized by Slovene Enterprise Fund, we were able to listen to a longer conversation with the co-founder of eHrana, Borut Markelj. Borut told us a bit more about the merger Read the interview below and find out how eHrana became part of the global Glovo story.
[Interview] From Ehrana to Glovo
Borut Markelj, eHrana, co-founder
What is an added value for the user of your services now that it has become part of the global Glovo story?
"I think more changes will happen, this deal is a Acq-hiring deal, which means that the company takes over not only all customers, users, established infrastructure, but also all employees and this is also part of the deal.
There are also two big changes, one is in the internal team and one is what will be seen in the market. For the internal team, this is always a shock and as Rok mentioned, when the M&A process starts it can be problematic. When they came to us in February to see what the team was like and whether it really was added value for them, all the employees found out what was going on.
It was problematic, especially for the team as they found out the firm was in the process of selling. From February to July, the employees had so many questions that you just can't answer. There is a lot of uncertainty here.
The changes in the market will be those key changes, because eHrana has acted as a food delivery app, and Glovo is a multicategory lifestyle app where they deliver everything, not just food. The next big thing that will happen is delivery from Tuš supermarket. In the future, there will be a very strong emphasis on groceries, courier services will also be available, and so on. This means that one day you will be able to wish for an iPhone and a Glovo person will bring it to you. "
What about the takeover itself, what was the main motive on Glovo's, your know-how, the customers, what did they look at the most?
"I used to think that in entrepreneurship, you generate income with your own knowledge, then you are left with a profit, which you invest in development and expansion. I have always been very afraid of profit. But throughout the sales process, no one even asked me about profitability, as that wasn't a metric at all. In fact, they were only interested in active users, active restaurants, couriers and the number of employees. They also saw a big asset in the employees, because time to market is very important, that you hire people who know a certain field and stay. "
Are you staying at the company despite the takeover? What will be your task and will you have any major role within Glovo?
"For now, I have accepted the role of General Manager of Glovo Slovenia. I think it is very interesting for my personal growth. It is also very interesting to get to know a company that is on steroids and growing fast. I would also like to see how this plays out and how they organize things. We will see in the future. I think that entrepreneurs always have a problem if they lose too much influence over the service in the company they created. "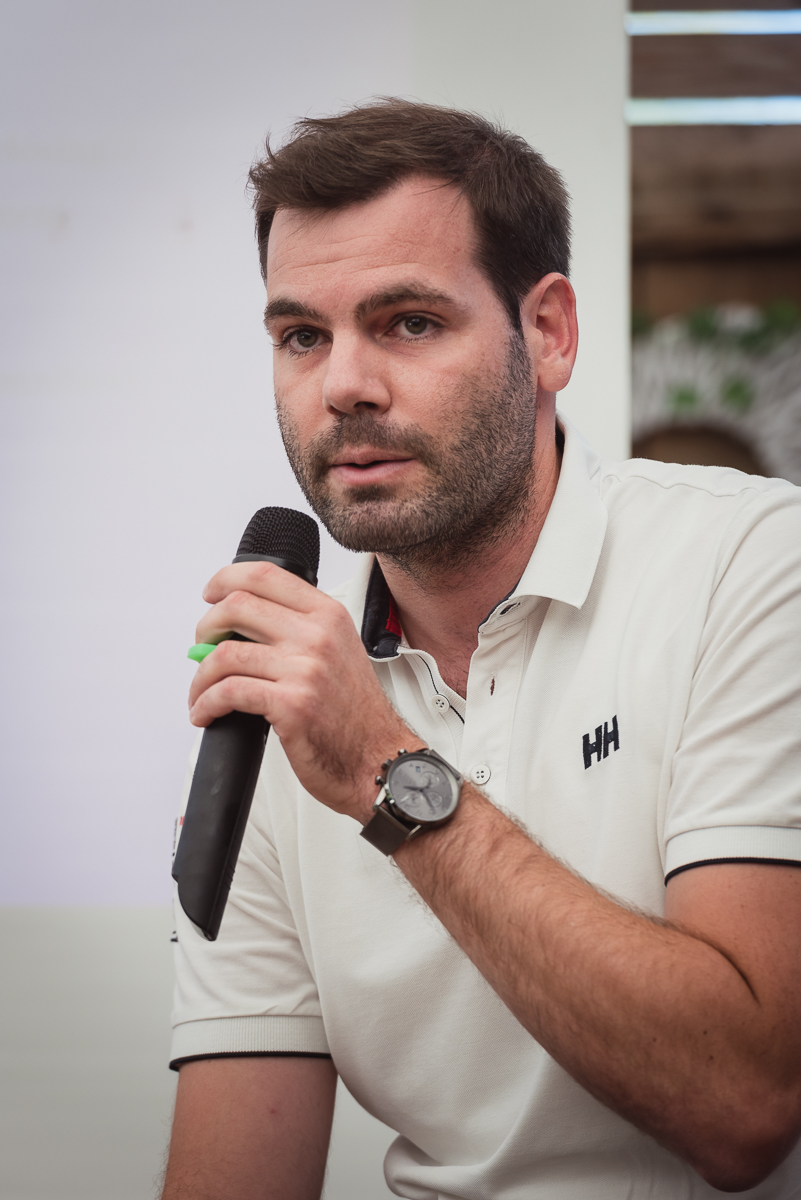 Borut Markelj, co-founder of eHrana
If we touch on the subject of your beginnings. You said in an interview, to make your path and development easier, you'd be glad to have such mentors. Can you tell us more about that?
"In the beginning, we had the feeling that we knew everything and that also seems positive to me, because if we didn't have that feeling and were so naive, maybe we wouldn't have started at all. Along the way, you realize that other entrepreneurs can also give you some advice, one you can follow immediately, and one you understand only in a couple of years, and these are the most interesting.
When we got the P2 investment to develop logistics algorithms, we signed up for a mentoring group and I soon regretted that we hadn't gotten any mentor to advise us beforehand. Most likely, a good mentor could much earlier recognize what kind of growth we can make.
I would like to comment on the name choice. We made a mindset mistake at the beginning, as we named the service eHrana. On the very first day, we limited ourselves to the Slovenian market and only to food delivery. When corona began, we wanted to try multi-category delivery, but the name prevented us from doing so. If I were to choose a name now, I would choose a catchy, international name, because you never know what will happen in 5 years."
You're probably not resting. Are you creating a new business story?
"I am not resting much now because we are in the middle of the transition from eHrana to Glovo. We have now started migrating users. The last three months have been very intense for us, there have been a lot of legal dilemmas and educating.
I haven't had time to think about a new entrepreneurial story yet, but this time will definitely come and then I will think carefully about where I will invest my time in the future."
The teambuilding program
The autumn startup teambuilding was available free of charge to all young companies that are recipients of start-up incentives P2, SK75 and SK200 or SI-SK, from the Slovene Enterprise Fund. It took place on September 9, at Orehov gaj. We got the change to listen to a program consisting of: renowned speaker and coach Dani Polajnar, the best startup company of the year, Chipolo, Beeping and Lushna, the best mentors Maja Voje and Aleš Špetič, lawyer Rok Jerovšek and co-founder of eHrana Borut Markelj.
Are you interested in how the autumn teambuilding of SK and P2 companies went? Are you interested in what the "Flashlight Leadership" is with which Outfit7 got famous? Would you like to know who are this year's best startups and best mentors? Find out more about the merger of eHrana with Glovo and learn the basic legal concepts in the field of takeovers and get advice in the field of employer and personal branding on LInkedIn.
read more about the teambuilding
###
Content support for recipients of P2, SK75 or SI-SK financial products under the "de minimis" scheme is co-financed from the Slovene Enterprise Fund and the European Union from the European Regional Development Fund. This is implemented on the basis of the Content Support for Funds Recipients (SMEs) Programme in the 2018-2023 period, under the Operational Programme for the Implementation of the European Cohesion Policy 2014-2020.

Tags
Startup
MGRT
SPS
Teambuilding
SK
P2