Startup Plus Programme
All P2 startup incentive recipients, SK75 convertible loan recipients and SI-SK co-investment recipients provided by the Slovene Enterprise Fund receive not only financial support but also valuable content support, tailored specifically to the challenges and needs of startup and scaleup companies on the path to growth.
All services are part of the newly developed #StartupPlusProgramme, which you can find under this key on all networks.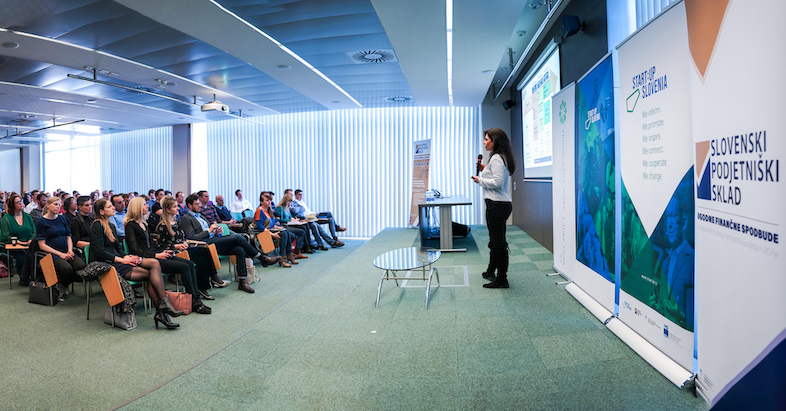 Startup Plus Programme includes:
Mentoring: 90+ reputable and experienced mentors from the ranks of entrepreneurs, investors, business executives.
Expert Council: Recipients of SK75 or SI-SK investments receive the support of the expert council, which we form and is always available to them.
SK Accelerator Programme: Seven is not just a fairy-tale number; it is a symbol of success. So following the example of the best global accelerator programmes, we will organize 7 meetings on the most current corporate topics.
Startup Clinic: This is first aid in eliminating critical risks on the entrepreneurial path.
KorpoStart: A programme for the promotion of the integration of startups and scaleups with corporations to create successful collaborative stories.
NextRound: Investment conference and DEMO Day with pitch training for connecting companies with private investors to obtain additional private equity funds from domestic and foreign business angels, venture capital funds and other investors.
PODIM Conference: This is your opportunity to attend the most influential networking event in the Alpe-Adria and Western Balkans regions with the opportunity to meet investors and corporate representatives from around the world.
Business Internationalization Programme: It is difficult to penetrate the domestic market but even harder to penetrate the foreign market. That's why you can get the support and active help of trained consultants who can increase your performance in foreign markets and accelerate your company's global growth.
Group visits to conferences abroad: Attendance at international conferences provides greater visibility for the company and opens many doors, while group appearances are often more effective.
Vertical accelerator for hardware companies: As hardware companies face particular challenges, a specialized vertical accelerator can enable them to acquire specific skills and encourage networking between businesses and other stakeholders in the industry.
Teambuilding: A one-day intensive networking event for all supported businesses will be like the cherry on the content support cake.
Networking and knowledge acquisition at conferences, a series of informal meetings, the mentoring programme, the accelerator programme and one-on-one counselling are, in addition to financial injections, our recipe for your success!
Content support for recipients of P2, SK75 or SI-SK financial products under the "de minimis" scheme is co-financed from the Slovene Enterprise Fund and the European Union from the European Regional Development Fund. This is implemented on the basis of the Content Support for Funds Recipients (SMEs) Programme in the 2018-2023 period, under the Operational Programme for the Implementation of the European Cohesion Policy 2014-2020.