The Wise up team not only impressed Slovenian students with their platform "Razturi na maturi", but also convinced the Slovenian fund Silicon Gardens, which recognized their potential and invested €100.000. You can read more about the investment, their plans and the company below.
After a lot of preparation and development, Wise up launched their online tool in March 2020. In less than a year, more than 10.000 users have registered on the platform and today more than 10% of Slovenian students are actively using is. The platform helps students solve everyday problems related to school subjects. From video content to interactive assignments, notes and webinars for maths, Slovenian and English as a second language, users can find everything in one place.
Quality content and interactive tutorials - Netflix for school
Students are extremely enthusiastic about the platform, as shown by the growing number of users. There are many reasons for it, but one of the most important is certainly the high quality content made by teachers of the main school subjects for the Slovenian matura exam.
The company tries to reach out to students through social networks such as Tik Tok and Instagram, where they offer informal education. You can browse through their Tik Tok profile here.
Lisa Mislej Vončina, co-founder of the company and teacher of English and German, said:
"In addition to the high-quality technological and content development of the platform, we want to get to know our users and offer them a holistic solution. We want to connect with Generation Z in different ways, through high schools, student clubs and student homes. We are aware that young people today spend most of their free time on social media, so we wanted to present the platform in a way that is closest to them."
The team's vision is to empower students and prepare them for adult life. Slovenian students call the platform Netflix for school, as they can access content on a monthly, three-monthly or year-round subscription basis. They can also always try the tool for free to really see for themselves what the platform has to offer.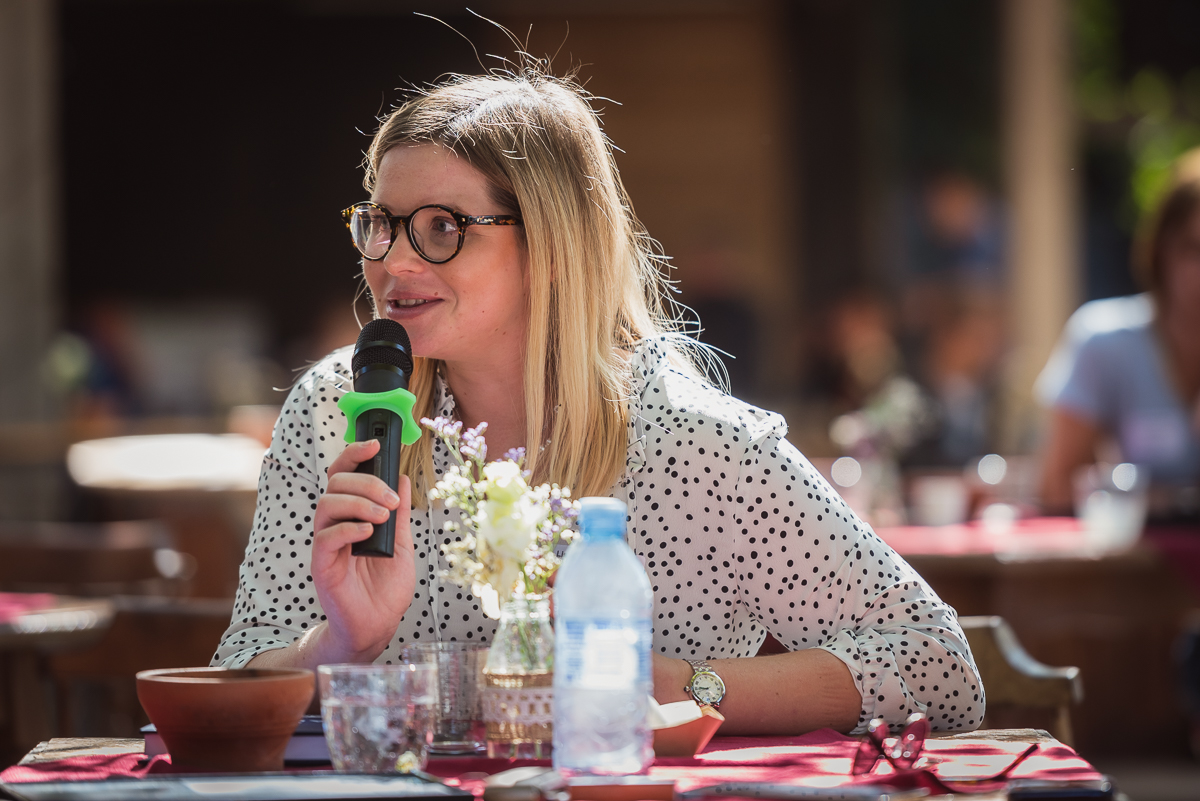 Lisa Mislej Vončina at Teambuilding 2021
Heading towards the German market with a new investment
The "Razturi na maturi" has attracted the interest and attention of a number of investors. With their energy, business model and incredible results, the founders Lisa and Luka Vončina impressed the Silicon Gardens fund, which invested €100.000 in the company, while two private investors contributed an additional €80.000.
Rok Zorko, an experienced entrepreneur, startup mentor and partner at Silicon Gardens, said:
"We decided to invest because Lisa and Luka, in addition to their excellent achievements in Slovenia, have shown the drive to penetrate the European market and because investors and founders strongly believe that Wise Up can grow into a highly successful company that will pass on knowledge for a more prosperous and happier life to millions of students around the world."
Wise up has previously received an investment from the Slovene Enterprise Fund's SK75 and was selected as the best startup at the Next Round conference. The team has also participated in numerous Startup Plus programs such as Teambuilding and the PODIM conference. In the past year, their platform has successfully partnered with the largest student organizations and clubs in Slovenia.
The investment by Silicon Gardens and two individual investors allow the team to expand into the German market, which is planned for autumn. The team will launcha platform in Germany called Wise Ed (Ed stands for education).
Lisa Mislej Vončina, co-founder of the startup, predicts that they will face their toughest challenge yet. They are already using the investment to further develop their technology and content:
" This summer has been a hard and very busy one. We will face new and increasingly difficult challenges, but I am confident that we will be able to impress the German students and others across Europe. Work is never too hard if you know you are doing a good job and helping people become even more successful and confident in school and later in life. And if you're indirectluy changing and improving the education system, there's no harm in that either."
more about "Razturi na maturi"
Congratulations and fingers crossed for the expansion into the German market!
Source: (Dnevnik, Finance and Ljubljana Technology Park).
###
Content support for recipients of P2, SK75 or SI-SK financial products under the "de minimis" scheme is co-financed from the Slovene Enterprise Fund and the European Union from the European Regional Development Fund. This is implemented on the basis of the Content Support for Funds Recipients (SMEs) Programme in the 2018-2023 period, under the Operational Programme for the Implementation of the European Cohesion Policy 2014-2020.
Tags
Startup
MGRT
SPS
Wiseup
SK75, Sillicongardens