Can you imagine what it would be like without long waiting lists and high treatment costs? Unfortunately, long queues are a real pain in our healthcare system. It is precisely in this problem that the formed Paralympian Darko Đurić and his business partner and sports therapist Grega Nahtigal saw a unique opportunity. Together, they developed the FroomCare platform, an innovative software solution that makes it quick and easy to select experty curated exercises and personalize your exercises. The potential of the platform and the positive energy of the founders have been recognized by many, as evidenced by a number of their successes, such as a first place at the hackathon, the prize at the European EIT Health call, the P2 grant and, less than a month ago, the co-investment of the Slovene Enterprise Fund in the SI-SK co-investment. On this special occasion, we also spoke to Darko about the idea, the goals, the investment and the launch of FroomCare. Interested? Read on.
FroomCare - physiotherapy app
The idea of thee FroomCare platform was born in a young company called DTs HUB, founded by para-olympian Darko Đurić and sports therapist Grega Nahtigal. Darko is considered one of the most recognizable Slovenian athletes. In the past, he has won two world titles, a European crown, two world records and two fourth places at the 2016 Paralympic Games in Rio de Janeiro.
FroomCare is essentially about digitizing physiotherapy training at home. This is because an important part of rehabilitation is home-based exercise, which is currently made known to the patient via demonstration, written or graphic instructions.
So far they have two business models, one for clinics and one for companies. For medical institutions, they have develiped a solution that allows the quick and easy selection of expertly chosen exercises and their personalization for patients who need the expert help of a phsyiotherapist for their recovery. They are solving the problem of the shortage of physiotherapists, their overload and long waiting lists.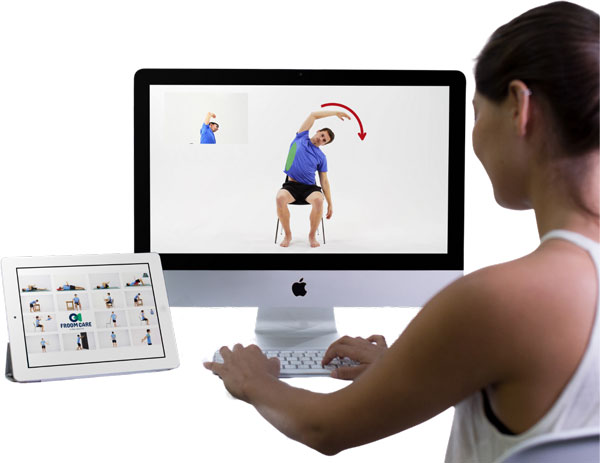 Source: (Froomcare.si)
They are also currently reaching out to companies and their HR departments. Darko told us that more and more companies are looking for solutions to ensure that employees feel as good as possible at work. They can use the amount of expertise they have and use digital solutions to provide companies quality physiotherapy and influence their wellbeing.
If you are interested in finding out more about the company and their programs, click here.
Their innovative idea has been met with a number of successes, such as winning first place in the hackathon organised by the Ljubljana University Incubator (LUI) last year and coming second at the Eurpean EIT Health Call. They also joined the P2 family of companies in 2021.
But their enviable track record did not end last year, as this year they succeeded in securing an investment from a private investor, which they successfully doubled with a call from the Slovene Enterprise Fund's SI-SK.
Read the interview below to find out more about FroomCare's origins, goals and vision, and the SI-SK investment.
"In life, do things for the good of the society, not for money"
Interview with the co-founder of FroomCare, Darko Đurić
What were your beginnings with Grega and how did you develop Froomcare from the Sporthify platform?
"FroomCare was developed from a slightly broader idea, the Sporthify platform, which we intented it to be a marketplace for athletes, offering different solutions, from nutrition, physiotherapy to training. Though it, recreational athletes could get expert support from all over the world. Then Grega and I were accepted into the Ljubljana University Incubator's pre-incubation program and applied for the hackathon. We realized that there is a growing need for this type of service in physiotherapy and healthcare. So we developed an in-house solution that we wanted to integrate into the platform and FroomCare was born. We won first place in the hackathon with it. This was the push to then apply to the European EIT Health call, where we came second and won a grant. I can proudly say that our project is one of the best-evaluated projects from Slovenia that have so far participated there. We then went on to get a P2 incentive from the Slovene Enterprise Fund. With all the funding we received, we started to build our team and develop the idea."
How did the idea come about?
"The idea was born over coffee. Grega Nahtigal was having coffee in a bar one day and was scanning a QR code to view the menu. He said to himself "If I can take a look at the menu with this, why can't I get some exercise in a similar way?" This epiphany had a key influence on the development of FroomCare."
How many are currently on the team and what are you working on at the moment?
"There are currently four of us in the company and more than 15 outside collaborators working on the project. We have a team of experts who develop the software, take care of the IT development, and we are also working on expanding the sales and marketing team.
I can say that we are at a stage where I think we will go from demo to alfa release of the software within a month, and we will be able to start reaching out to clinics and physiotherapists. We are also keep on expanding into foreign markets as soon as possible. Our neighbouring countries are interesting, especially Italy and Croatia, where we already have some connections."
How did the fuding you received from P2, the hackathon, EIT Health and, most recently, SI-SK help you?
"We are a company based on professionalism, and development requires resources. At this point, I would really like to mention P2 and EIT Health, as well as the support of LUI, which helped us prepare for the SI-SK call. These funds allow companies to have financial stability at a time when revenues don't really cover the costs. Enterpreneurial teams can focus on the development itself, which results in a successful startup and a quality product."
How would you rate the process of obtaining SI-SK in terms of complexity?
"SI-SK is a challenging process and the conditions are not so simple. We have assessed that we are suitable and that we meet the conditions. The call is very straightforward - you know exactly what you need and where you stand with the company. I would also like to thank the private investors who were willing to step in and believe in FroomCare, which confirms that we are doing a good thing. In the long run, it can lead to great business success."​
What are your goals and how can SI-SK help you?
"We are primarily looking to build on what we have already developed, but we are also trying to develop some additional solutions. In the future, we aim to penetrate foreign markets, where we will gain the necessary revenue and confirmation that we're doing something right. Our final targets are the UK, German and of course the US market."
What is a motto that you follow and what is your vision?
"Both Grega and I come from a sporting background, and we know you don't get to your destination by taking shortcuts. Since the beginning of FroomCare, our shared vision has been to reduce queues in physiotherapy through digital solutions. As an athlete myself, I have always had good physio 'support', but most of my family members have not been so lucky. For example, for a shoulder dislocation, people wait half a year. By that time, everything can go wrong. That's why Grega and I want to enable people to get back to active life as quickly as possible after an injury and I think FroomCare makes that possible."
What advice would you give to entrepreneurs embarking on a similar journey?
"STICK TO IT. I think the dynamics in the life of an entrepreneur are very intense and have a lot of ups and downs. If you want to overcome the obstacles, you have to have a clear vision of why you are doing it. Above all, my advice is not to do things for money, but to actually do something good for the society. That's the principle I live by."
thank you, Darko, for the opportunity to chat with you. good luck on your journey!
FroomCare has impressed many investors, including Jure Mikuž from South Central Ventures, who has invested in the company. We spoke to him on this special occasion.
An interesting idea and a team that knows what it's doing
Interview with Jure Mikuž, founder of the first Slovenian venture capital fund and partner at South Central Ventures
When did you first notice Darko Đurić and FroomCare and what is it that made an impression on you?
" I noticed Darko many years ago when I was involved in the creation of Vidim cilj institute. I knew about his successes, but I was not aware of the development of FroomCare. A mutual acquaintance mentioned the latter to me, and it was their idea that we meet and start discussing."
What did you recognize in FroomCare?
"An interesting idea that solved a very clearly defined problem in a relatively simple way. It was created by a team that knows what it is doing."
What was the most important element in the company's investment decision-making process and why?
"The two qualities I mentioned in the previous answer - an interesting idea and a team that knows what it is doing."
What potential do you see in the company?
"I believe it will come to life in practice, and then the options - with upgrades - are practically unlimited."
Jure, thank you for helping and supporting our startups on their journey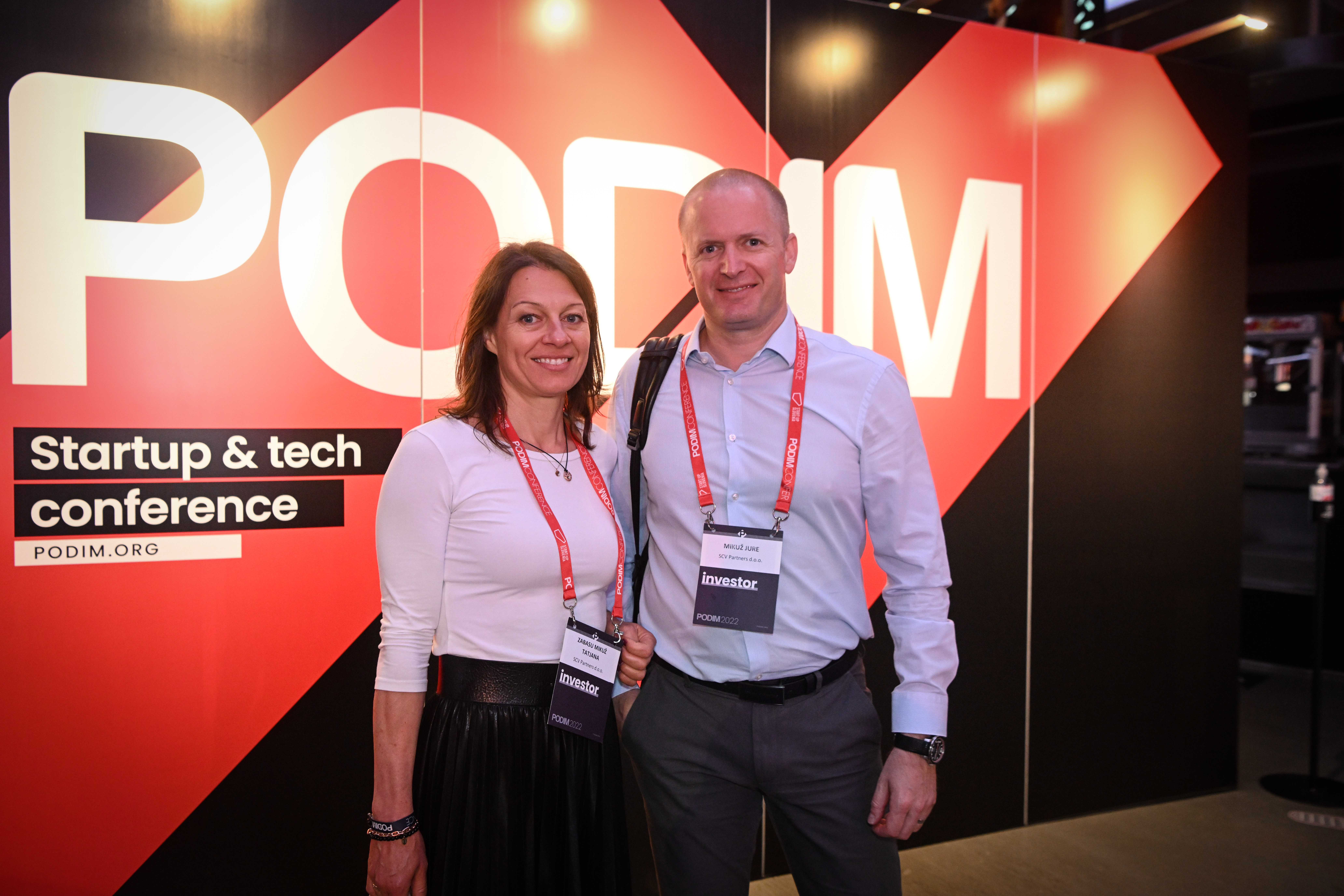 Tatjana Zabasu Mikuž and Jure Mikuž at PODIM 2022
Interested in SI-SK?
SI-SK is a co-investment mechanism between the Slovene Enterprise Fund (SEF) and other independent private investors such as business angels, private equity/VC funds or corporations. SEF and independent private investors invest in or provide equity financing for fast-growing innovative companies in the early stages of development.
"The co-investment mechanism gives the entrepreneur with higher funding and lowers the risk for the investor. They also receive additional mentoring and expert support to help them achieve their development goals efficiently", Rok Huber, Slovene Enterprise Fund
All SI-SK co-investment recipients not only receive financial support, but also valuable content support, tailored specifically to the challanges and needs of startups and scaleups on their growth journey. They can join various Startup Plus programs such as the PODIM conference, Sales Accelerator, HardwareSTART, Mentor School, etc. The DTS Hub team also attended Podim 2022.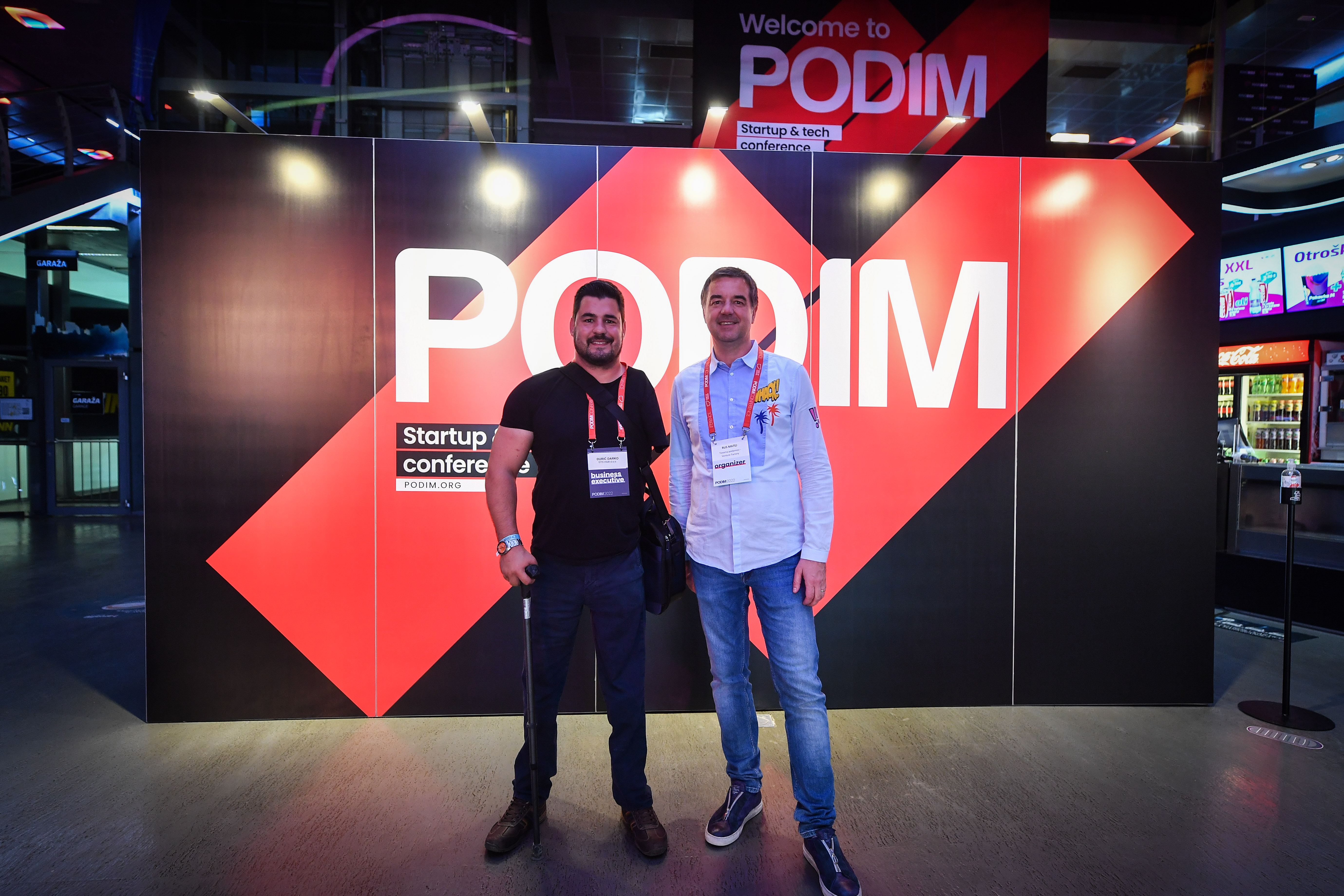 Darko Đurić and Matej Rus at PODIM 2022
There is no pre-selection process for the SI-SK call. GIRO MOBILITY, Smart Cargo, Enetra, EggMedia, Incrediscope (Padel Court), Sinecon and Oikos Housing have been some past recipients of the co-investment. You can find out more about them here.
Kakšna je višina financiranja SI-SK?
From EUR 100.000 to EUR 600.000 direct capital injection from the Slovene Enterprise Fund (for innovative companies up to EUR 1.2 million).
From EUR 100.000 up to a maximum of EUR 400.000 if the final beneficiary is established in the Central Slovenia region (*except for Borovnica, Dobrepolje, Ig, Šmartno pri Litiji and Velike Lašče, the municipality of Ankaran, the municipality of Koper and the municipality of Kranj).
SEF doubles the private investment (e.g. a private investor invests EUR 100.000 and SEF also invests EUR 100.000, under the same conditions).
​​Funding is still available in 2022, the deadlines for applying to the SI-SK call for proposals are 31.8., 30.9., 27.10., 30.11. ans 31.12.! Funds may not be available next year, so hurry up!
###
The program is co-financed from the Slovene Enterprise Fund and the European Union from the European Regional Development Fund. This is implemented on the basis of the Content Support for Funds Recipients (SMEs) Programme in the 2018-2023 period, under the Operational Programme for the Implementation of the European Cohesion Policy 2014-2020.

Tags
Slovene Enterprise Fund
Startup Plus
Fund of Funds
Ministry of Economic Development and Technology
European Regional Development Fund