Spring is just around the corner and with it the new season of funding for young innovative startups, implemented by the Slovene Enterprise Fund and available for several years now. Regardless of what stage your company is currently in, the Fund has a solution for you. There are 5 events where the Fund will present 3 fresh tenders that will not only bring money but also invaluable mentoring, the right connections and the impetus for new ventures.
Start:up Roadshow Events
Come along to the events where you will be given key information on the tenders, learn about the evaluation criteria, the pre-selection process, important dates, application deadlines and lots of tips on how to succeed in the tender process. Take advantage of the opportunity for personal consultation and check whether your idea is suitable for the tender.
Promo Event: Forum 100% Start:up - ONLINE
Ljubljana: 9 March at 13h
Dogodki po Sloveniji – V ŽIVO IN ONLINE
Maribor: 10 March at 9h at Venture Factory
Velenje: 10 March at 15h at SAŠA Incubator
Kočevje: 11 March at 9h at Kočevje Business Incubator
Nova Gorica: 11 March 11 at 15h at Primorska Technology Park
The number of participants in the events is limited so that everyone can get answers to their questions. Make sure you secure your place in time!
Develop your product/service with a grant of 54,000€
This is exactly the amount the Fund offers you under the P2 tender. It can be claimed by companies registered in Slovenia, organized in the form of s.p., d.o.o. or cooperatives, and which have (will have) registered the company in Business Register between 1 January 2020 and 15 March 2021.
An important condition for the tender is that your product is still in the development phase and not yet completed, but you have already validated it with early users.
You can find the most important information about the call in the free guide, which will also help you to determine whether your idea is suitable for the call.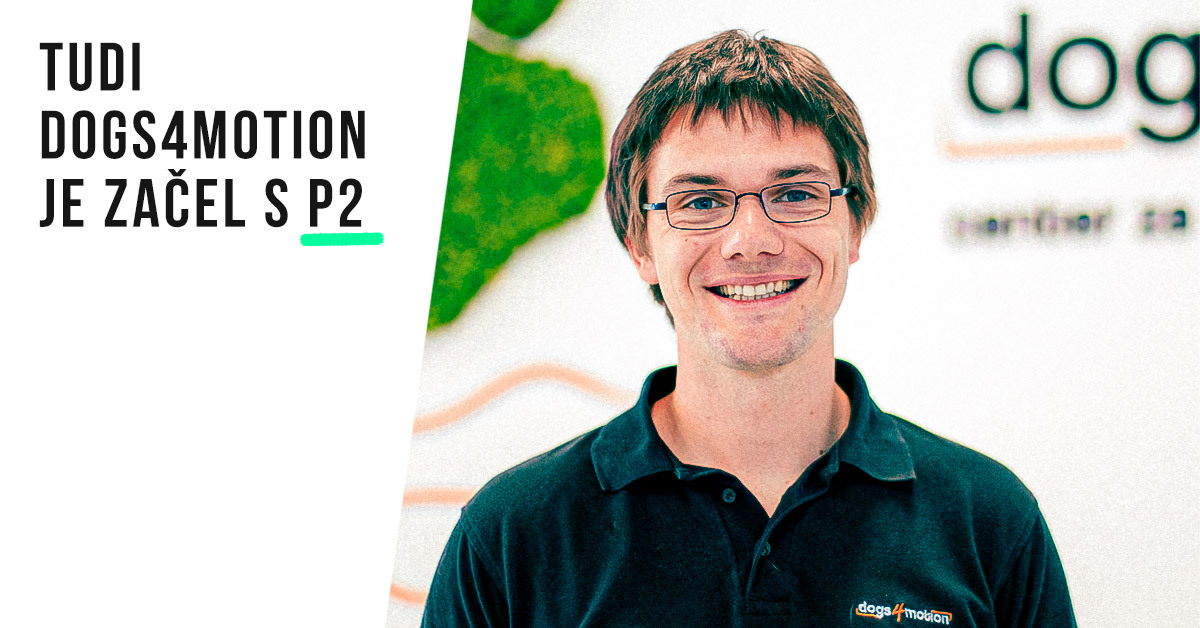 Primož Gams from startup Dogs4Motion had the following to say about P2:
»P2 gave us a significant injection of funds that allowed us to afford to invest in fixed assets. Without it, it would have taken us a very long time. Participating in the tender also brought us many connections with other entrepreneurs, mentors and support institutions. I'm really glad that P2 exists. It's a great opportunity for startup entrepreneurs. .«
Want to learn more about the tender and already know you'll be applying for funding this year? Click below to find out all about this year's pre-selection process and a timeline of key dates and events.
Get ready for growth with a 75,000€ convertible loan
The money, accompanied by extensive content support, is available to selected businesses to increase sales and expand into new markets. Unlike the P2 tender, the SK75 call is open to companies that are older than 1 year and younger than 5 years, have completed product/service development and have already tested with their first customers. This means that you are already generating your first sales.

There is also a pre-selection process for the SK75 tender, which is highly recommended as it can get you up to 40 points out of a possible 100 in the tender.

How about doubling the investment you made with a private investor?
The SI -SK tender allows you to do just that. In practice, this means that if you have already acquired EUR 100,000 with a business angel, a private/venture capital fund or an investment company, or if you are still in the negotiation phase, the Fund will transfer its EUR 100,000 to you on the same terms. A good opportunity, isn't it?
Money is only the beginning - the real leap starts with content support
Money is worth little if you don't use it wisely. The Fund is aware of this, which is why it has prepared a comprehensive program of content support for companies that are recipients of funds in the P2, SK75 and SI -SK. You can expect more than 10 specialized programs run by the best private entrepreneurs and more than 140 mentors, investors, experts and leaders of entrepreneurship programs.
##
Content support for recipients of P2, SK75 or SI-SK financial products under the "de minimis" scheme is co-financed from the Slovene Enterprise Fund and the European Union from the European Regional Development Fund. This is implemented on the basis of the Content Support for Funds Recipients (SMEs) Programme in the 2018-2023 period, under the Operational Programme for the Implementation of the European Cohesion Policy 2014-2020.

Tags
SEF
Ministry of Economic Development and Technology
European Regional Development Fund
Startup Plus Program