After winning the Slovenian hackathon on Sunday, the Yolanda team impressed the international jury last night and took first place in the fourth European CASSINI Hackathon. With their early detection solution, they beat nine winners from Belgium, Finland, France, Germany, Italy, Lithuania, Spain, and Switzerland. In addition to the prestigious title, the victory earned them 100 mentoring hours with top European experts to further develop and implement the project.
The Yolanda team consists of Blaž Jakopin, Jaša Dimič, Matic Kuselj, Žiga Vene, Klemen Lovenjak, Lucija Mohorko and Primož Jozič. The BugBit solution detects the presence of the bark beetle based on advanced satellite image analysis, enabling forest owners to take timely action and prevent damage.
From left to right: Jaša Dimič, Lucija Mohorko, Blaž Jakopin, Klemen Lovenjak and Matic Kuselj.
Convinced a prominent international jury
Their solution was the most convincing at yesterday's Demo Day, according to the distinguished international jury of Stefan Schneider, Miguel García-Cesto Romero, Silvia Pepino, Estelle Godard, and Ludovic Augé. They competed against contestants from Belgium, the Czech Republic, Finland, France, Germany, Italy, Lithuania, Spain, and Switzerland.
In addition to the prestigious title of Winner of the 4th CASSINI Hackathon, the win also earned them 100 mentoring hours with renowned European experts who will work to help them in the next steps of the project's development.
Recognition for Slovenian organizers
Yesterday's Demo Day was the final act for this year's Cassini Hackathon, supported by the European Commission. The winners of the local hackathons were selected to participate in yesterday's grand finale, which took place online.
Venture Factory (Tovarna podjemov), the organizer of the Slovenian hackathon, was highlighted by the main organizer as the one that managed to attract the most participants and give the highest number of solutions.
We at Venture Factory are delighted and proud to have stood alongside the other European organizers. I attribute this achievement to the good integration into the wider regional ecosystem, the excellent reputation of our organization, and the flawless execution of our team. All three elements result from our hard and structured work over the last 20 years. The achievement is also a good foundation for our focus on space tech, an increasingly propulsive entrepreneurial and technological sector," said Matej Rus, CEO and founder of Venture Factory.
A vast network of support
The Slovenian edition of the CASSINI Hackathon was supported by several partners, enabling a wide range of skills needed to tackle complex challenges. These include Sava Insurance Company; Poligram; Ljubljana Stock Exchange; NChain; Sinergise; Faculty of Computer and Information Science, University of Ljubljana; Science Park Graz; ESA; Noordung Center; Sežana Incubator; Faculty of Electrical Engineering and Computer Science, University of Ljubljana; Mladi podjetnik; Dostop.si; Nova Ljubljanska banka; Triglav Group; CER Sustainable Business Network Slovenia; Equito; Moja elektrarna; Reframo and Toshl.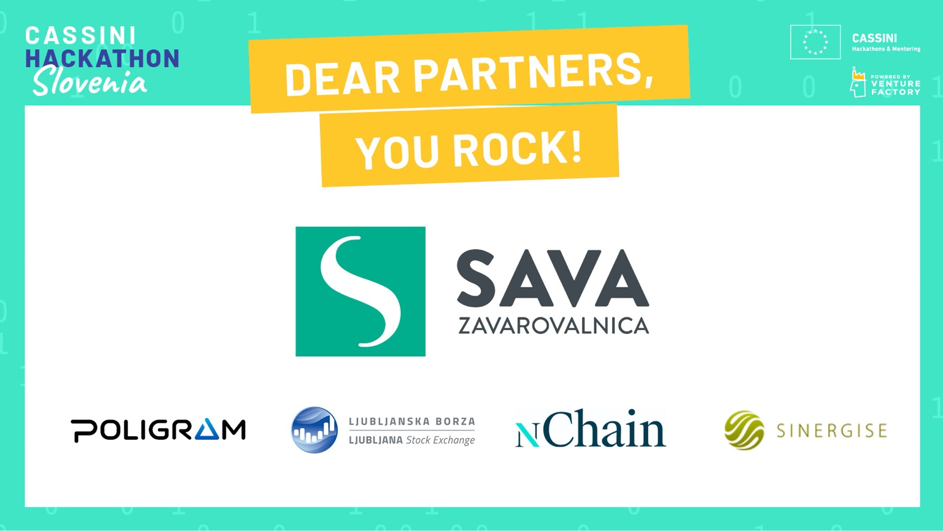 Tags
Cassini hackathon
Cassini
Hackathon