"Cooperation is key" proves its validity time and time again. This time we are talking about the successful integration of the Trbovlje business accelerator Katapult, its partner company Dewesoft and the University of Maribor's business incubator Tovarna Podjemov (eng. Venture Factory). On the last day of November, Jure Knez and Matej Rus presented their workshop Meet the Entrepreneur in You to the students of Maribor. They took the first step in cooperation that calls for more support for young people on their entrepreneurial journey and encourages them to try their hand at entrepreneurship by learning about real entrepreneurial practices.
Networking is essential to increase added value and change mindsets
"It is impossible to be great at everything you do. But you can be great in a particular area that you focus on," Jure said, owner of Katapult and co-founder of Dewesoft. Katapult's strong point is supporting startups in the development and services for physical products. They have several machines and a well-organised infrastructure, experienced mentors and useful connections.
The training package, which is called Mozaik podjetnosti (eng. Entrepreneurship Mosaic), covers all the key skills someone needs to go from a business idea to a successful company. The next logical step was to network with others and compile an experienced team. "The team at Venture Factory was the first choice and we are really happy to be working together," Jure Knez said.
For more than 20 years, the Venture Factory Business Incubator has been successfully fulfilling its mission to help innovative individuals and companies build successful businesses. Slovenia is a country of talents who need to be properly supported and empowered for their entrepreneurial journey. "Katapult, Jure Knez and his team are the best possible partners on this journey of achieving our mission," Matej said.
"There has never been a human being born, nor has there ever been an institution that could create something as big as a change in the general mindset, a change in the environment from unsupportive to supportive, an increase in added value and support for entrepreneurial individuals. To make a truly entrepreneurial Slovenia out of the current situation." Jure further underlined the importance of networking and cooperation.
There are two sides to every medal
Entrepreneurship is not just about ideas, knowledge, talent, but above all about the passion to develop something new, different, innovative. That's why entrepreneurs who have tried all aspects of entrepreneurship in practice must be involved in presenting their knowledge, skills and achievements. Jure and Matej are aiming for many more such workshops and hope to collaborate with other successful companies and stakeholders in the entrepreneurial ecosystem.
Young people are most attracted by first-hand stories that honestly and experientially present both sides of entrepreneurship - the shiny side and the less shiny side, which is often inaccessible to the public eye.
"I don't work much. I work for 8 hours and then I have hobbies. But they are very similar," Jure said with a smile on his face when Matej challenged him with a question about how much sacrifice it took to build such a successful and large company, which employs around 130 people in Slovenia alone and another 130 in 16 countries around the world.
Despite all the sacrifices, compromises, even on a personal level, and constant challenges, the entrepreneurial path is one that Jure would choose again and again. "If you enjoy what you do, then all the problems are small", are his words. And when you combine the joy of your work with a positive mindset, Dewesoft happens.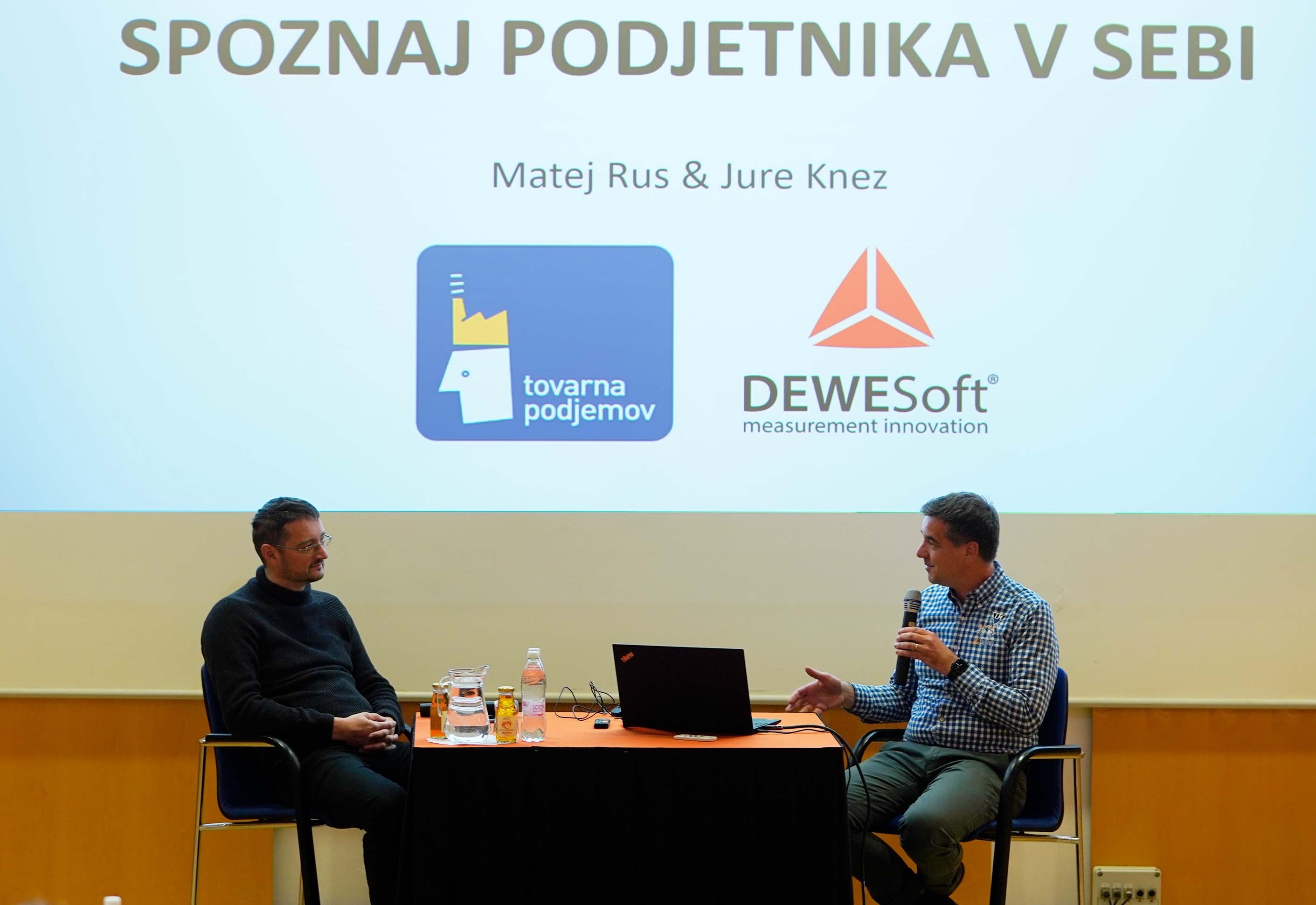 Small steps go a long way
Matej also emphasised the positive outlook on the world and the importance of small steps, encouraging students to try going down the entrepreneurial path now or at least to take the first steps in that direction.
"My journey didn't start in a garage, like most startups, but in my grandmother's room. In 1996. Not much happened in the first years. We lived off our resources. Things take time, so don't worry too much if ideas don't succeed right away, if the first customers give negative feedback," Jure advised.
He sees the current situation, which dictates/requires fast progress, as not very encouraging for young entrepreneurs. But students should not be discouraged by this expectation of rapid growth: "I hope this will not make you give up. Our journey also shows that it takes a long time to position something on the market, especially in hardware, you have to take that into account."
To date, they have developed a range of measuring instruments and software. But more importantly, you need to have a good team working in the same direction.
And that is the key to success: "The employees are the greatest value. On my own, I could not have achieved anywhere near what Dewesoft is today." The key is to be aware of an employee's strengths and weaknesses. He draws on the wisdom of an Austrian general who said that you have to train people to be good at what they are already good at so that they can become great at it. If you want an employee to improve a skill that he is not very good at, you will only end up with mediocrity. It is better to look at what someone is really good at and build on that because that will increase the team's success.
There are two types of people
From the crew to the pilots. Jure says there are two kinds of people in the world. One is passenger pilots, the other is aerobatic pilots.
The first go from A to B, needing guidance and following instructions, while the second are constantly testing the limits of what is possible, always wanting something new.
"And it is very difficult to live with such people. Ask my wife," were the words he used to address the students, a little jokingly, a little seriously.
It is important to create an environment that values entrepreneurial endeavour
African wisdom says: "If you want to go fast, go alone. If you want to go far, go together." This can be linked to the creation of an environment where entrepreneurship is valued and creativity is desirable. Young people need to be offered the best possible environment where they can create freely and live their dreams. "We cannot do it alone. But working together, I believe we can. We would like to involve others in this collaboration in the future," Jure Knez said.
Entrepreneurial individuals are the ones who create a surplus. And a society of innovation, surplus and entrepreneurship enables prosperity for all.