On 8th September, the Start:up community of Slovenia gathered again at the traditional autumn teambuilding event at Walnut Grove (Orehov gaj) with the purpose of socializing and networking. SK and P2 companies within the Startup Plus Program of the Slovene Enterprise Fund (SEF) gathered with mentors and other startup ecosystem members, bringing the number of participants to 80.
The day went by in an inspiring entrepreneurial atmosphere, and the Slovenian startup scene proved that the future of innovation, boldness, and desire to make ideas a reality is still very strong.
Highlights:
What does Robert Ličen say about running a business through challenging and uncertain economic times?

What do experienced investors advise on raising capital in different stages of the economic cycle?

From A to Z on entrepreneurship with Ivo Boscarol, founder of Pipistrel, one of the most successful companies in Slovenia

Who are the best startups and mentors of the year?
What happens when your name is Robert Ličen, and your phone falls into the water on the second day of your holiday?
Uncertain circumstances call for skilled business leaders. Robert Ličen, Ph.D., sociologist, economist and award-winning manager, told us the competencies and methods of a successful leader. Slovenians know him well as a manager who successfully led the rehabilitation of Rogaška Glassworks, the director of Akrapovič and assistant to the chairman of the management board of Gorenje. He is the founder and director of the Entrepreneurial Center Pegasus. Its mission is to help younger entrepreneurs develop sustainably, personally and professionally - how to do better, work differently, and lead people so that they know how to take the next step.
Robert says that the first question to ask is why someone becomes an entrepreneur in the first place. There are several answers: because they have a fantastic business idea and want to do something different, the situation forces them to think differently and get things going. This person must not be like others. This person doesn't just sit at home and moan but takes charge of their own destiny. Do you also want to take destiny into your own hands? Then read on.
The whole world is in chaos
If a man does not change the world, it collapses and turns into chaos; Robert simplifies the second law of thermodynamics. A simple example of such a situation is a home garden. If you go on holiday, you can't do any work on it. You come back, and the garden is full of weeds, so its ecosystem is in chaos. What is it that has gone wrong? The answer is simple and straightforward - nothing! The problem is that the garden has not been looked after in your absence. The same applies in everyday life, where one makes one's own rules and order. A company functions in the same way, so the leader sets the rules of the game, bearing in mind that a company is made up of processes and people.
Luka Dončić, millennials and more
Robert mentioned the Slovenian basketball team, living proof of the importance of a team. So how good is the team? As good as its players. We have Luka Dončić, a great player, some mediocre players, and a few mischief-makers. And what is the coach's job? To unite all these different players, to control their attitudes and make them better as a team.
The millennials have turned the old management system on its head. If the boss said 'Go left,' everyone followed. That is no longer the case today. Today, they ask you 'Why?'. If you are the kind of leader who cannot tell people why to go left, you will lose integrity and consequently, people. A young person wants to learn, we all want to be seen, and we all want to be heard. So you need to choose people like yourself, making the culture at the company the same. People with good communication also have good relations with others; therefore they are happy. If a manager wants to communicate with their people, they also have to take the time to get to know them, which is one of the key parts of the process. Just as motivation is. Additionally, if you want a good relationship with your employees, respect other people's truth.
A leader must also ask 'Are my employees my workers or my co-workers? Do they work for me or with me?'. If they are workers, then it is no surprise that there are problems in the company. A good leader is surrounded by people who work with them and help them solve problems. It is only in crises that you see how good a team you have, not just when things are great.
The biggest pain for entrepreneurs and managers is being at the top, where there is room for only one person. And if you don't have good colleagues, it gets very lonely up there.
Time waits for no one
One of Robert's most valuable pieces of advice is very simple - don't forget to take time for yourself, don't forget to take time for family and friends. If you don't, it will be taken away from you. Therefore, you must be the master of your time and decide to whom you give it and how much. If you are not the master of your time, it will be the master of you, and then the word 'must' will creep into your vocabulary. "I have to do what my parents expect me to do!", "I have to answer emails on holiday!". What happens when your phone falls into the water on the second day of your holiday? You think the company will burn down, but then you come back and see that everything was fine without you.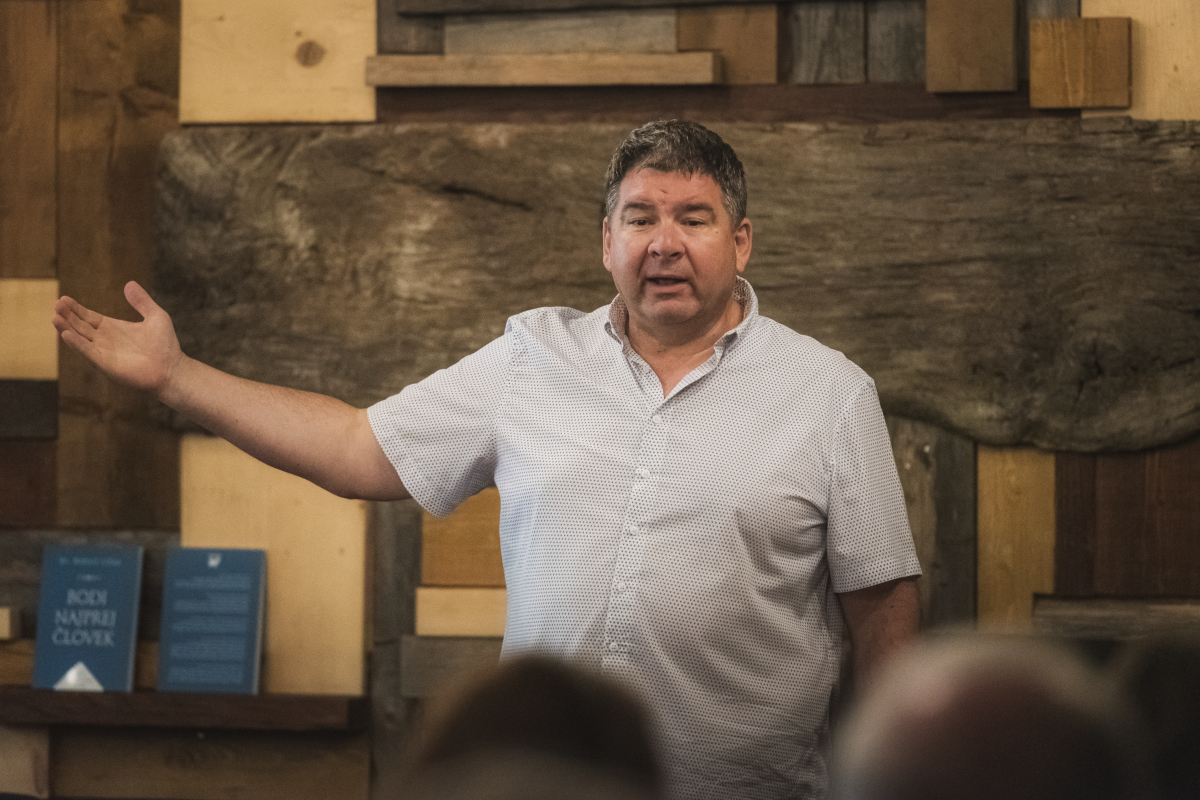 Robert Ličen on running a business through challenging and uncertain economic times
Venture capital investment is down - now what?
The decline is evident if we compare the figures for venture capital investments in the first half of this year with the same period last year. But according to Andraž Grahek from Capital Genetics and Julien Coustaury from Fil Rouge Capital, it's not all black and white. They both expressed their enthusiasm for the development of the regional ecosystem, which, after many years of effort, is finally going in the right direction, and despite the gloomy predictions of the global economy, they expect a bright future for it. Asked how they assess the growing number of investors in the ecosystem, they replied:
"The region has been so short of money that – although it may sound a bit cliché – I don't see any competition among investment funds at all, and I'm happy to see all the newcomers. What is important is the discipline of all investors not to overpay and lose money. This way, investment opportunities remain, and money is not given to companies that are not viable because then the funds dry up quickly" - Julien Coustaury from Fil Rouge Capital on the emergence of several new investors in the region.
"Ten years ago, there was no such market in the region as there is today. There were investors, but not in the form we know today. Cooperation between startups and investors is essential to take them to the next stage and grow. It's great to have so many investors because it brings certainty at different stages of growth. With that in mind, it's easier to plan for the future." - Andraž Grahek from Capital Genetics on the emergence of several investors in the region.
Despite the economic crisis, the war in Ukraine, the energy crisis, and all the uncertainties, they stress that we must have a positive attitude to the future and persevere while acting wisely.
"It is essential to have a good understanding of what you are looking for. In these times, you must be careful - this applies to startups and investors. Information is key, and homework has to be done. Capital will not disappear, but we must allocate it more wisely. I advise startups to ask investors questions. That is the only way to know if they are serious and reliable. Find out about their environment, but also what you are looking for in an investor, what your product is, who your customers are, and what your sales cycle is." - Andraž Grahek from Capital Genetics on the future of investing.
Julien comforted us:
"Crises come and go; that's the way it is. They are a time of growing up and maturity for companies. I'm not worried about our startup ecosystem because we are in good shape. We have the resources, good leadership and teams, and the community is strong, but at the time time, it is still growing. I dare say we will not be too affected by the crisis."
May your words come true, Julien!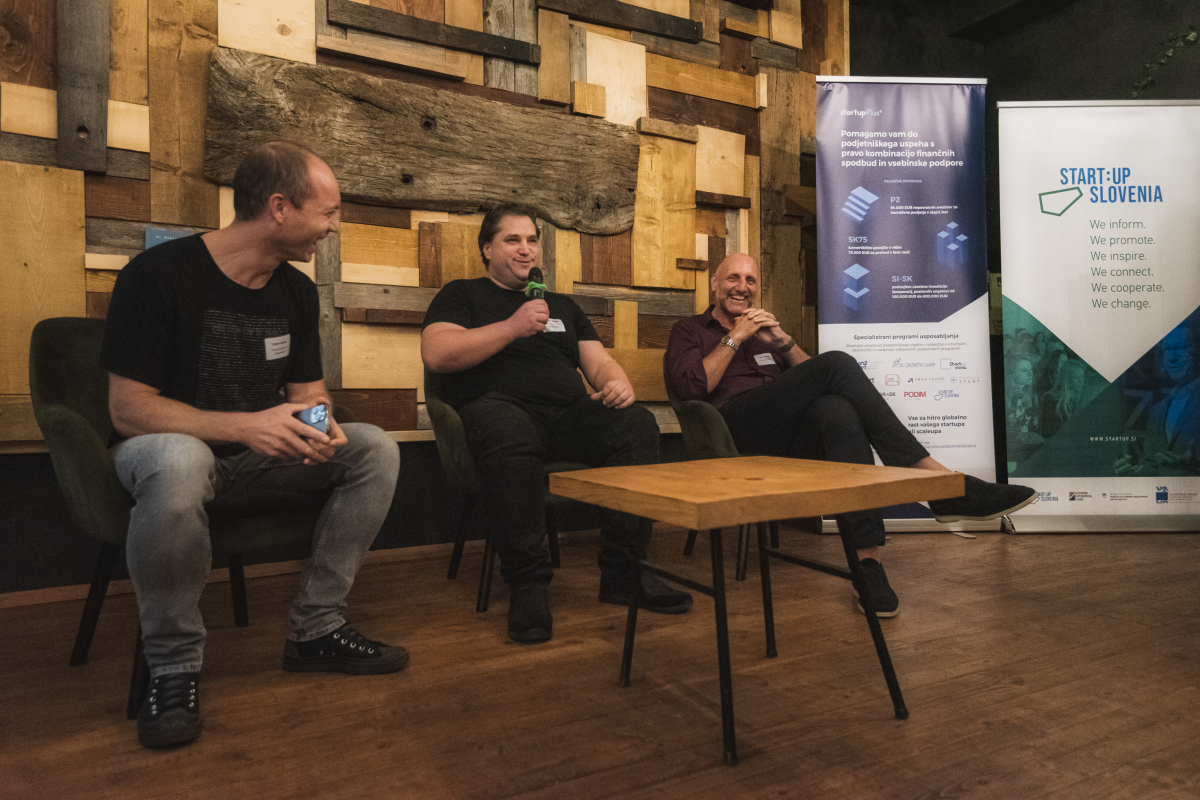 Urban Lapajne from Venture Factory, Andraž Grahek from Capital Genetics, and Julien Coustaury from Fil Rouge Capital
Ivo Boscarol: How Uber almost became part of the Pipistrel story
Who doesn't know who he is? Ivo Boscarol is one of the biggest names in entrepreneurship in Slovenia. His company Pipistrel, which produces ultra/light aircraft, was sold earlier this year for more than €200 million to the American conglomerate Textron. We spoke to Ivo, who - in his own words - has always worked on efficiency, about his beginnings, the sale of Pipistrel, and his plans for the future. When asked what it takes to be a successful entrepreneur, his answer is simple:
"It takes a combination of everything, but you must be lucky. You have to be sure of yourself. How will you convince others to believe in you if you don't? When you make it, you can work long-term. In Pipistrel's 30 years, we got more successful every year, we have never skipped a payday, and I can count on the fingers of one hand the people who have left the company. It is important to have a team, and it is important to build a team. As a leader, you have to be able to work with people when times are good and bad. You need to motivate them to stay. Every entrepreneur has to be a bit of a visionary to understand the difference in their path. You must have a combination of all that, but you must also be stubborn. It also makes sense to spread the risk, which has helped us tremendously in times of crisis. So, you are more flexible; you don't just do one type of product for one market."
At Pipistrel, they have always put all the money into development. As Ivo explained, aeronautics is one of the most expensive industries to develop, alongside space and pharmaceuticals, requiring many resources. In Ivo's opinion and experience, you can do a lot if you create a story that people trust. And what does he have to say about marketing?
"The best publicity is a happy customer, so I've banned marketing. You have to work on trust; everything is built on that!"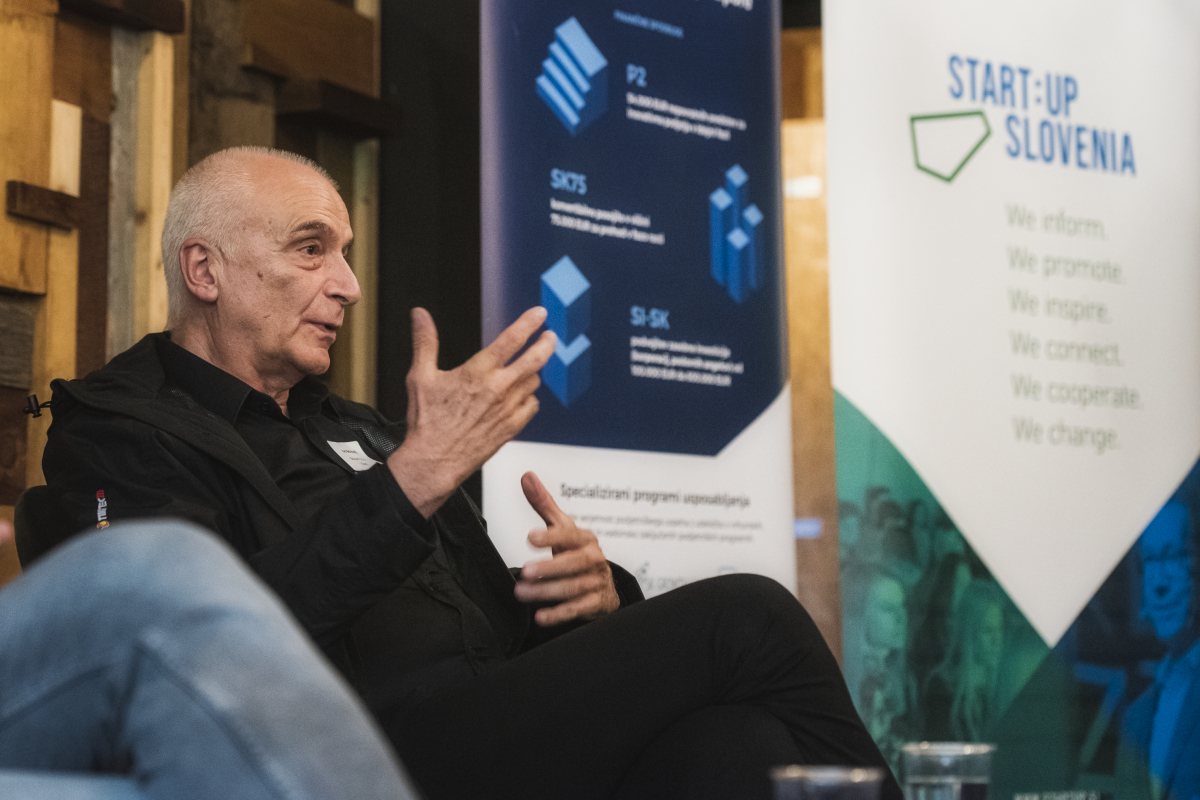 Ivo Boscarol on entrepreneurship, happiness, and mistakes
Every entrepreneur makes mistakes along the way, and even the big fish are not immune. Mistakes are the best teachers, but they can also cost us a lot. So what are Ivo's thoughts on mistakes?
"What are my biggest mistakes? We don't have that much time. I've made many of them; I don't want to list them all. But I'll tell you one. About 10 years ago, an Englishman came to Pipistrel and said he would like to have our plane and pay for it in Bitcoins. The plane's value was €130,000 and Bitcoin was worth a little less than €1 at the time if I'm not mistaken. I told him no. Can you imagine that value today? I could buy Slovenia."
Despite his mistakes, there is not the slightest doubt that Ivo has taken Slovenian entrepreneurship to the next level. Pipistrel is an icon in the Slovenian economy, and the sale to the American conglomerate Textron was a bit of a surprise to the public. What were the reasons for the seemingly sudden and unexpected sale?
"7 years ago, Uber announced flying taxis and selected 4 companies to produce them. Pipistrel was the only European country selected. They pompously announced that in 2030 all taxi transport will be from skyscraper to skyscraper. Unfortunately, no one managed to certify electric propulsion, so it was just predictions, and enthusiasm for such a future began to cool. We managed to get the certification, but unfortunately, we cannot compete with the big companies in this field, so we had no choice but to partner with someone. It was our only option; Textron is also an industry partner, and they know what's up. They are our best option and have opened up a new market and new opportunities for us."
Towards the end of his talk, he gave some advice to startups:
"Startups, work from the beginning in a way that big companies do. Because if you don't, you will have huge problems with restructuring when needed. I am very much in favor of the SI-SK investment because it forces you to do reports, it forces you to manage costs, and it forces you to deal with what every company has to deal with. I have always focused only on the technology and the product and neglected everything else. Act like a big corporation from the beginning. That's as important in business as a good product."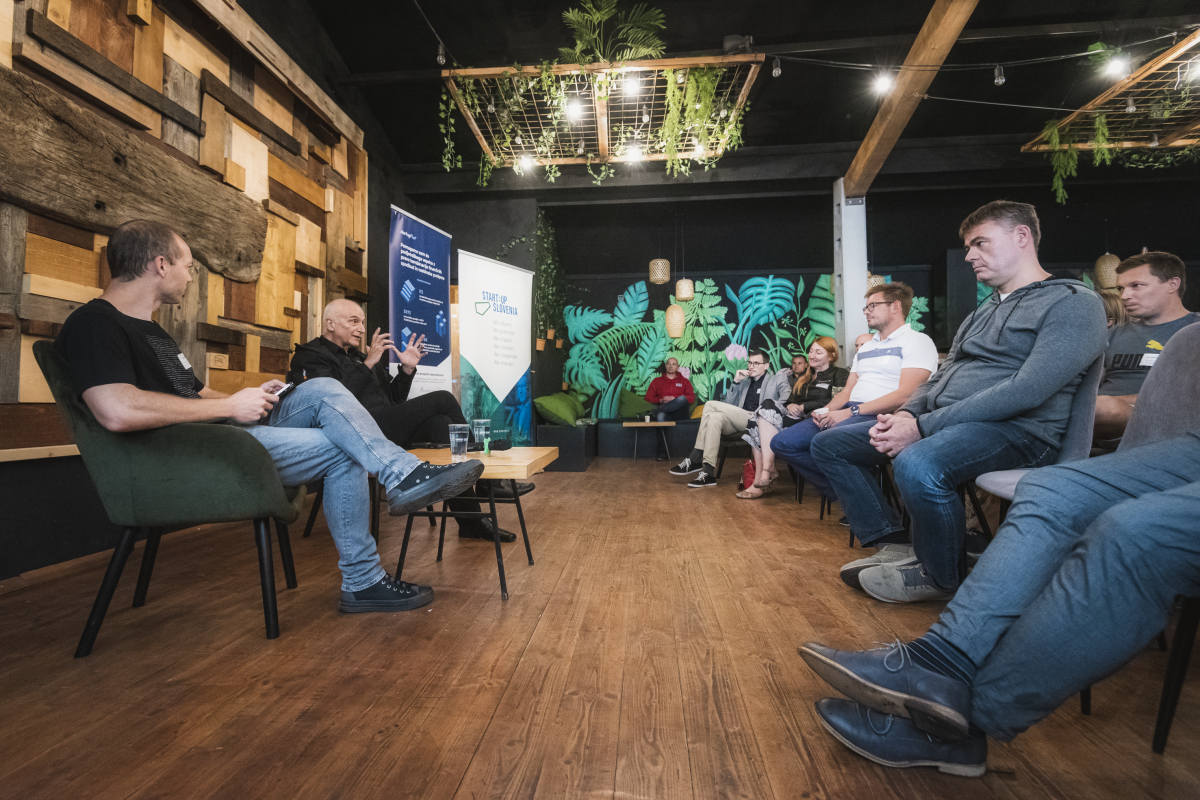 Who are the best startups and mentors in 2022?
At the teambuilding event, we traditionally awarded the SK funding recipients who have made the biggest leap this year and the best mentors. Mentors are vital to the startup ecosystem's growth, development, and survival, so their experience is extremely valuable. It is very telling that there are currently 77 active mentors within the Slovene Enterprise Fund, whose mission is to help, advise and guide startups. The startups named Nina Dremelj and Niko Klanšek the best mentors.
"As an investor, you are primarily looking for an investment, of course, but the human relationship is still at the forefront when you observe the mentee, watch their reactions, their verbal communication. That's very important. The logic of investors and mentors is that someone prevents you from making the same mistakes they have already made," said Nina Dremelj on receiving the tile of Best Mentor.
The mentors also rewarded the most progressive SK startups themselves. The Best SK Leap of the Year award (preSKok) went to Inno Lab, Pokica (Kokica d.o.o.) and Protectus.
INNO LAB
The Slovenian Start:Up of the Year 2022 title recipients have impressed the public lately. They presented their Innobox of fun experiments to the Slovenian public on the popular Štartaj Slovenija 2021 TV show. Now their idea is ready for foreign markets; Amazon Italy, and Germany.
"We are pleased to have been recognized as the Best SK Leap of the Year. This is proof that we are on the right track and our work is being noticed," said Inno Lab founder Teja Bajt on receiving the award.
POKICA
Pokica popcorn with its delicious flavors indulges lovers of this savory, even sweet, snack. After its successful participation in the popular Štartaj Slovenija TV show and its conquest of the Slovenian market, Pokica has successfully launched on the Swiss market and is preparing for a new sweet popcorn line this year.
"I'm delighted that we got acknowledged, but most of all to be the first in something for once finally. We came second in Štartaj Slovenija, and Young Entrepreneur, and now this is one great recognition of our work. We want to continue to do so well in the future, and we want to continue to expand our offer and target foreign markets that we have not yet conquered. My advice to someone who is starting the entrepreneurial journey? If we have succeeded with popcorn, anything is possible! You have to persevere and not give up," said Uroš Požgan, CEO of Pokice, on receiving the award.
PROTECTUS
Protectus has developed CarLock, the simplest solution for monitoring your vehicle's location, movement and status via smartphone. They won sales on Amazon, which for a long time was the only place where CarLock was sold. The company was accepted into the Start Labs accelerator in Belgrade and received investments from US, Israeli and Slovenian investors. Their product is now sold in the United States, France, Italy, Germany, and Saudi Arabia.
"I am thrilled to receive this award. We want to continue to do better, expand and grow. It's great to see such financial incentives available today. When we first started, this is exactly the kind of thing we missed, " said Matej Peršolja, CEO and co-founder of Protectus d.o.o., on receiving the award.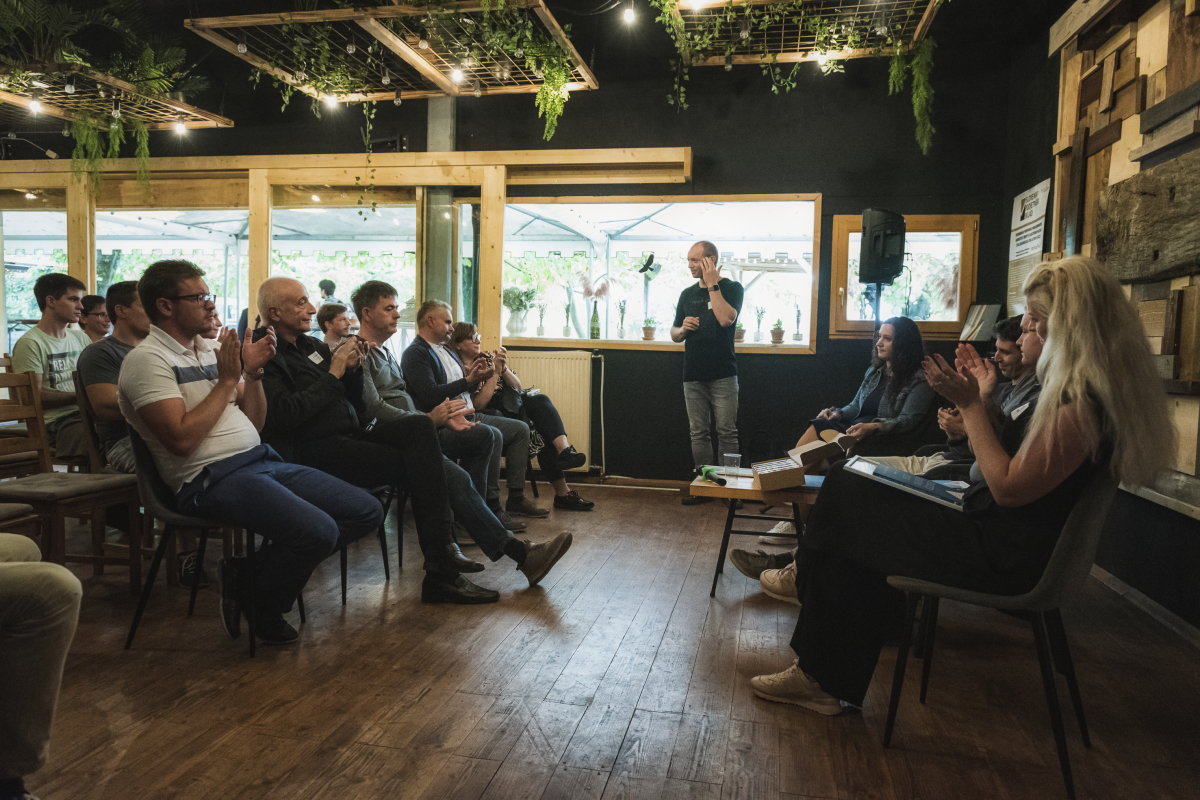 Startup Teambuilding 2022 at Walnut Grove
The autumn Startup Teambuilding was free to all young companies that are recipients of the startup incentives P2, SK75 and SK200 or SI-SK from the Slovene Enterprise Fund. It took place on 8 September at Walnut Grove. We listened to a rich program consisting of renowned Slovenian entrepreneurs Ivo Boscarol and Robert Ličen, the best startup companies of the year Inno Lab, Pokica (Kokica d.o.o.), and Protectus, and we chose Nina Dremelj and Niko Klanjšek as the best mentors. Andraž Grahek, Julien Coustaury, Boštjan Troha, Žiga Leskovšek, Niels Bogerd, and Sandra Auer were also at the event. We concluded the day with networking, sharing entrepreneurial ideas, and strengthening the Slovenian entrepreneurial ecosystem.
###
The program is co-financed from the Slovene Enterprise Fund and the European Union from the European Regional Development Fund. This is implemented on the basis of the Content Support for Funds Recipients (SMEs) Programme in the 2018-2023 period, under the Operational Programme for the Implementation of the European Cohesion Policy 2014-2020.

Tags
Startup Teambuilding
Ivo Boscarol
Robert Ličen
Entrepreneurship
Event
SEF