Slovenians have proven time and time again that we can ­­– and do – create globally successful entrepreneurial stories. The outstanding results are also a source of pride for many startups included in the Slovene Enterprise Fund's financial and substantive support. With it, the path of startups and scaleups to rapid growth and global market penetration is undoubtedly easier. Many entrepreneurial stories that would otherwise not have succeeded succeed with such support.
Many of the recipients of this kind of support have successful entrepreneurial stories to tell, including Chipolo, which reached €10 million in revenue on the global market last year; Gentler Stories, which was chosen as the best Apple Watch app of the year by Apple out of 1.6 million apps previous year; CirrioSoft, which received €600,000 in investment, and many others.


SK supported 126 companies
The support provided by the Slovene Enterprise Fund to innovative startups and scaleups with the potential for rapid global growth through the SK50, SK75, and SI-SK incentives in the period 2014-2022 has helped many companies to create successful entrepreneurial stories, as demonstrated by the results and the feedback from the entrepreneurs themselves.

From 2014-2022, the Slovene Enterprise Fund supported 126 startups and scaleups with high growth potential with the incentives mentioned above, including 105 companies with convertible loans and 21 companies with investments. Within these incentives, the Fund supported companies with €13.78 million in funding (€7.425 million in convertible loans and €6.355 million in equity investments). Companies additionally received €13.12 million in investments from private investors.

SK75 is a convertible loan of €75,000. It is aimed at innovative startups with global growth potential that have already developed their product, are generating revenue, and want to accelerate sales growth.

SI-SK is for companies that have already secured a private investor, so the Fund doubles the private investment from €100,000 to €600,000.


Substantial support, in addition to financial support
In addition to the financial support, the beneficiaries of the Fund's financial incentives have also received substantive support through the Startup Plus Program in the form of a mentoring program and other specialized, intensive and complete support programs.
The mentoring support with experienced mentors, in particular, is very valuable, alongside training and other programs such as the SK Growth Camp, Web3 accelerator, ScaleUPgrade, Sales Accelerator, Push2Start, Startup Clinic, HardwareSTART, Teambuilding+ events, the opportunity to participate in the Podim conference, and much more.
about the STARTUP PLUS PROGRAM

Many successful entrepreneurial stories in the SK family
The combination of financial and substantive support has enabled many companies to achieve enviable success stories, even in global markets. It is particularly valuable at the start of an entrepreneurial journey when companies are looking to make a significant breakthrough in the market and grow rapidly.
Here are some success stories from companies that have received support from the Slovene Enterprise Fund. The winner among them from 2014 to 2022 is certainly Chipolo, with outstanding achievements.
Have a look at what they've done.

From a successful Kickstarter campaign to €10 million in revenue
After a remarkable Kickstarter campaign in 2013 - they reached their goal of $15,000 in just 17 hours and ended up raising $297,000 - the Trbovlje-based team, which makes smart trackers that help users locate lost items such as keys, wallets, computers, or handbags, reached another major milestone in 2021. They were the first in the world to make a tracker that works within Apple's Find My ecosystem, giving the company a massive boost in growth.

How did they do it? According to Primož Zelenšek, CEO of Chipolo d.o.o., they sensed that Apple was working on something that they had launched almost ten years before Apple. They contacted Apple, found common ground, and launched a product that works with Apple in April 2021.

That is not all. They launched a new product, Chipolo Card Spot. It is a smart card tracker that is suitable for wallet tracking. Last year, the company also managed to enter 160 Best Buy stores, the world's largest retailer of electronic devices, and the Apple online store, with plans to launch in just under 500 official physical Apple stores.
In addition, the company generated €10 million in revenue on the global market last year, which is undoubtedly an important milestone in the company's growth.
Teamwork and innovation have been key to success
Primož Zelenšek told us in an interview that "innovation, design, simplicity in and usability of the mobile app have contributed to our success. But the team was also key to the success. There were seven of us. This is one of the key elements that made us get this far. Everyone had a task, and those tasks were clearly defined. We made decisions very quickly at that time. That was a huge advantage, but on the other hand, it can also be a disadvantage."

The hardest part of their journey has been spreading brand awareness with limited resources, especially in a global market where they compete with the world's largest companies with bigger marketing budgets than theirs.

In the interview, Primož shared some useful tips for startups, including that "before we start developing a 'spaceship,' we need to test our ideas very well and see if the market accepts our idea. I suggest to any startup to do a lot of research on who their customer is, where they will buy your product, and why they will buy it. Once the customer is defined, you first conquer one market and expand globally by segment or country. If you succeed in one market, you are more likely to succeed in the next."
Support received in the high growth phase was very valuable
According to Primož, the money Chipolo received under the Fund's incentives came in handy for the company. It was given when they were in a very high growth phase and needed to finance inventory. The Slovene Enterprise Fund has also helped the company over the years through mentoring support. All the different pieces of advice have made Chipolo stronger than it would have been without them.

Are you interested in learning more about Chipolo, its challenges, and advice? Watch the full interview with Primož Zelenšek.
CirrioSoft receives €600,000 in investments
CirrioSoft d.o.o. is developing Quantifly, a web-based platform for solving HRM challenges, which acts as a kind of "company doctor," helping managers and HR in companies to make strategic decisions, discover what is sub-optimal in the company and find solutions. After two years on the market, their most important achievements include gaining the trust of 60 clients in domestic and foreign markets, including some of the largest and most recognizable Slovenian companies; they entered foreign markets mainly organically. They gained investments of €100,000 from Viva (Peter Vipavec) and €500,000 from Elektronček (Joc Pečečnik).

Luka Pregelj, CEO of CirrioSoft, told us in an interview that "the main contributor to the success of the company has been the hard work of the whole team. It is important to be strategic and not to be afraid of work because there will be a lot of it."
Valuable SK support and access to foreign markets
Luka added: "The SK mentoring program has certainly helped us a lot. The €75,000 helped us a lot then. In the first year of our business, this money meant a lot to us. We were also involved in other programs. Participating in the Startup Accelerator in Israel also greatly benefited us. And the Elektronček story probably wouldn't have happened without Podim."

Based on his experience, Luka suggests that other startups consider entering foreign markets as soon as possible. He also recommends setting up a financial dashboard as quickly as possible to monitor financial metrics and understand how much money is coming in and how much is flowing out.

"It is also very important to have as much attention to the team as possible at the level of team building as well as communication within the team and to ensure that interest. That ultimately makes the difference between success and failure. A startup is nothing but an idea and a team; everything else, the business model and the technology, will only develop if the first two work together. If they don't, then there will be no success," Luka said.

Are you interested in learning more about CirrioSoft's achievements and their advice? Watch the full interview with Luka Pregelj.
More achievements from SK companies
The list of achievements of companies that have benefited from the Fund's SK support is much longer than you'd think. At the end of this article, you can read a few more.
The P2 family has also achieved outstanding milestones
P2 supported 756 companies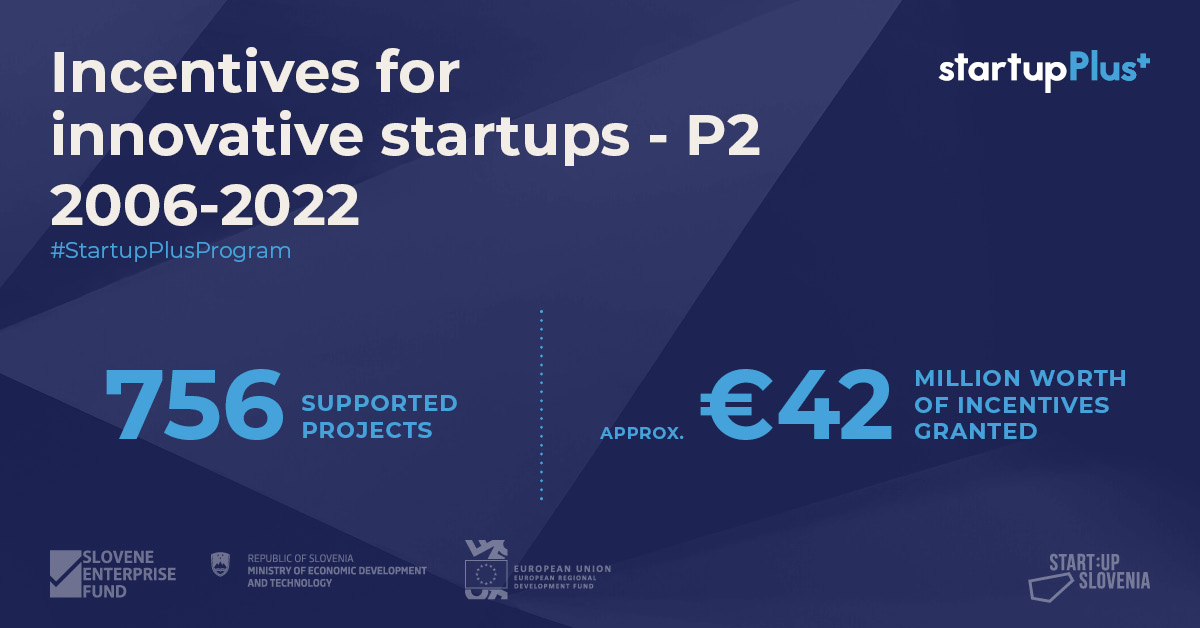 The Slovene Enterprise Fund also supported 756 companies in the years 2006 and 2022 within the P2 tender, which enabled early-stage companies to obtain €54,000 in grants for product development. This tender was aimed at startups with growth potential, which are at the beginning of their journey and are developing innovative products, processes, and services with high-added value for the broader market. Between 2006 and 2022, around €42 million was approved for P2.
The P2 incentive has also been awarded to companies with outstanding achievements, including Gentler Stories, Flux Performance, Extra Forge, and many others. Let's take a look at what they have achieved.

Gentler Stories wins the prestigious Apple Award
Gentler Stories d.o.o., developing the Gentler App for tracking exercise and activity, taking into account an individual's physical fitness, has achieved extraordinary achievement in the last year. They recently won Apple's prestigious App of the Year award. Out of 1.6 million apps, Apple selected Gentler App for Apple Watch for its annual app selection, noting that it considerably identifies real-world needs.
As Katarina Lotrič, co-founder of Gentler Stories, which is made up of a team of four very diverse people, told us in an interview, if you're making an app, "it's crucial to have a team made up of different kinds of people. It's important to have someone who develops, someone who covers the user experience, someone who takes care of the way it communicates, someone who knows how to get it out into the world, present it to the world, someone who knows how to test the app well before it goes out, to know how to find bugs. It seems that we cover just the right areas to make a product that is a good market fit and that has been put out into the world and recognized as a relevant solution in time and space."
If you are developing an app, release it as soon as possible
For those working on apps, Katarina advises releasing them as quickly as possible to test things. Finding a beta test group is important by putting something on Google Play or App Store to get feedback.

Katarina added: "I advise startups not to be afraid of not being good enough, not to strive for perfection because it doesn't exist. For everything out there, you get feedback and adapt all the time. It's also important to check whether what you perceive is your problem or someone else's."

She says that nowadays, it is good to check that on social media, in articles, in debates, and on forums so you can quickly find out whether or not someone else has the problem you have detected. For apps, it's also very good to look at competitors' user reviews and learn from them because users like to tell you what they want, what's missing, or what's bothering them, which can be a good basis for designing a solution.

Interested in learning more about the Gentler Stories' achievement and the journey to get there? Watch the full interview with Katarina Lotrič.
Flux Performance raises €2 million in pre-orders
Flux Performance d.o.o., a company developing a high-performance electric motocross engine that is faster and better than any petrol motocross engine on the market, has raised €2 million in pre-orders in 2022 with an online product launch, and 2,600 people have signed up for a test drive. Worldwide, 36 publications have been recorded about the company from the most prominent media outlets in their sector.

As Marko Ukota, CEO and co-founder of Flux Performance, told us in an interview, all this was achieved by publishing a website and digital images of the engine. "We didn't do a single ad; we didn't spend a dime on marketing. So the desire in the market is strong. It looks like we did something right with our product. Our bike looks like a real motocross bike, not some design concept or futuristic toy, and I think that tells people that we are here today and attacking the best petrol competitors on the market."
Knowing your target audience is essential
Marko said: "I'm lucky because I'm a motorbike rider. I know the customers very well because I am one of them. For those who don't have that luxury, I suggest you talk to them as much as possible and have a prototype as soon as possible to put in the hands of the users so they can use it and give feedback."

He added: "At this stage, SEF is helping us greatly with its support. This is extremely important for us. Our product is quite complex and expensive to make at the prototype stage, and P2 allows us to take our ideas from 3D models, simulations, and calculations on napkins to a prototype that someone can sit on and try out, which is a huge milestone. As part of the mentoring, we teamed up with Nils, an experienced entrepreneur with his startup developing a hardware product. His advice has been very relevant; he's opened a few doors with potential investors and helped us shape everything to be more investor receptive."

Interested in learning more about Flux Performance's achievement and what Marko Ukota advises? Watch the full interview with Marko Ukota.
Extra Forge, with a turnover of €550,000
Extra Forge d.o.o. is a forging company working with steel, aluminum, copper, and bronze. In the framework of the P2 tender, they have developed a hollow forging project, which means they create a hollow body within an existing forging process. It is an achievement that they have managed to carry out a project from start to finish, as the project is financially and logistically challenging and has yet to be done before in the forging industry. One of the company's significant achievements is the successful obtaining of a loan from Gorenjska banka and, later on, getting buyers for the non-existent production and setting up production. Last year, the company achieved a turnover of approximately €550,000; this year, they are planning revenues of between €1.9 and €2.4 million.
A well-defined business plan and perseverance are the keys to success
In an interview, Marko Lukić, Deputy CEO of Extra Forge, told us that the most important role in their success had been played by a well-defined business plan, which needs to be constantly upgraded and perhaps even involve people who are not in the business, as they can give beneficial advice.

He went on to say that "without the rejections, without the delays in the delivery of the machine, we probably would not have covered as many aspects. We are better prepared for the future and ongoing production and business. You could say that to be successful, you need a good plan, but you always have to have a backup plan. And rejections are nothing but a learning point. It is necessary to persevere. Every setback and rejection is a learning curve and adds value."

Interested in learning more about Extra Forge's achievement? Watch the full interview with Marko Lukić.
More achievements by SK and P2 companies
Take a look at what some of the companies managed to achieve in 2022.

SK companies
ARVIO d.o.o.
Arvio is developing Arvio AVM, a real estate valuation and management system that automatically identifies a comparable transaction, assesses liquidity in secondary markets, and predicts future market shifts.
In 2022, a major milestone was reached with the launch of a new product for the automatic assessment of the real estate value in the portfolios of financial institutions and funds. By mid-December 2022, over 30,000 properties had been valued, significantly more than in 2021, with 2,700 valuations.
PHARSOL
Pharsol has developed an innovative carrying handle for laboratory vials, which typically contain highly chilled biological samples.
In February 2021, they launched an online shop for work and protective equipment under Pharsol Protect. Initially a side project, it immediately caught on in the market and grew rapidly. So in August 2022, they created a new, more advanced online shop that makes it easier for customers from Slovenia and abroad to buy equipment for individuals and businesses. In the last six months, sales on the Slovenian market alone have increased by 300%, and with the entry into foreign markets, they expect even more growth in 2023.
OLLO AUDIO d.o.o.
The company has developed the Play2me audio monitoring system consisting of studio headphones, a subwoofer cushion, and an amplifier, enabling audio engineers to deliver the ultimate audio experience no matter where they are.
The company has faced major challenges over the last two years, with significant achievements from the entire team. The company survived the fire in 2021 and remained liquid and profitable. This was followed by a 70% drop in sales in 2022, and hope to catch up in December. With the new model, they have sold out production capacity by the end of February 2023 and reached the 10,000 customer milestone.
Dezziv d.o.o.
DEZZIV is developing a mechanical brake that allows a wheelchair to climb stairs.
The company points to the revival of trade fairs after the Covid-19 period and their participation in them as important achievements in 2022. The company's participation in the two specialized trade fairs, Rehab 2022 and Rehacare 2022, is also reflected in increased sales on the global market. For example, last year, their unique Brake&Go active wheelchair brake was sold in 23 countries. The largest sales were made in the USA, Australia, Germany, and Japan.
Another important milestone in 2022 is the market protection gained in the seven largest European countries, the UK, Canada, the US, and Japan. These are all good foundations for expanding their global business in the coming year.
AIPORT TECH d.o.o.
AIPORT TECH is developing LabiPort, a portable device designed to measure cannabinoids in cannabis during growth, maturation, dry plant, and at certain processing stages, i.e., in the form of resins or tinctures.
The instability of the supply of electronic components has forced them to look for other ways to use their technology. They have entered into a partnership with a development company in the field of healthcare and virus testing. Using their technology and the partner's patented enzyme blend tailored to the specific type of virus, they can test different kinds of viruses quickly and efficiently. After a year of development, the partner is coming to market with a complete solution, of which LabiPort is one part, allowing spectral analysis of the sample and detection of the presence of the virus.
With the help of suppliers, mass production is already established. Their partner is just starting commercialization in Slovenia and the EU, with coverage in Australia and the Far East. The first devices are expected to be available in February 2023.
Omisli.si, d.o.o.
The Omisli.si web portal solves the time-consuming problem of finding providers and their prices and the quality of their services for those looking for different services. For providers, it solves the issue of the need for more demand and costly and ineffective advertising.
Last year, the company surpassed the milestone of 220,000 inquiries from customers looking for a service provider through Omisli.si, representing 55% annual growth, and 8,500 active providers offering services to these customers. At the same time, they have increased their turnover by 40% compared to 2021.

DTs HUB
DTs HUB is developing a platform for personalized remote physiotherapy.
Among the achievements in 2022 is the launch of the FroomCare platform, where they have already got their first subscribers, and the smart, personalized exercise program, with more than 400 users.
Inno Lab d.o.o. - Innobox
The company has developed Innobox, a box with materials and video instructions for experiments children can carry out at home.
As a young company, they are developing slowly but steadily. The company's most significant achievements in 2022 include receiving the Start:up Of the Year 2022 Award and SK75, which gave the company visibility in Slovenia and provided additional financial and professional support. This has helped to expand their sales. They have also successfully entered foreign markets with their entry on Amazon Italy.
Glossiq d.o.o.
Glossiq is a virtual assistant that makes it quick and easy to order beauty services online, buy professional salon products, share ideas, tips, videos, and events, and view beauty content in one place.
The company's major achievements in 2022 include entering America with the platform, moving to new offices, hiring six new employees, and launching a mobile app. They entered America strategically to understand the market better and receive feedback from partners. They are currently in 2 salons in LA and have established a partnership with JPMS hairdressing schools in NY and LA, who will present the platform to their students. The company has generated approximately €70,000 through pre-orders and payments in advance.
Blockhapp d.o.o.
The company has developed a smart electric wheelbarrow called Karjola. The year 2022 was a turning point for the company, as after three years of intensive development, Karjola was delivered to its first customers in Slovenia. The response has been encouraging for the company. Karjola has empowered them to do their job better and enjoy their hobby. One particularly touching statement from a customer was that he had been waiting impatiently for Karjola for a year and a half and that he would have stopped working in the orchard without it. This was a confirmation for the company that they were fulfilling its mission.
EggMedia d.o.o.
EggMedia is a multimedia content playout solution consisting of a cloud-based application, a content creation interface, and a multimedia content player. Every TV or PC can become its own TV network with one click.
The year 2022 was a turning point for the company. In the past years, they have mainly focused on developing a platform for controlling various digital content on screens - EggMedia Advertising Digital Signage System. They have been focusing on expanding their advertising network with information screens installed in prominent places in restaurants, retail, wellness, congress, and sports centers, waiting rooms, and other business and production facilities. The network is becoming increasingly attractive to advertisers as it reaches consumers in a non-intrusive way.
Feelif d.o.o.
Feelif is one of 10 partners from 5 EU countries developing an inclusive solution for the elderly as part of the AAL call for proposals funded by the Slovenian Government Office for Digital Transformation and the European Commission through the H2020 Societal Challenge: Health, Demographic Change, Well-being. The project is called BeauCoup - Building Active User Experiences to Bring Culture to the People. All consortium partners are experts in their field, either through their experience or through innovative technological solutions to make content accessible to the blind, visually impaired, and deaf. In addition to the consortium partners, museums from the EU are also involved in developing the product; in Slovenia, this is the Gorenjska Museum and the Danica Vogrinec Home for the Elderly in Maribor.
The product they are developing will enable elderly people with various age-related problems to access cultural content and heritage beyond the museum and gallery spaces.

P2 companies

FLIQA
Fliqa is developing a fintech platform that connects financial service providers that grant and secure loans with end-users through open banking. They address the challenges of ensuring business compliance and the problem of ignorance of customers' financial habits.

In 2022, the project secured a new investor and strategic partner - SRC d.o.o. They also signed a Memorandum of Understanding with two major clients.

CLARITECA, Petja Škufca s.p.
The team, led by Petja Škufca, is developing a revolutionary line of skin and hair cleansing products in the form of a concentrate that activates in contact with water.

A remarkable achievement for the company in 2022 was the acceptance into this year's season of Start, Slovenia! Their alternative personal care cleansing products in powder form will be sold in all Interspars across Slovenia from September onwards.
RingoX d.o.o.
Ringo is an innovative modular IOT device that unlocks doors remotely via mobile phone. It allows property owners and managers to easily give and share digital keys among guests and records arrival and departure history.
Their 2022 achievements include CE certification, 350+ installations (clients), 3000+ virtual keys given, and three partner integrations (API keys), enabling faster expansion of their SaaS business.
SEAVISION d.o.o. – VisionAnchor
VisionAnchor is the world's first smart anchor monitoring system. It acts as a baby monitor for the anchor, which the skipper can monitor in real time on a smart device with an underwater camera just above the anchor.
One of the company's outstanding achievements over the past year was being invited to be one of 200 selected startups from around the world to showcase their innovations at the TechCrunch Disrupt conference in San Francisco. The endorsement by one of the world's leading technology media opened the door to investors and potential partners in the US. They have attracted the attention of several investors and potential partners to enter the US market and met with many technology companies with whom they can collaborate.
KOOPERATIVA 103 z.o.o.
Kooperativa 103 is developing a new, innovative and advanced concept for a kombucha substitute that offers 55% less sugar, 425% more vitamins, a lower production cost, and, above all, reduces the amount of waste glass packaging. As kombucha is in dry form, it solves the problem of large retailers' lack of refrigerator space, cold chain maintenance, and logistics costs while offering them an innovative product.
Their achievements in 2022 include IFS food 7.0, the acquisition of new product ranges, and the approval of a patent for powdered kombucha.
Nord Drinks d.o.o.
Nord Drinks is developing innovative functional beverages without sugar and artificial sweeteners to satisfy even the most demanding customer.
The company highlights the launch of its product Nord Hard Seltzer on the Croatian market as an achievement. During the summer, the product was added to the assortment at five international festivals in The Garden Resort, Tisno, with festival guests primarily from Western European countries. The sales results at the festivals were well above expectations, which was an additional confirmation for the company that the product is ready to be internationalized.
TipPri d.o.o.
The TipPri team develops algorithms for data analytics using quantum computing methods. The solutions are designed for innovative companies that deal with large amounts of data and complex data processing methods on a daily basis.
The company's most significant achievement in the past year was the development of an algorithm for predicting the risk of natural disasters using quantum computing. The new algorithm is based on a quantum implementation of convolutional neural networks and enables the analysis of satellite images/videos to predict the risk of natural disasters. It is their first working algorithm for deep learning in quantum algorithms. They presented their solution at the Cassini Hackathon in Maribor.
Poplars Petra Kladnik s.p. – NO NUMBER
The Poplars team has used 3D foot scanning data to create custom footwear beyond standardized numbers. They have named the footwear 'No Number.'
Over the past year, the company has put together a team for the No Number project and started working with Volumental, which provides the foot scanning technology and secures the necessary funding to finance the project's development phase.
CLUEKIT
The ClueKit team created the tiktoker.si platform in the belief that TikTok has yet to reach its maximum potential and is, therefore, an exciting advertising platform. This makes it easy for companies and brands to collaborate with content creators.
Within six months, the company managed to get 2000 content creators and more than 50 collaborations into its content creator database. The company has also established partnerships with major brands in the Slovenian advertising space. Moreover, they have several campaigns and collaborations set until mid-2023, an additional incentive for the company to keep going.
Auralix d.o.o.
Auralix d.o.o. offers solutions to enable manufacturers of small, low-power electronic devices to charge wirelessly.
One of the major achievements in 2022 was the development, in collaboration with a customer, of one of the first wireless headphones that can also be charged wirelessly. This is implementing a new NFC wireless charging technology which, in addition to headphones, is also suitable for charging hearing aids, smart pens, Bluetooth sensors, and similar small, low-energy devices. The new technology allows devices to have no exposed connectors, making them waterproof, easier to clean, more durable, and open to new designs.
Sportimist d.o.o.
Sportimist d.o.o. has created a personalized poster of a young athlete, which the user can customize by adding personal details, a picture, and other elements to give someone a unique gift.
The company has opened new markets in the last year, mainly in Germany. Another significant achievement is the production of a new product, which will be ready in 1 month.
United Hearts d.o.o.
The United Hearts d.o.o. team is developing a unique multi-faceted fan platform or a kind of fan passion-detector that connects all sports fans globally.
In 2022, during the TV coverage of a football match from the World Cup, they conducted a world first, the first-ever fan match with a Fans' heart app, measuring fans' passion. Serbia fans were more passionate than Brazil fans.
Knedl d.o.o. - Dispo Market
With the Dispo Market idea, the Knedl team is solving the problem of unused space for small and medium-sized enterprises in road freight transport. The team members are developing a system that uses computer vision, artificial intelligence, machine learning, and data to create a virtual 3D space that detects when there is actual spare capacity in vehicles and then sells it to suitable candidates.
In 2022, they added two new members to their team, which now consists of 5 people. They have been able to win new customers and test and deploy the solution for freight work in the European market. They have also opened their first office in Ljubljana.
GT Industries d.o.o.
The GT Industries team has created the NOVUS simulator for computer games, which is cheaper than what is currently on the market but still of very high quality.
The most significant turning point for the company in 2022 is advertising on TikTok. In the summer, the company started filming video content and posting it on TikTok, where it achieved excellent conversion. Several of the videos have several million views, with one even reaching 23 million views. Most of the followers come from the US, where the company gets most of its inquiries.
The company has yet to start sales, with pre-sales beginning at the end of December. Still, they already have many potential buyers in 2022, including a world-famous actor in films and series.
TNET Labs d.o.o.
The TNET Labs team designs energy solutions and helps companies to have an affordable and stable electricity supply. The company is developing an electricity storage system that uses end-of-life electric cars' batteries.
A prototype installation of an electricity storage system made from used battery cells was installed in 2022. The energy storage device is connected to the grid and allows the collection of performance data. This data will enable them to set the correct parameters to extend the lifetime of the energy storage unit. At the same time, they are building awareness of the EnergijaSOL brand, under which they offer documentation and construction of solar power plants. Another significant milestone in 2022 was the acquisition of their first customer.
about the STARTUP PLUS PROGRAM
###
Content support for recipients of P2, SK75, or SI-SK financial products under the "de minimis" scheme is co-financed from the Slovene Enterprise Fund and the European Union from the European Regional Development Fund. This is implemented on the basis of the Content Support for Funds Recipients (SMEs) Programme in the 2018-2023 period, under the Operational Programme for the Implementation of the European Cohesion Policy 2014-2020.

Tags
SEF
Startup Plus program
SK
P2
SK75
SI-SK