Startups, have you ever considered working with a large corporation? Large corporations can be your access to the valuable resources and competencies you need to grow your business. On the other hand, rapid and diverse development today actually prevents corporations from being able to do everything themselves, so they are increasingly willing to connect with outside teams.
Such cooperation can also increase the dynamics of internal innovation, but on the other hand, cooperation with a startup for corporations means access to capital, the possibility of using established sales and many other advantages.
KorpoStart has a very clear mission - to encourage the cooperation of corporations and innovative small and medium-sized enterprises (SMEs), especially startups and scaleups, with the aim of creating synergies and creating successful joint stories.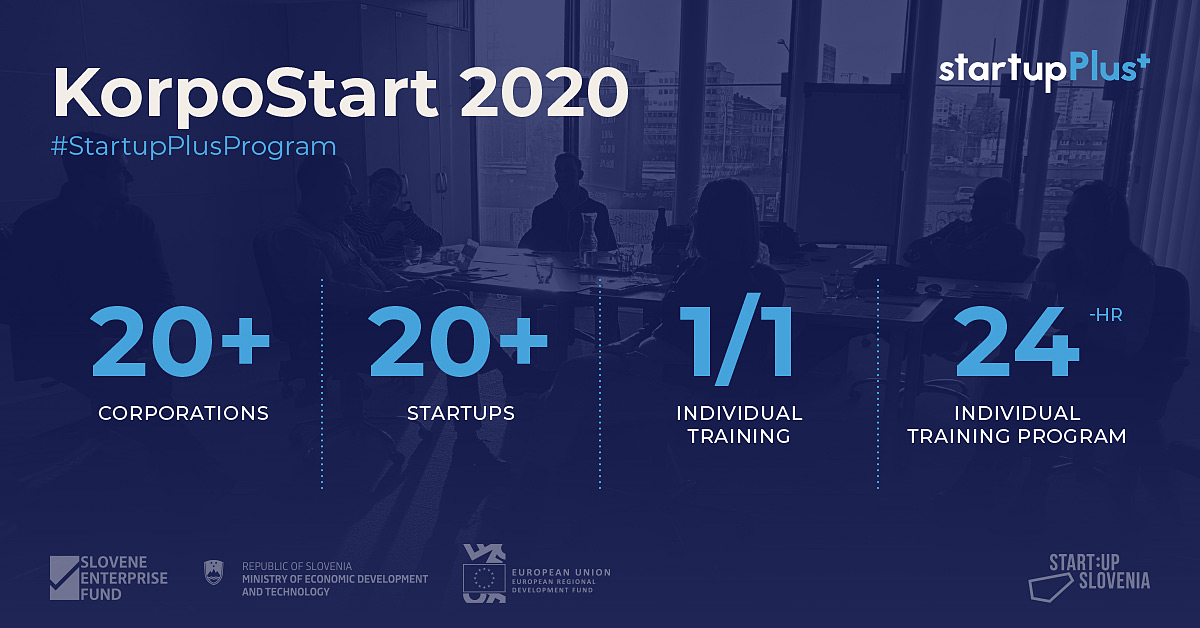 There is a positive trend showing there are more and more Slovene enterprises recognizing the benefits of such collaborations and are therefore willing to partner up with startups. Among participating companies are A1, Adria Mobil, BTC City, Comtrade, Danfoss, Domel, Generali, Heineken, Iskraemeco, Iskratel, Jata Emona, Kolektor, M Sora, Merkur, NLB, Pošta Slovenije, Radeče papir, Telekom Slovenije, TPV, Zavarovalnica Sava and Zavarovalnica Triglav.
"By participating in the KorpoStart program, completely new ideas about the future development of the company began to develop in our startup. I definitely recommend the program to everyone who is in any phase of the development of their startup," says program participant Urša Mivšek Sitar from April 8.
KorpoStart program is being developed and executed by CorpoHub, Chamber of Commerce and Industry of Slovenia, and Saša inkubator.
###
Content support for recipients of P2, SK75 or SI-SK financial products under the "de minimis" scheme is co-financed from the Slovene Enterprise Fund and the European Union from the European Regional Development Fund. This is implemented on the basis of the Content Support for Funds Recipients (SMEs) Programme in the 2018-2023 period, under the Operational Programme for the Implementation of the European Cohesion Policy 2014-2020.

Tags
Startup Plus Program
KorpoStart
Startups
Corporations
SEF
Slovene Enterprise Fund