A top entrepreneur, investor and startup mentor who has proven once again that her experience and advice successfully helps startups on a journey full of obstacles, ups, downs, and challenges. It's Nina Dremelj, who was awarded Best Startup Mentor 2021/2022 at this year's traditional autumn Startup Teambuilding 2022.
Nina Dremelj has been working in entrepreneurship ever since she left school. Today, she runs her own investment company Alita Capital and manages the Business Angels of Slovenia. Over the last five years, she has invested in more than 16 startups and helped startups close more than 40 additional investments worth more than 40 million.
DID YOU KNOW THAT NINA IS THE FIRST BUSINESS ANGEL IN SLOVENIA?
WHAT IS THE RED FLAG THAT STEERS YOU AWAY FROM INVESTING, AND WHAT GETS YOUR ATTENTION?
That energy is very important to me because you 'marry' the person you invest in. When you invest, you give your money to somebody else to manage. And you also have a bond of friendship with that person, a bond of business, a bond of partnership, and so on. You have to get on well with that person. Why? Because at the end of the day, you both have to make an exit.
And if these things are not on the right energy level beforehand, it's not going to happen. I pay attention to people. And ultimately, of course, I look at the product, that there really is a market for it. Something can be great, but if you see that there is no market or that it's really ahead of its time or behind its time, you just don't go for it.
I always say that investors are 'believers'. Angel investors, in particular, are believers because we can believe in the person behind the thing and support them in doing it. I think that is a very important thing. Sometimes the products or services you invest in can be a bit worse, but because you have the right people on the team who know how to overcome obstacles, they can be successful in the long run.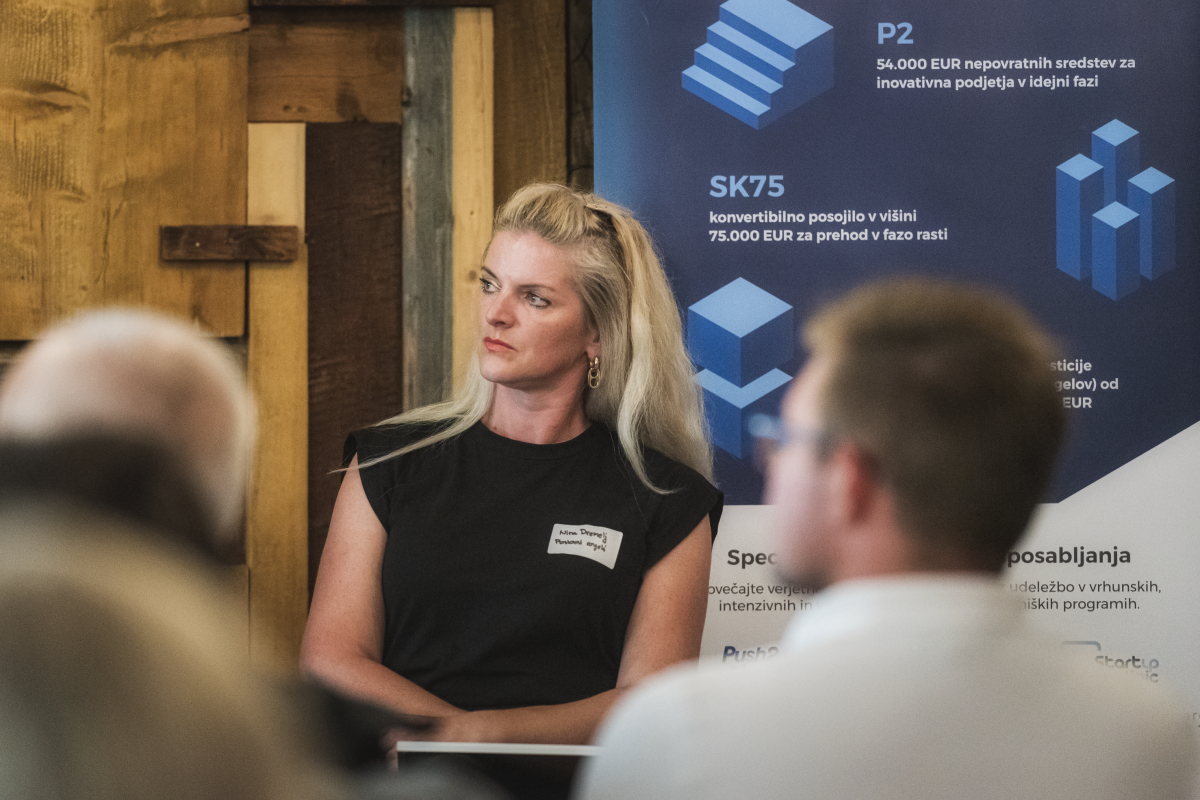 Nina Dremelj at Startup Teambuilding 2022
TIMES ARE TOUGH RIGHT NOW; THERE'S LESS INVESTMENT. WHAT ADVICE WOULD YOU GIVE?
I wouldn't say there is less investment, but they're more careful. There is a lot more due diligence being done, and it is much more thorough. For us investors, the fact that valuations have fallen significantly is a good thing. It is not because we now need to invest at the lowest valuations but because 2 or 3 years ago, they were over-inflated. Many startups have closed investments at high valuations, failed to deliver, and tanked. It is better to be a little more modest and grow more moderately because then you can see the progress more clearly.
The times to come are intense. There is still enough money, but it is true that this money will be harder to come by, mainly because many people will not survive in the meantime because of the market shifts. They will not survive just because they run out of money but because they do not know how to react. This is where organization, processes, team coordination and, above all, market response are important. I believe that most firms do not fail because of market changes but because they do not have processes, which means that firms need to be very strong internally.
Whether you're a startup or not, you must behave like a professional. You can have 'business hygiene' and be prepared to try to reduce some cost accumulation, optimize things and extend your runaway and still find the money.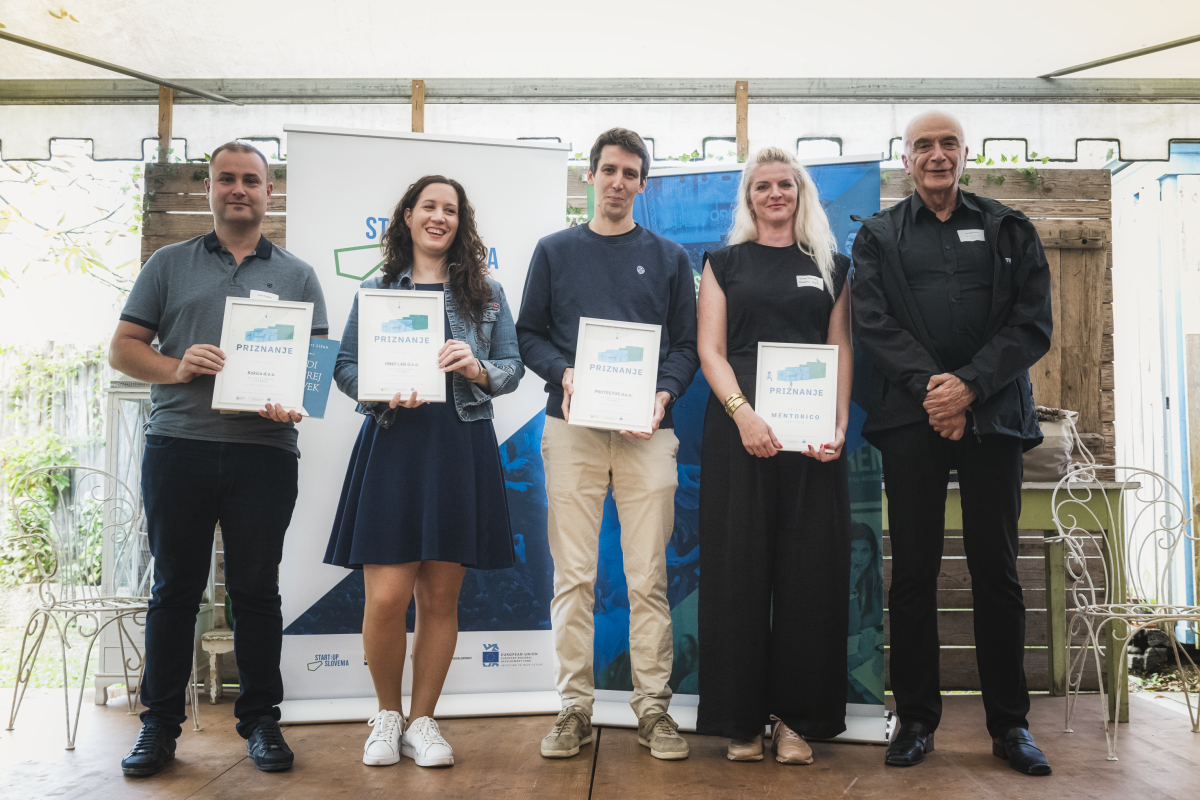 Nina Dremelj with Best Startups of 2022 at Startup Teambuilding
WHAT are your 3 TIPS for STARTUPS?
I always say that we must surround ourselves with people who are smarter than us. If we are in a room full of smart people, we have a problem because we will not grow and progress. So, knowledge and people we can listen to.
The second thing is that they are very good at building teams. It is the people who run the business, build it and execute it.
You have to work on management and leadership.
The last piece of advice would be to manage 'cash flow.' It is the little devil that can lead you astray very quickly, especially if you do not know where you are and how to move forward.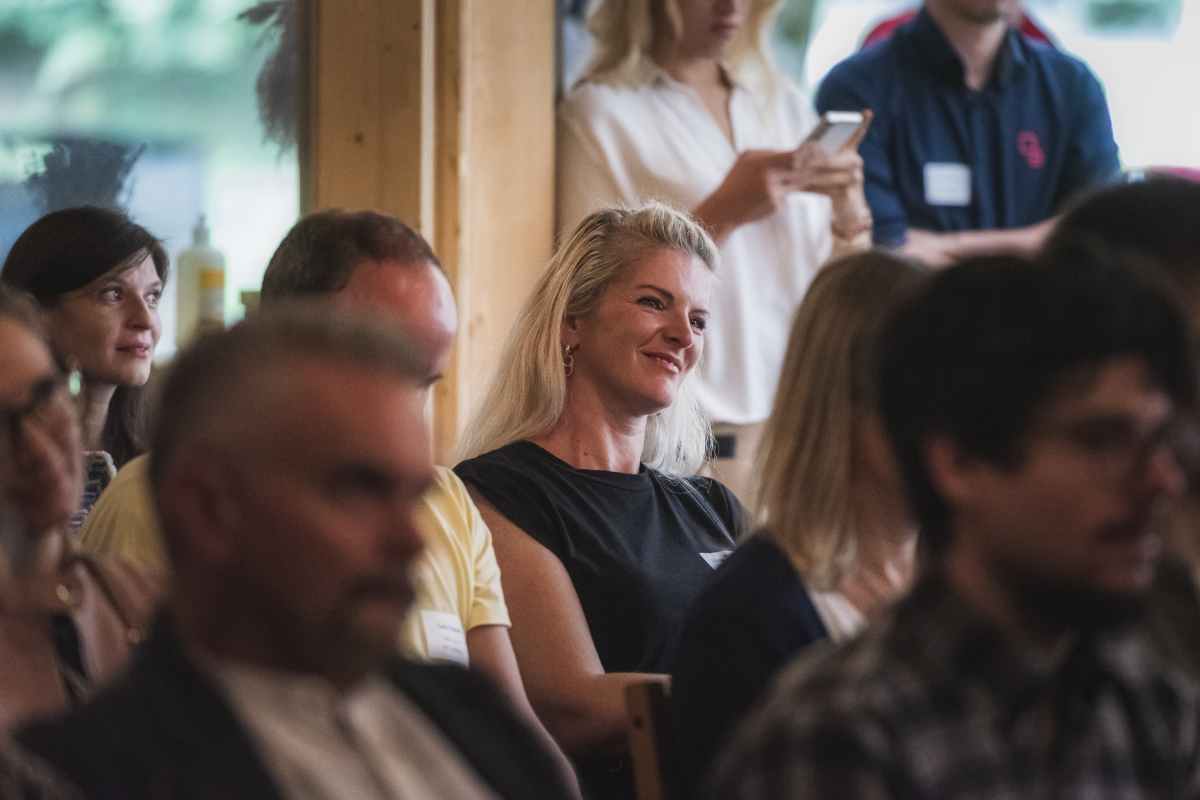 Nina Dremelj at Startup Teambuilding 2022
Mentoring support for faster growth and recognition
Recipients of P2, SK75 and SI-SK financial incentives are entitled to one-to-one mentoring by experienced entrepreneurs and business advisors or startup mentors. The mentor database is made up of top experts and entrepreneurs in their fields.
Startup mentors help entrepreneurs and their teams to develop a stable and profitable business through advice, networking and guidance.
Startups that have benefited from mentoring in the past are now experiencing faster company growth, higher visibility and better business performance.
Startup Plus programs
The Slovene Enterprise Fund also organizes several other top entrepreneurial programs for portfolio companies, such as the Sales Accelerator, Startup Clinic, SK GROWTH, Podim Conference, HardwareSTART, Web 3.0 Accelerator. And many others. These content programs effectively complement the financial products P2, SK75 and SI-SK, which provide Slovenian startups with from EUR 54,000 to EUR 600,000 in funding.
###
The program is co-financed from the Slovene Enterprise Fund and the European Union from the European Regional Development Fund. This is implemented on the basis of the Content Support for Funds Recipients (SMEs) Programme in the 2018-2023 period, under the Operational Programme for the Implementation of the European Cohesion Policy 2014-2020.
Tags
Startup
Mentor
Startup mentor
Startupplus