Wondering how to market your digital product? As part of the Startup Plus program, for the first time this year, in cooperation with SEF, Ljubljana Technology Park and the Ljubljana University Incubator, a vertical acceleration program is being held for recipients of the Fund's financial incentives in the field of health. With the help of the first workshop on the topic of (Digital) product development in the field of health and well-being, which took place at the Technology Park in Ljubljana on September 29, you could gain a lot of knowledge and experience. Here are some key tips to help you get started.
From innovation to the patient
If you want to put a digital product on the healthcare market, you need to know the ecosystem, the concept of the three customers, why key opinion leader is necessary and what the new regulation for medical devices brings. Mateja Urlep, one of the leading experts in the field of biological medicines and the founder of TikhePharma, and Gregor Cuzak, an entrepreneur, marketing expert and co-organizer of Healthday.si, told us more about this.
Knowledge of health ecosystem stakeholders is crucial
It is important to know the ecosystem in healthcare. Within the ecosystem, we have regulators on the one hand, and doctors, hospitals and clinics with licenses on the other, and a payer who takes care of spending as much money as the system has. In the health ecosystem itself, there is also the digital device and digital care industry, the medical device industry and the pharmaceutical industry, which must obtain licenses from regulators to launch their products.
Who is the "triple" customer?
The medical market is extremely specific. In this market system we have a so-called "triple" customer consisting of:
patient,
doctor and
payer.
The patient is the one who has the needs. It is the doctor who finds out what is wrong with the patient and what's best for him and the payer is the one who decides what will be payed for at all. An insurance company, a hospital, a health center, etc. can appear in the role of the payer - all who interfere in this system. Doctors and other healthcare workers are the ones who help us come up with the optimal solution and a patient has the problem. We have a triple customer in this system because we have three decision makers. You have to influence all three to succeed.
When you have an idea and want to launch a new digital product or application on the market, you have to look at how you will meet the needs of the regulator, and at the same time you have to pay attention to how doctors will look at your product - they are the ones that will recommend it and how your product will be viewed by payers who decide whether your solution will be used at all.
When you think of new products, solutions, keep in mind how you will present this to all three key players.​
Do you know key opinion leaders?
When entering the healthcare market, you need someone who will convey your opinion comprehensively and credibly to professionals and doctors. "Key opinion leader" is a very important concept in healthcare. This is, for example, a doctor whose opinion is crucial and who is listened to by other doctors and specialists. Without a doctor on the team, you will have big problems in the healthcare market. Gregor Cuzak recommends that you have a doctor on your team. The more a doctor is a "key opinion leader", the greater your chances of success in the healthcare market.
Before entering the healthcare market, you still need to identify who is your ambassador, who is the right decision-maker who will have the most voice in all the juries within the healthcare system. This needs to be worked out very well and thought through thoroughly. So when you start product development, you need to include all the representatives you have identified, so that they know how to continue and how to advise you and your team.
What is the new regulation for medical devices?
The novelty is that retroactively it is very difficult to plan everything in advance and anticipate. It's something very similar to pharmaceuticals in drug development, where you have to plan ahead and anticipate what the effects of drugs will be and then test them. If you achieve that, you can complete the clinical study, if not, it falls. With medical devices, you have to plan in adnavce and decide what you want to achieve with it. If you don't do it beforehand, you can't go back. Of course, we have to set up the process, reduce the risk, and set general safety procedures and performance requirements. There's a whole bunch of things you need to check in advance.
You also have to evaluate clinically and assume goals in advance. You have to prove to the regulatory authorities that your product does what you anticipated it will do. In parallel with the clinical evaluation, it is also necessary to prepare a technical file. Check what kind of technical folder you need on the SIQ page.
Mateja Urlep emphasizes that it is crucial that during the entire development you cooperate with those who you determined in the previous steps. That way, your product, service or app will succeed in the market. If we cooperate with key stakeholders at the beginning and include them in our development, we are on the right track, as we have made a strategy of pre-marketing.
Administrative procedures
You must register the medical device with the JAZMP or the Agency for Medicinal Products and Medical Devices of the Republic of Slovenia. SIQ will assess whether you are doing everything in accordance with the team and you will be given a number based on which you will go to the European database of medical devices. You will be able to start marketing your product all over Europe.
Entering the healthcare market is a multidimensional chess game. -Gregor Cuzak
In the video, Mateja Urlep and Gregor Cuzak recommend what is key when developing a digital product that you would like to put on the healthcare market:
Data protection
Matjaž Drev, one of the greatest experts in the field of data protection in Slovenia, explained the key things we need to know in the field of data protection.
In healthcare, we have more and more data in digital form, which brings more risks, but on the other hand, more opportunities.
Let's look at the risks that most often occur in healthcare:
Large amount of sensitive data
In healthcare, we have one specificity, data that are treated as special types of data according to the GDPR or sensitive data according to ZVOP-1. This type of data includes sensitive personal data (e.g. electronic files) and is abundant in the healthcare sector. There are significantly fewer of these in other sectors, so we have to be careful when managing them.
Complex information system
Health information systems are very complex because they were not created iat once, but grew organically. For example, one solution was programmed by a doctor in his spare time, then another solution was bought, so with the change of leadership, the system changed again.
Smart medical equipment
We have more and more medical smart equipment where we face problems with updating. Some solutions have or do not have updates or they need to be paid for. There is also the problem of integrating medical equipment with information systems.
Legal data processing
The core of the GDPR is legal data processing. Whatever is done with the data must be covered. If you are developing an application, this principle is not essential for you. However, if you collect and work with data, it is. This is much more important than all security measures.
Neurejena pogodbena obdelava
Tu bomo hitro v igri, če bomo delali za bolnišnice in zdravstvene domove kot neke firme, ki dostopajo do podatkov, nudijo podporo ali svoje serverje za hranjenje podatkov. V tem primeru smo pogodbeni obdelovalec in za uspešno poslovanje potrebujemo urejene pogodbe.
Unregulated contractual processing
You will be sucessfull if you work for hospitals and health centers and some firms that access data, offer support, or their own data storage servers. In this case, you are a contractual processor and we need regulated contracts for successful business performance.
Information security
Information security in healthcare is very poor. You can also take advantage of this because you can offer things to the market that don't already exist.
Unintentional damage, internal misuse and hacker attacks
The above mentioned can be reduced with certain solutions, recording approaches, and knowing how to properly use software. ​
Weapons of bureaucracy
The key weapons of bureaucracy that you need to know are:
GDPR - when it comes to personal data, GDPR is the foundation. The GDPR or General Data Protection Regulation is a regulation adopted by the European Parliament and entered into force in May 2018. It brings innovations in the field of data acquisition, processing and storage. Matjaž says that if you know about it, you are safe.
ZVOP-1 or the Personal Data Protection Act still applies, but regulates only certain specific areas.
Safety standards - the recommended security standards are ISO 27001 (information security) and ISO27701 (personal data protection). This is about regulating the processes in the organization.
OWASP TOP10 - If you are developing a web application, it is recommended that you look at this website www.owasp.org/www-project-top-ten/). These recommendations may already be required in certain tenders. Matjaž's recommendation is to take a look at these 10 critical vulnerabilities.
Regulation (EU) 2017/745 and ISO 13485 - This regulation decides if a device is medical and if it is not. ISO 13485 is used to grant the appropriate quality of a medical device. If you want to be certified by SIQ, you will have to follow the ISO 13485 standard.
Medical applications - If you are developing an application in the field of health, check the website where you can get various European certificates.
What is DPIA and why is it important?
When working in the field of data processing, you must also know DPIA or data protection impact assessments. The GDPR requires the establishment of a DPIA for all processes that are likely to pose a high risk to the freedom of individuals. DPIA will help you identify and reduce the risks that arise when processing personal data. With the help of DPIA, you can avoid dangers and find what might not work. DPIA also helps you identify where your vulnerabilities are and the critical points you still need to address.
4 phases of DPIA
Matjaž advises that the implementation of DPIA takes place in four phases, which consist of context, risk, measures and report.
Context
In the first phase, you need to define the processing context in which you describe the data you will use, the purpose of processing, data flows, data retrieval methods, data processing methods and means, the involved entities, which can be controllers, processors and users.
Risks
The second phase follows, which refers to the identification of possible risks, where you have to pay attention to the level of risk. You need to focus on assessing the level of risk, i.e. which realization is more likely and what may have more severe consequences.
Measures
The third stage is followed by measures to indicate what will need to be done to avoid risks or reduce them to an acceptable level. Keep in mind that it will be difficult to avoid all risks in the company, but it's significant to reduce them to an acceptable level.
Report
The last stage that follows is report. With the proper implementation of the first three, records have been created that you need to systematically include in the report. The report must be drawn up in such a way that it shows that you have carried out all the phases and complied with the required criteria. It is also recommended that the DPIA report has a summary and conclusions.
Matjaž's key advice:
Businesses still invest too little in the user experience
The user experience is a high value-added investment. A good experience requires planning, testing, management and investments. Keep in mind that it changes over time and that it needs to be constantly upgraded.
Here are some tips that you should consider when building a good user experience:
Talk to users.
Rather listen than talk too much.
Ask open-ended questions, not YES/NO questions, try to get customers to talk as much as possible and get as detailed information as possible.
Always drill deeper, why don't some customers like it? Don't settle for a simple answer, as a detailed answer will make it easier for you to understand.
Provide a relaxed atmosphere without condemnation, keep it pleasant.
Write things down, but at the same time observe the person you are talking to. Observe the situation and adjust.
Let the most suitable member of the team ask questions, some are much more social than others.
Make notes immediately after the conversation.
Form the base of the conversation in such a way that people will know how to come to conclusions.
The user experience should not be just one step, but could be the mindset of the entire team, from the designer, marketing manager, director, etc.
UX is also extremely important in the SmartOptometry startup
We were able to find out how important the user experience (UX) is for entrepreneurs with the help of the startup company SmartOptometry. The company's director and columnist at Finance magazine, Žan Menart, told us more about UX in their company. The company is engaged in designing products for children, which means that their user face has to be friendly, easy and attractive.
UX is a key thing for their business
Žan said that UX is not just an integral part, but a key thing. Smart Optometry is six years old and over the years they have worked on various software for the eye industry. They soon received feedback from doctors that they had problems with children who needed vision training. The key problem was that children had to perform vision exercises at home, but they were not interesting. There were already computer programs with vision training exercises, but they were outdated and uninteresting, which did not appeal to children. Smart Optometry has developed a software that allows children to train their eyesight through playing. They not only faced the challenge of how to create interesting software for children, but also how to create a health product that is interesting and logical for parents who pay for the product and stakeholders - doctors.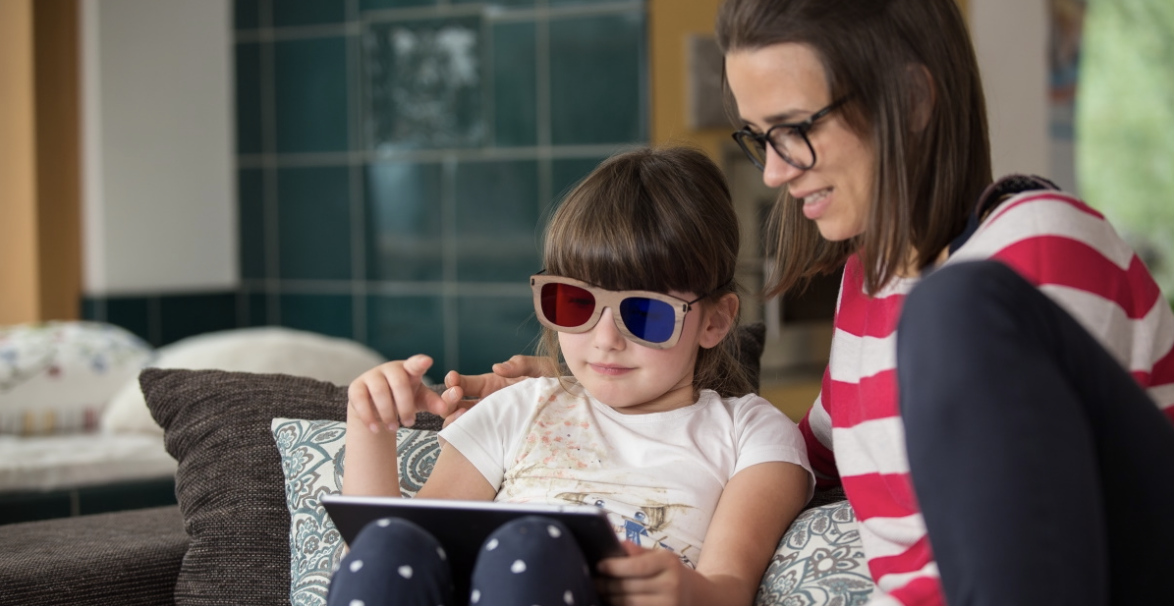 Transparency is of the outmost importance
They found that in their case, the look or design was in the fourth place. Transparency came first, so that the user always gets the thing he expects. In second place is "user flow," which includes the reaction of the customer and what information they need to launch. The third place relates to the explanatory function, which is of paramount importance in UX. Žan points out that many things can be explained with words or graphically. They built a good UX with the aforementioned factors, which is why the look of their product does not need to be so high on the chart.
Good UX requires feedback
UX has been an integral part of development for them from the very beginning. When they started development, they had a test group of 35 children and parents and an eye clinic in Ljubljana. They constantly involved children and potential clients - parents - in their development, as well as doctors with whom they had meetings every 2 or 3 weeks. During these, they debated what they liked and didn't like. This method was time-consuming and intensive, but that's the only way they got the right feedback and took the product in the right direction. Žan says that for them, UX is just as important as the medical aspect.
Artificial intelligence is an important part of the future
Vili Podgorelec, the head of the Center for Artificial Intelligence at the University of Maribor, told us more about AI, its successful operation and the case of how it was used in the MedicoApps startup.
AI is an extremely effective tool that involves processing data in a special way. It's basically pretty unintelligent, as it blindly follows a rule. Artificial intelligence learns to predict using machine learning techniques.
Successful AI process
If we want the AI process to be successful, we must first get to know the domain/field, to know which characteristics are the ones we can present to our system to learn from them. Once we know the domain, the creation of the target data set follows. Here we select the data with which we will teach our system. It is important to choose the right set of data according to the properties, characteristics and features with the help of which the system will be able to predict the results. These data are usually not in such a form that they can be used directly, but we have to process, purify, remove noise, etc. in an appropriate way. The data must be in an appropriate format for the system to detect it.
Once we have the data, we determine the functions of machine learning and the system. Afterwards, we select the appropriate companies, tune the algorithm accordingly to get a predictive model that we will be able to use.
This is followed by an interpretation, understanding of how the model works. The final step involves an evaluation that tells us how successful the model is in its performance.
When the whole process is in proper condition, we can expect solid results.
Health Tech Growth Acceleration Program
As part of the Startup Plus program, the Slovene Enterprise Fund, in cooperation with the Ljubljana Technology Park and the Ljubljana University Incubator, is organizing a vertical acceleration program, which is available free of charge to all recipients of the Fund's financial incentives in the field of health. As part of the program, the Partner Hack program has been prepared for the participants, four educational workshops are currently underway, and in the future they will have a conference on the vertical health promoter and two informal community meetings.
Take a look at what Darko Đurić has to say about it:
Many great Startup Plus programs
The Slovene Enterprise Fund also organizes many other top entrepreneurial programs for portfolio companies, such as the Push2start Acceleration Program, Startup Clinic, SK GROWTH CAMP, NextRound, GROWdigital, KorpoStart, INTL, Nextround, School for Investors, HardwareSTART, CEED Founders Talk and ScaleUPgrade. The content programs effectively complement the financial products P2, SK75 and SI-SK, which provide Slovenian start-up companies with EUR 54,000 to EUR 600,000 in start-up funds.
read about other pROGRAMs here
###
Content support for recipients of P2, SK75 or SI-SK financial products under the "de minimis" scheme is co-financed from the Slovene Enterprise Fund and the European Union from the European Regional Development Fund. This is implemented on the basis of the Content Support for Funds Recipients (SMEs) Programme in the 2018-2023 period, under the Operational Programme for the Implementation of the European Cohesion Policy 2014-2020.