54 participants from 4 countries spen 3 days using data from European space programs to develop innovative solutions to 3 challenges in finance, insurance and investment. Slovenia has the highest number of participants of all the 10 Europan countries where the hackathon was held, a remarkable achievement for the organizer Venture Factory.
The solution by Yolanda, BugBit, is a risk analysis platform for insurance companies, providing land owners predictions, early recognition, & alerting of bark beetle outbreaks. It detects forest areas threatened by the European bark beetle by analyzing satellite images and thus prevents damage and was the most convincing according to the five-member jury, crowned as the Slovenian winner. In addition to competing against 9 winners from other countries this Wednesday, it also earned the main prize, which is the intensive business support by Venture Factory for further development of the solution and participation at the Podim conference.
In total, 11 solutions were presented at the hackathon, developed by 54 participants from 4 countries. 15 mentors also provided support and mentoring to the teams. During 3 days, they searched for and developed solutions to problems in finance, insurance and investment, using data from European Space programs Copernicus, Galileo, and EGNOS. On Wednesday at 6 pm, the winners from all participating countries will compete in an online demo day to win at the European level.
Slovenia hasd the highest number of participants
The 4th CASSINI Hackathon, supported by the European Commission, took place simultaneously in 9 other European countries: Belgium, the Czech Republic, Finland, France, Germany, Italy, Lithuania, Spain, Switzerland, and France.
We at Venture Factory are delighted and proud to have stood alongside the other European organizers. I attribute this achievement to the good integration into the wider regional ecosystem, the excellent reputation of our organization, and the flawless execution of our team. All three elements result from our hard and structured work over the last 20 years. The achievement is also a good foundation for our focus on space tech, an increasingly propulsive entrepreneurial and technological sector," said Matej Rus, CEO and founder of Venture Factory.
54 participants from Slovenia, Italy, Hungary, and Croatia
54 motivated and knowledgeable developers, business people, and designers, supported by 15 mentors, spent a few days developing breakthrough solutions to 3 challenges. Participants who took on Challenge #1 were looking for solutions to promote green and sustainable investments. Challenge #2 dealt with innovative tools and technologies for insurance and banking, while Challenge #3 was all about finding solutions to upgrade global financial-analytical systems.
They came up with 11 solutions, which were presented on Sunday afternoon to a five-member expert jury consisting of Rinalda Klemenčič, Sava Insurance Company; Peter Merc, Lemur Legal & Suricate Ventures; Matjaž Cvek, NChain; Matej Rus, EPF &Venture Factory; Muhamed Turkanović, Faculty of Electrical Engineering and Computer Science, University of Maribor.

The main partner of the Cassini Hackathon Slovenia, Sava Insurance Company, wanted to answer the question of how an insurance company can use satellite data to enrich existing solutions or design new ones that will respond more effectively to modern user challenges, improve business models, and how it can predict trends and events, contributing to shorter reaction times and a better quality of service.

Team Yolanda as the Winners
The seven-member team of Blaž Jakopin, Jaša Dimič, Matic Kuselj, Žiga Vene, Klemen Lovenjak, Lucija Mohorko and Primož Jozič convinced the jury the most. The win earned them a EUR 1,000 cash prize as the winners of Challenge #2, plus a unique business development package from Venture Factory and startup tickets to the PODIM 2023 conference. Team leader Blaž Jakopin said he was surprised by the win, as the competition was tough. He described the whole hackathon as an extremely valuable experience, which helped them to thoroughly rethink and refine the idea and move it towards realization. They are also looking forward to pitching at the Demo Day this Wednesday.
After the event, Rinalda Klemenčič, Director of Innovations and Strategic Marketing at Sava Insurance Company and jury member, said: "The ideas at the hackathon were as diverse as the groups. I especially liked those applicable in the short term, tangible, that give some micro solutions that can be put into practice very quickly. It was a great pleasure to be part of such a great and inspiring project, and I am already looking forward to future ones".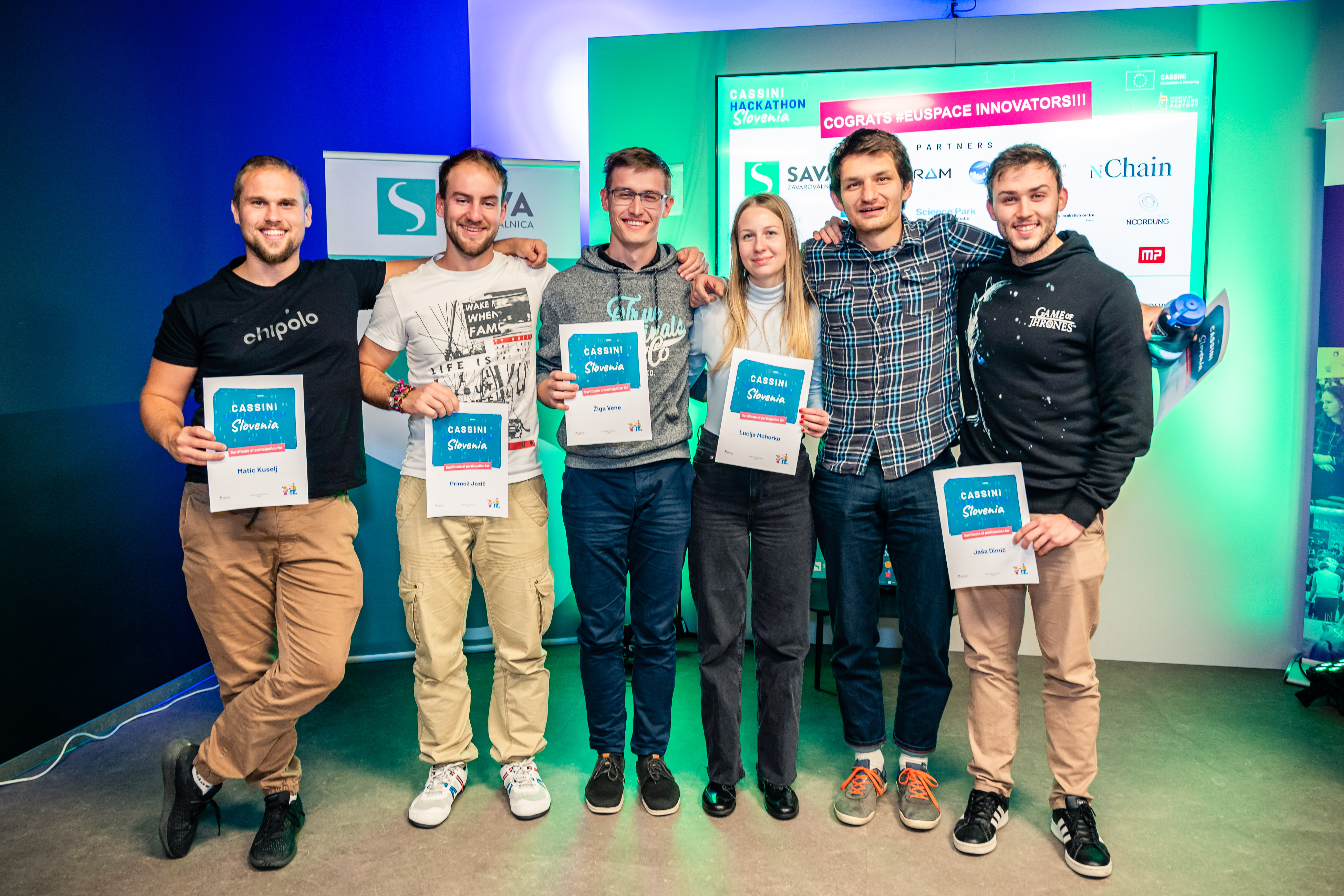 Yolanda, the winning team
Port'o'lyzer and The Thinkers, winners in the other two challenges
The winning solution to Challenge #1, which looked for solutions to promote green and sustainable investments, was developed by The Thinkers, who came up with FishLegal, a solution that uses satellite data analysis to identify and notify the authorities of fishing boats fishing in no-take zones.
The best solution to Challenge #3, which dealt with upgrading global financial analytical systems, was presented by the Port'o'lyzer team with a solution that predicts the trend of shipowners' shares by analyzing activity in major ports.
Eight other solutions competed for the title
In addition to the three winning solutions in each of the three challenges presented above; Yolanda, The Thinkers and Port'o'lyzer; 8 more teams competed to win the Cassini Hackathon Slovenia, explained below.
The CleanGrain team developed a solution that contributes to more efficient agricultural land use. It uses satellite and aerial imagery to obtain soil data and uses an intelligent system to suggest the crops that would thrive best in a given area.
The Pockets of Nature solution was presented by the InsureSpace team. Based on different data sources and predictive analytics tools, the solution helps the user choose smarter and healthier outdoor activities based on various atmospheric parameters such as poor air quality, UV rays, rainfall, etc.
The Daedalus team has developed a solution that allows companies to check how sustainable and ecologically oriented their partners or other companies are to have a complete overview of their emissions and better direct resources towards more sustainable options.
The Property Green Index team has responded that it will not be sufficient to assess the value of a property for insurance or security purposes in the future but will also need to include environmental risks. Based on satellite data, they have developed a solution that will track the value of a property over time and assess the environment's impact on the property's value.
The solution presented by the Risq team improves risk assessments in the insurance industry by using a quantum machine learning algorithm to predict natural phenomena.
The Solis project offers a solution that uses satellite data to estimate how suitable a location is for solar energy.
Furthermore, the ShadowScope team has developed a solution that can use satellite images, machine learning, computers, and shadow detection to visualize which places have more shadow than others, simplifying the decision-making steps for investing in renewable energy sources such as solar panels.
In real estate, another solution resulted from 3 days of work. The Smart City Planning and Investing Support Tool team presented a tool that uses satellite data to facilitate smart city planning and real estate investment decision-making, and to offer real estate investors a bigger picture related to the property, i.e., in addition to the location itself, information on pollution, vacant land,...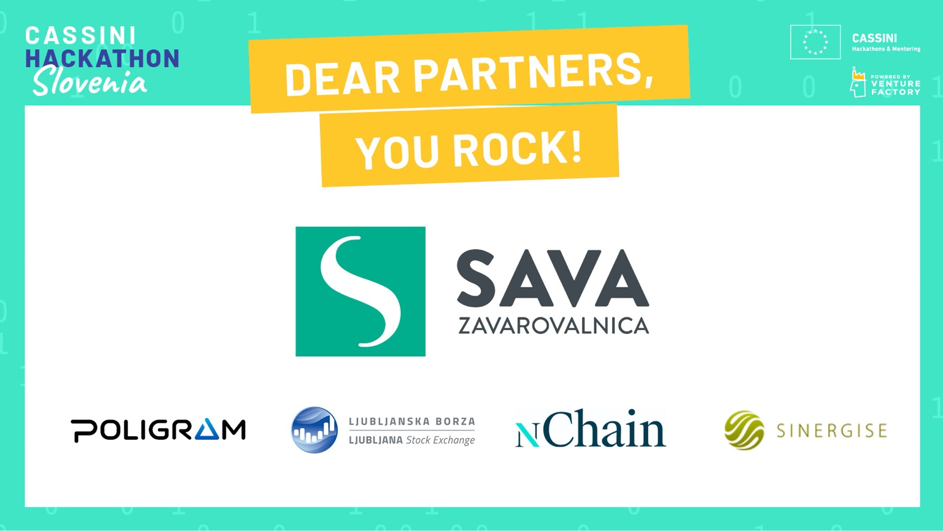 Tags
Cassini
Cassinihackathon
Hackathon