All entrepreneurs have the same growth problems, women entrepreneurs have even more. AWE helps them understand how they can tackle these problems. The second season of the Academy for Women Entrepreneurs - AWE, a program for women entrepreneurs who want to grow their business, is about to start and they are looking for women interested in joining them.
"A community of women who support and believe in each other" (Ursula, Hopalai)
In the first generation of AWE women entrepreneurs, entrepreneurial leaps such as increased sales, better business organization, planning, the rethinking of the business model, breaking into foreign markets, strengthening of women's self-confidence, change of mindset, peer support, and new entrepreneurial collaborations and partnerships between AWE women entrepreneurs have been established. The program is based on a hands-on method of sharing experiences and knowledge.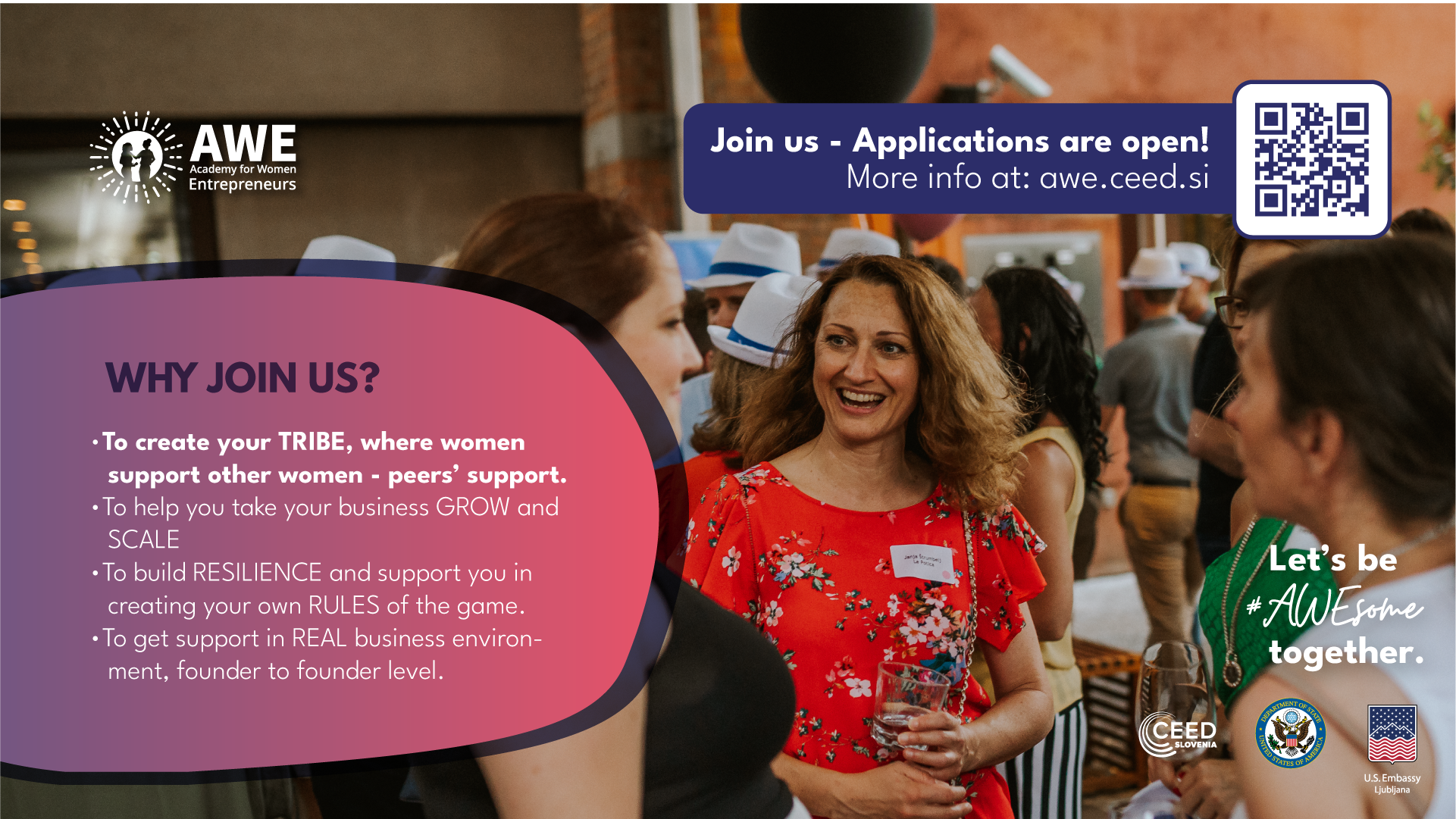 Of all the women entrepreneurs, the members of the program council and the AWE mentors selected the Top 10 Business Breakthrough. They include:
Ursula Lavrenčič from Hopalai, Deana Jezeršek from LanguageSitter, Tina Markun from Urejanje domov, Maja Ferme from Ferme Fashion, Janja Štrumbelj from Le-potica, Aleksandra Lelov from Yanika, Matejka Štempelj from Almadea, Damjana Pangerčič from Sil-Way, Maja Jerkič from
Freezura, and Nika Močnik from Eventnika. Find all AWE women entrepreneurs here.
What are the criteria?
It is a one-year program starting in September 2022, supporting women entrepreneurs to grow. They are looking for early-growth women entrepreneurs (team of 1-5, up to 500K in revenue) who speak English and want to continue to develop their team, their revenue, their strategy and to work on their personal and entrepreneurial growth.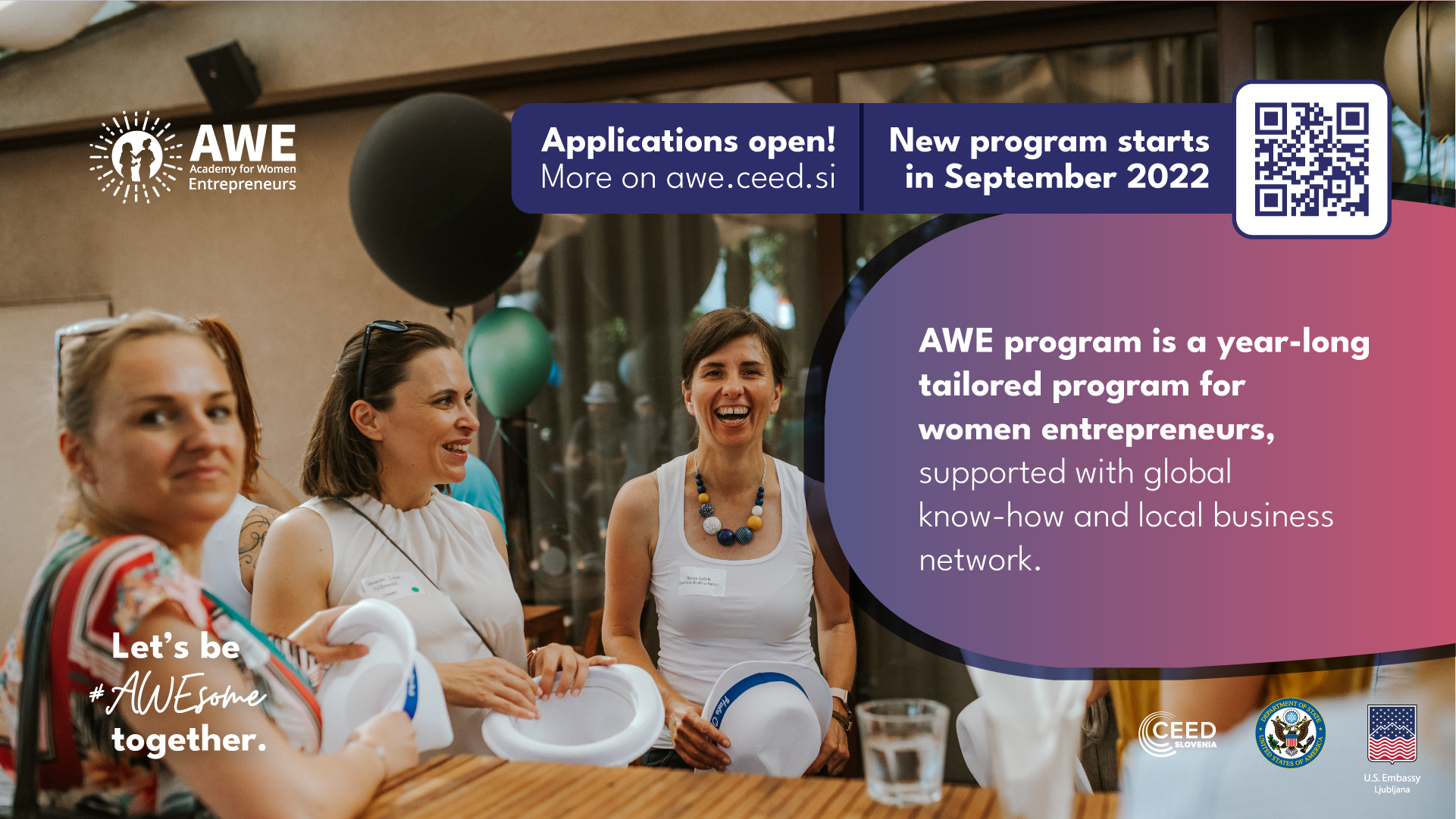 AWE program
In 2021, 49 women entrepreneurs from all over Slovenia were enrolled, attending monthly peer-peer group meetings, participating in the online DreamBuilder program and enjoying additional support with mentors during the year-long program. They also have additional support in the CEED community at monthly meetings where they meet other members.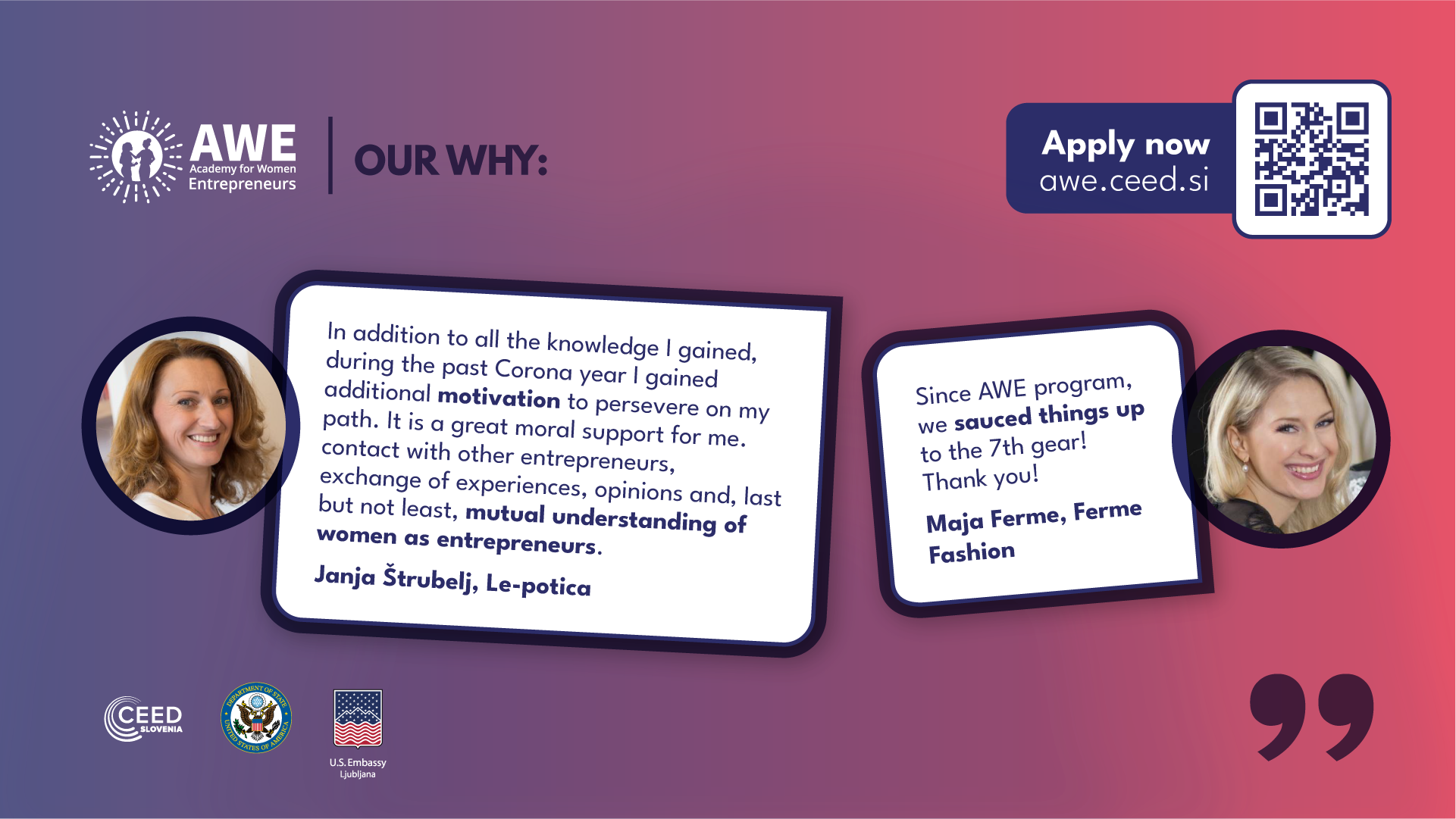 'No fee'
The program is fullu covered by the US Embassy and CEED, so it is free of charge.

The AWE program is developed jointly with the US Embassy and the global Women's Economic Empowerment (50+ countries), co-creating and developing a global community of women entrepreneurs.
podjetnic. Find out more: https://awe.ceed.si/.
You can apply via the form here, no later than 18th August 2022.