Even though it may not yet be clear what 2021 will bring following the extremely turbulent and unpredictable year 2020, one thing is certain - boosting sales will be crucial. Gain the skills to drive your sales through the state-of-the-art Sales Booster 2021 program.
The Sales Booster 2021 is a program adapted and intended for the recipients of the P2 startup incentive, SK75 and SK200 convertible loans and the SI-SK co-investment of the Slovene Enterprise Fund as part of the content support of the Startup Plus Program. Participation in the program with internationally renowned sales expert Primož Hvala is free of charge.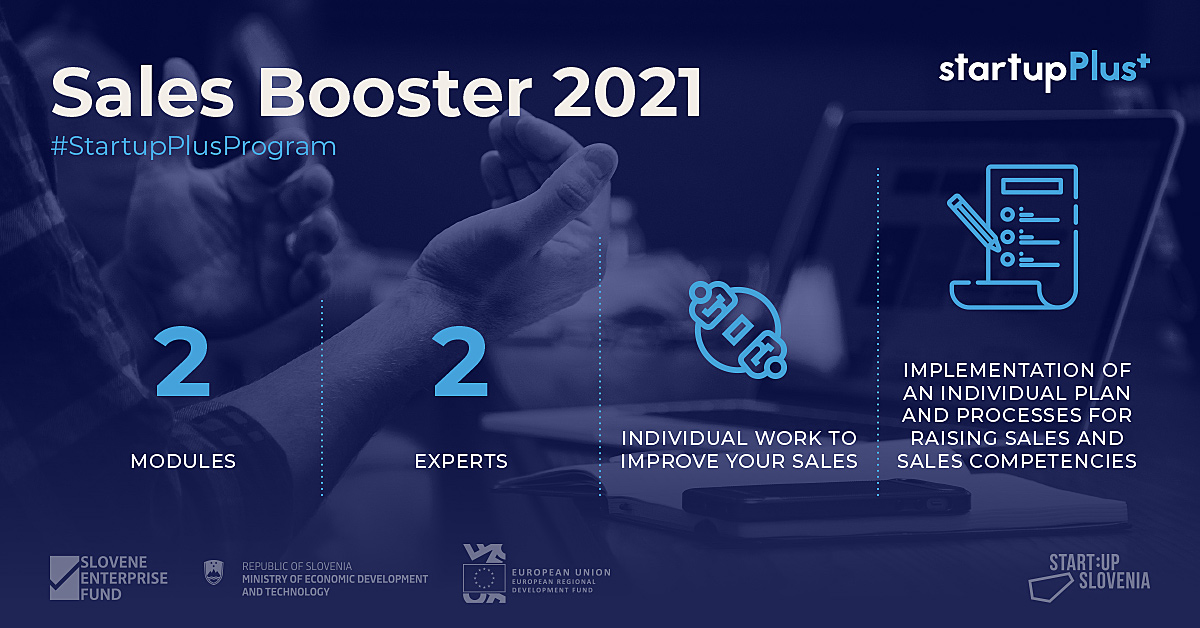 Evaluation at first, followed by plan and implementation
The Sales Booster 2021 is aimed at ensuring the achievement of sales plans in 2021. Participants will achieve that by:
a "brutal" assessment of the current dream,

making an operational action plan for the necessary progress of sales competencies and

disciplined implementation.
The Sales Booster 2021 program comes at the right time of the year, when preparations for the new business and calendar year 2021 are already beginning.
###
Content support for recipients of P2, SK75 or SI-SK financial products under the "de minimis" scheme is co-financed from the Slovene Enterprise Fund and the European Union from the European Regional Development Fund. This is implemented on the basis of the Content Support for Funds Recipients (SMEs) Programme in the 2018-2023 period, under the Operational Programme for the Implementation of the European Cohesion Policy 2014-2020.

Tags
Sales Booster 2021
Startup Plus Program
SEF
Slovene Enterprise Fund