From 16 to 18 May, ideas-full startups, active investors, outstanding speakers, leaders of successful companies, and other entrepreneurial enthusiasts gathered in Maribor once again with the mission to connect, learn and enjoy the live event after two years of digital versions. More than 1,000 business-oriented people united at the event. The program of this year's Podim was packed with internationally renowned speakers who shared their wealth of knowledge and experience with the crowd. Here are 10 of the most important ones!
1. THE BRUTALLY HONEST STORY OF HOW TO BE THE BEST IN THE WORLD
Joc Pečečnik is well known to the Slovenian and international business community. His influence as the founder of Interblock, an international company that develops and sells gaming technology worldwide, is global. In recent years, he has made his biggest breakthrough in the US market, making him one of the few Slovenian entrepreneurs with such a track record. Pečečnik, also the owner of Bežigrad Stadium, was the driving force behind SBC - Slovenian Business Club, an association of the best Slovenian business owners/entrepreneurs, which was launched at the beginning of 2014. In 2021, he became its president with a three-year term. After the sale of Interblock, he founded Elektronček Group, an investment group to invest in young Slovenian companies and help them on the road to success.
How does a man who gets up at half past 4 in the morning, who replies to an average of 70 emails by half past 8, who doesn't like meetings, and to whom family is very important, manage to have one of Slovenia's most successful business stories? He points out that he has always, one could say all his life, played the game in his own way. He persevered, never gave up, and, above all, took risks. He followed his dreams even when everything was looking bleak.
"That's a challenge sometimes (staying motivated). I really have no problem to really say that I never work and I never go to my office because of the money. Money was always a tool for my dream," he said honestly.
He also highlighted two crucial pieces of information for every entrepreneur. First - do you know your product well? Second - are there customers who would buy your product? Joc advises all entrepreneurs and those who want to get into entrepreneurship not to neglect the importance of first impressions and how one presents oneself. There is an old German saying that you only have one chance to make a first impression, and you should use it wisely.
2. what the business leader learned from the stripper?
Paulina Sygulska Tenner is an entrepreneur, angel investor, TEDx speaker, and founder of the GrantTree platform, which she created to help tech startups navigate the complex world of government funding. Her entrepreneurial and life story have caught the attention of major media outlets such as the UK's BBC, Financial Times, and The Guardian. She has been featured on the acclaimed Channel 5 TV program, The Huffington Post, and Virginstartups.com. She is also the author of the newly launched bestselling book "Laid Bare: What the Business Leader Learned from the Stripper," describing the leadership lessons she learned as a burlesque dancer. Her entrepreneurial career blossomed when she realized her wild side through striptease.
Paulina Sygulska Tenner on finding her wild side
And what was most compelling about the most controversial talk of Podim 2022? Paulina made the packed room of entrepreneurs believe that, at some point, they will definitely upset someone, make them feel bad, shock them, and more. But that means they are doing their job well. In addition to their work, entrepreneurs need to take time for themselves. Every person – entrepreneur or not – needs a hobby that is theirs alone. She experienced this on her own skin when she, completely tired and exhausted, realized that the part of herself she loved the most was starting to disappear. She missed her playfulness, her boldness, and her provocativeness. When she had a chance encounter with burlesque on the way to a meeting, she knew she wanted to be part of this exotic community, and the rest is history.
Now, because of her hobby, she makes decisions differently than before. Today, she listens to her head, heart, gut, and sex when making important decisions. She says that we all have a male and female decision-making part inside us that we should know well and use to make better choices. The intuition of the human body is an excellent compass that – if we want to follow it, of course – guides us in the right direction. So what can an entrepreneur learn from a stripper?
"When I say tuning into my body, there is a practice that I know from tantra /…/ called the inner community, which can really help you make better decisions in business. /…/ It's called inner community because you call on four different parts of the body. /…/ And then you kind of hold a sort of board meeting within yourself, so I like to say that I've got this inner board of directors, and you allow those different parts within you to speak out, and /…/ then you allow them to negotiate and come with a resolution," Paulina explained.
So what can an entrepreneur learn from a stripper? Vulnerability, honesty, provocativeness, boldness, risk-taking, mindfulness, managing the masculine and feminine sides of the personality, and, above all, how to live.
3. why do some people thrive while others barely survive?
Zoltan Vardy is a renowned startup mentor, having gained extensive experience as vice president of global sales at NBC Universal International and as regional CEO at the German company ProSiebenSat1Media, where he managed over 1,000 employees and hundreds of millions of dollars in revenue. His The Launch Code™ system, built on principles, tools, and techniques he has applied to $2 billion in sales deals over his 30-year career as a CEO, entrepreneur, and investor, has successfully accelerated the revenue growth of hundreds of startups in AgTech, MedTech, AI, Business Services and Media through mentoring programs and workshops.
Zoltan is a strong supporter of the growth and development of Europe's vibrant startup ecosystem, regularly engaging with accelerators and spreading the values of entrepreneurship at conferences and events. He has been involved in both entrepreneurship and investing throughout his life. Through his experience and study of successful entrepreneurs, he unraveled the biggest mystery of entrepreneurship – why does one person succeed and why doesn't another?
"The greatest entrepreneurs have focus. They have a very clear vision for what they want to achieve and a path that will get them there. They're agile, they solve problems quickly, they build execution momentum, and they're very persistent. They have an unwavering belief in their mission, and they stop at nothing until they achieve it," Zoltan answered what differentiates those who thrive and those who barely survive.
4. why is asking the right questions important, and why is it still not valued enough?
Shubber Ali is an international innovation ninja, CEO of Unorthodox Advisors, a business consulting firm, and a guest lecturer at Emory University in Atlanta, USA. He is also one of Accenture's global leaders. Shubber is the definition of a successful innovator and mentor on a mission to help develop new businesses and bring them successfully to market. As an experienced entrepreneur, he has co-founded several successful technology startups, including the innovative and award-winning software technology company Centriq & Flaik. He has also built innovation programs at Salesforce.com, which was crowned one of the world's most innovative companies by Forbes magazine.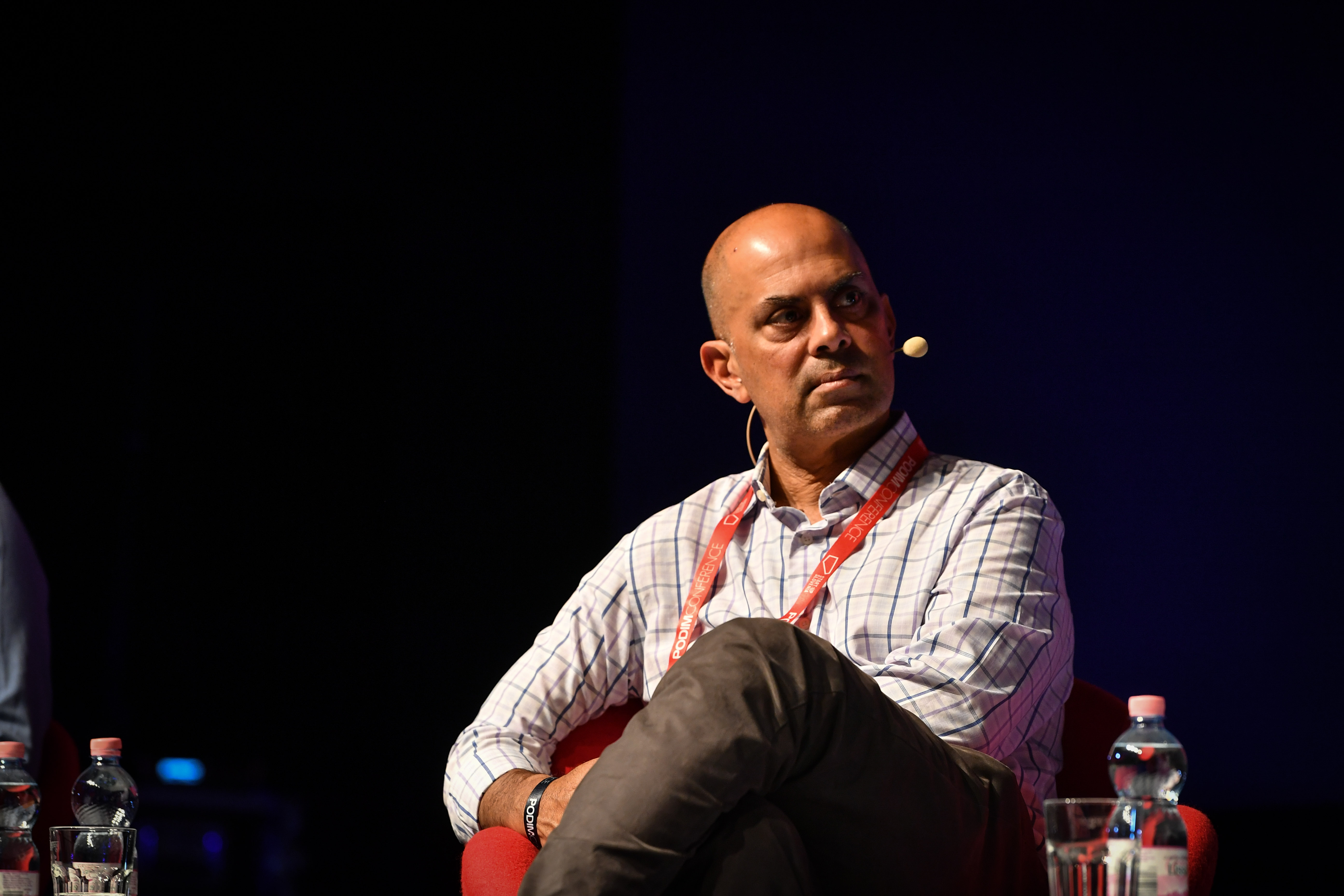 Shubber Ali on elevators, mirrors and problems
He started his lecture with a story about elevators, mirrors, and selfies, which perfectly sums up the essence of finding and solving those real problems that may not be so obvious at first glance. In a skyscraper in New York, there was a problem with the elevators because they were too slow due to their age, and the tenants started to complain. The building manager could replace the elevators, but that would be a huge expense and would turn life in the building upside down for some time. Then they looked at the problem from a different angle. People are tired of waiting, so they need to be distracted, and only then will slow elevators no longer bother them. The solution? Mirrors were placed in the areas in front of the elevators so that people could look at themselves while they waited - because everyone likes to look at themselves in the mirror. The telling fact that the whole world takes 92 million selfies a day only confirms this.
"When you want to solve a problem, a big part is understanding what is truly valuable. /.../ If you really understand the problem well and have reframed it to look at it from a totally different perspective, the solution oftentimes becomes incredibly obvious. Think of some of the great innovations that you use every day now and how obvious they seemed once you had them, but nobody had solved them until somebody actually connected the dots in a different way. /.../ So understanding the right problem to solve leads to great innovation," he told the audience.
5. digital transformation is more than just a fad
Robin Weninger is CEO of the Global Institute for Leadership and Technology (GILT), an institution that aims to put education at the heart of every organization so that it can always cope with an increasingly complex and uncertain world. He is also the initiator and CEO of the Global Blockchain Initiative (GBI), a member of the advisory board of the Zigurat Innovation and Technology Business School, and a lecturer at the Frankfurt School of Finance and Management, the University of Barcelona and the EU Business School in Geneva. His work uses innovative educational and entrepreneurial models, behavioral design, and complex systems theory to help organizations better harness the effects of networks and the "spillover effect" as a catalyst for change.
He says he hates the phrase digital transformation. Why? Because everyone talks about it, but without ever defining it. It's a phrase that we really love to use to describe things that we haven't thought about and are still finding answers to.
"We are looking at the reinvention of the world. We are building new systems; we are starting to change the way we are living. /…/ We will see completely new things emerging – not only from business models but from the way we are going to work, live, interact, and communicate. /…/ We are also on the quest of building a new society. If you look at society, we have a pretty interesting setup. We have digital immigrants – these were people that were born before the internet and then migrated to that. We have people like the 90s kids that had a little bit of both, and now we have the full digital natives one. They are creating a pretty interesting dynamic, /…/ but we also need to build a global digital society," Robin summed up the world we currently live in.
He also points out that this is new for all of us, so it is only logical that there are doubts because we do not know what lies ahead. That is why we need to embark on a journey of discovery and finding out and to see our world as a great experiment to be played with. The problem that he raises in this regard is that of human trust. This is where technology can come to the rescue.
6. WHICH aspects OF A PRODUCT'S SALES SUCCESS HAve BEEN OVERLOOKED SO FAR?
Petra Mo is - in her own words - an architect who changed her course, heading to tech and then taking on the role of VC investor. She is an investment associate at 3VC, a proud Global Women in VC community member, and a board advisor at RapidCompact by DGG and Tatum. She was a freelancer working with various startups in Europe, China, and Silicon Valley. She also worked as a product designer at software agency INLOOPX, which was later acquired by European cybersecurity unicorn Avast. Petra is always keen to suggest and praise solutions at the crossroads of feasibility and desirability.
As an investor, she points out that for companies that want to succeed, the user experience is crucial. Branding is essential, of course, but it is the UX that we should pay the most attention to, as it will bring the company the maximum return on its investment. So what do you need to do to get your business on the right path to loyal and satisfied customers?
Research, validate and master the problem you are solving for the user while always keeping the user experience in mind. Focus on UX from the beginning to the end of your development process and include a UX designer. Play around, experiment, and gather insights from your first test users.

Hire the best designer right from the start. Make it someone obsessed with solving users' pain points. Don't forget to create a culture where this attitude is desirable and appropriate for UX designers. Enable them to make things functional and user-friendly, not just pretty.

Make it visually appealing. Because first impressions matter, you have to make certain things visually appealing. Once you have mastered this balance between usability and beauty, the victory is yours.
"That's what we VCs care about as well, and it helps you to stand out among competitors," Petra concluded her talk.
7. what can you learn from your idols?
Dheeraj Pandey is a board member of US software giant Adobe, co-founder and CEO of DevRev, an enterprise software company that brings together developers (dev) and customers (rev) in an era of product-led growth. He previously worked as a senior software development manager at Oracle Corporation, but his list of career achievements doesn't end there! He is also a director and co-founder of Param Hansa Philanthropies and Param Hansa Values LLC, and former co-founder and CEO of Nutanix, Inc.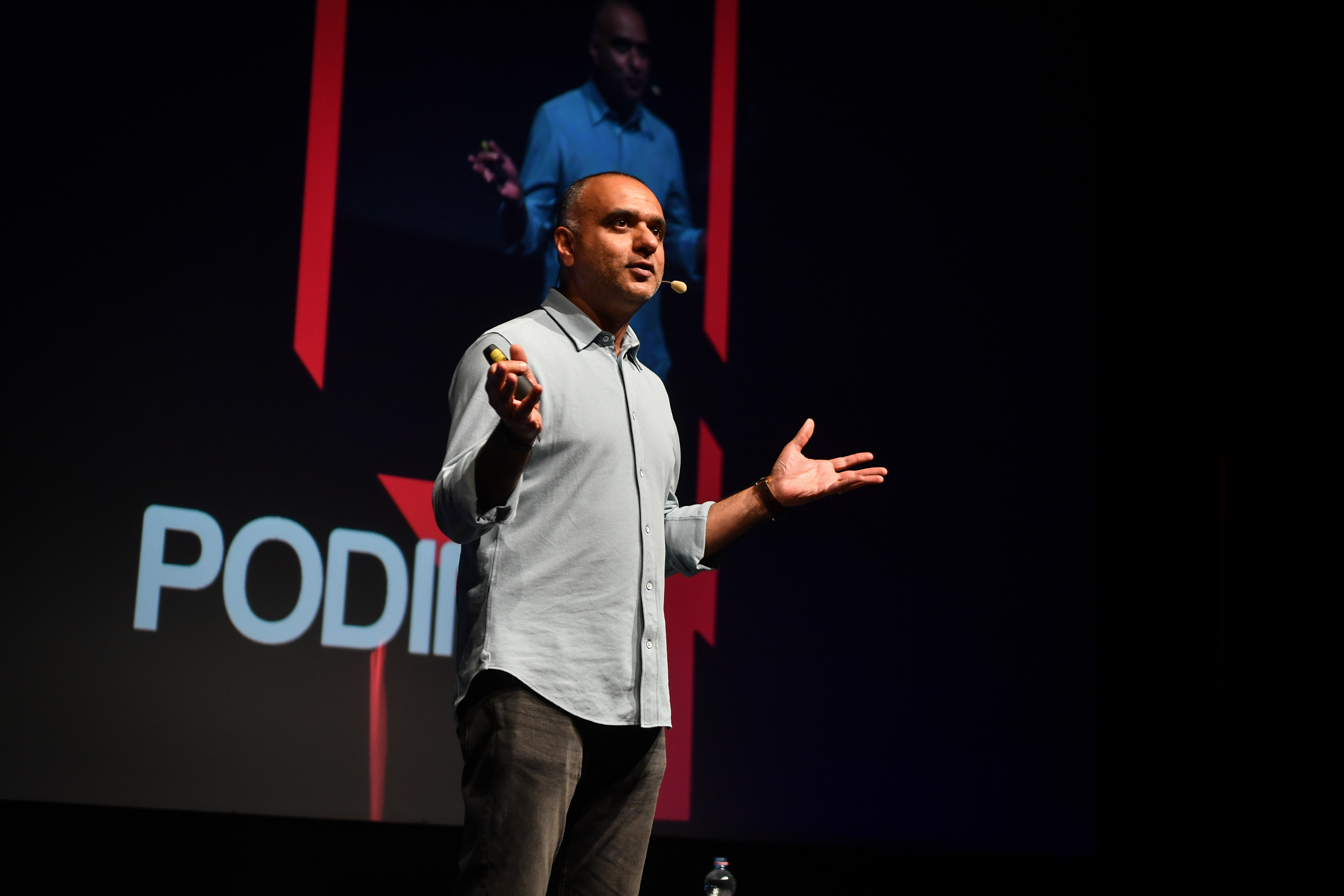 Dheeraj Pandey on learning from the greatest entrepreneurs of our time
DevRev was founded to enable developers to build customer-first businesses around the world. The problem it solves is bringing together all the data related to work, products, and customers into a single platform that connects the developer and customer with a modern interface and a fully extensible API platform.
"The product has to do all the talking, and initially, most of the engagement has to come from the product. /.../ It has to be hyper-personalized, it has to be low/latency, and you need to have a very proactive customer experience," Dheeraj said.
Having founded the company during an epidemic, he knows well what it means to react quickly and pivot like a pro. His mission, as well as that of his company, is to bring developers and their customers closer together, which means focusing on accelerating innovation in software. In any process, it is necessary to question, doubt, and adapt when necessary. That is how Tesla, Microsoft, and others do it, that is how he does it, and that is how the rest of us should do it.
8. CARING FOR PEOPLE IS KEY IN A COMPANY
Stoyan Yankov is a renowned expert on business productivity and performance and a global keynote speaker who co-authored the book "PERFORM: The Unsexy Truth about (Startup) Success" with Cristobal Alonso (CEO, Startup Wise Guys). He is the co-founder of The Leaders Who Care, which focuses on HR in companies, a managing partner at Samodiva Masterminds, a company concentrated on exclusive retreats and summits, and host of the Productivity Mastery podcast. He is also a mentor at the Startup Wise Guys incubator.
Stoyan specializes in mentoring founders and entrepreneurs and, since 2015, has helped over 250 teams grow and create more productive and thoughtful steps to healthy company culture. He started his entrepreneurial career in 2011, and his experience stretches across video and film production, creating world-class events and building international business networks. Today, he helps and mentors through keynotes, workshops, and bootcamps in over 25 countries, sharing the spotlight with some of the most influential leaders in the field, such as David Allen, Guy Kawasaki, Salim Ismail, and Deepak Chopra.
At the start of his lecture, he pointed out that companies do not take enough care of their people. On average, even giants like Facebook, Apple, Amazon, and Google do not retain their employees for more than a year or two. When people ask former employees why they left, the four most common answers are:
Because everything was always urgent.​

Because there was no concrete feedback.​

Because there was no gratitude.​

Because the manager took all the credit.​
Business founders often care only about productivity and efficiency, but they forget that the most important factor in business results is putting people first and caring for them.
"That's ironic because when you put people first, you actually perform better in the long run. Both are important - we want to create productivity, and we want to care for the people." Stoyan emphasized.
So how do you build an organization that cares about people and productivity? First, as a leader, find your WHY. Why do you do what you do? How do you motivate the people to join your team? When you are passionate and committed about something and have the right set of values.
"You only want to bring people that are really committed, but actually good and kind people creating a caring culture. So think about what kind of culture I want to be a part of. What is the kind of culture I want to create by my example?" Stoyan advised.
9. IN AN ERA OF NEW TECHNOLOGIES, YOUR VISION SHOULD BE ENTREPRENEURSHIP WITH A PURPOSE
Tina Ruseva is the founder and CEO of Mentessa, a platform that aims to help all employees maximize their work potential. She is also the founder of the Big & Growing New Work Festival, the largest conference on the future of work in the DACH region. She was formerly a business support engineer at Microsoft. As a founder, festival presenter, mentor, speaker, and author, she has inspired many women and young entrepreneurs across Germany to embrace technology as a means of social progress and innovation.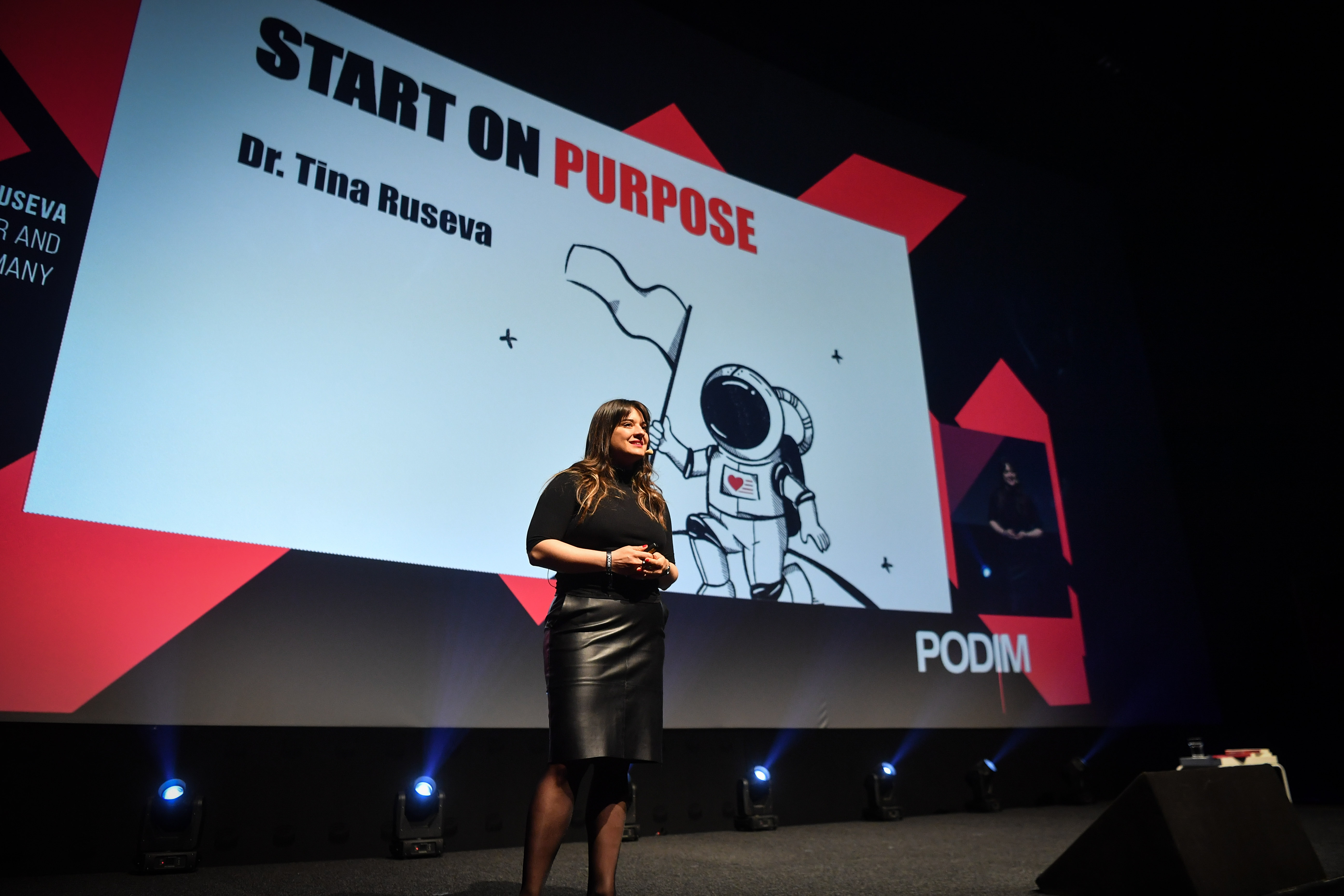 Tina Ruseva on the importance of purpose in entrepreneurship
Tina is an entrepreneur who has been actively involved in diversity, empowerment, and inclusion since 2009 and is the author of numerous articles and the book "Big Heart Ventures". She is an active mentor for women in science, technology, engineering, and mathematics at the Technical University of Munich, as part of the Technovation Girls program, the Techstars VC Fund, and Project Together. She also frequently organizes local roundtables and events for founders. She was nominated for the "Impact of Diversity" award by the Women's Career Index (FkI) and the Federal Ministry for Family Affairs, Senior Citizens, Women and Youth. Tina also describes herself as always working with her heart, which is why she firmly believes that transforming work is key to the sustainability of the economy. In her presentation, she describes two types of people - builders and consumers and says that it is up to each individual to decide which of the two groups they belong to.
"Using the power of entrepreneurship is the single most powerful way to change the world. /…/ Everyone celebrates entrepreneurship as a very courageous thing. No. Entrepreneurship does not take courage, /…/ but what takes courage is doing it on purpose. /.../ And big heart ventures are an act of courage." Tina stressed throughout the talk.
10. THE MOST COMMON MISTAKES WHEN ENTERING THE GLOBAL MARKET
Katarzyna Paliwoda joined the social media giant Meta, formerly known as Facebook, in 2016 and is best described today as Meta's leading representative in the promising and emerging markets of Central and Eastern Europe. She has also gained experience at the renowned international company Procter & Gamble, where she managed over 15 brands in 9 different markets in Central Europe, and in the not-for-profit sector as a volunteer communications consultant for UNICEF. She still works as a permanent board advisor for the Polish WIOSNA Association, and her greatest business virtues include business leadership, brand management, media planning and digital marketing.
She is a big fan of "discovery commerce," which encourages customers to buy without searching for a specific product. This phenomenon is here to stay, as well as online shops. Future predictions show that people will soon spend most of their money online, which is a consequence of the global COVID-19 pandemic that has forced even the most conservative brands to be present online.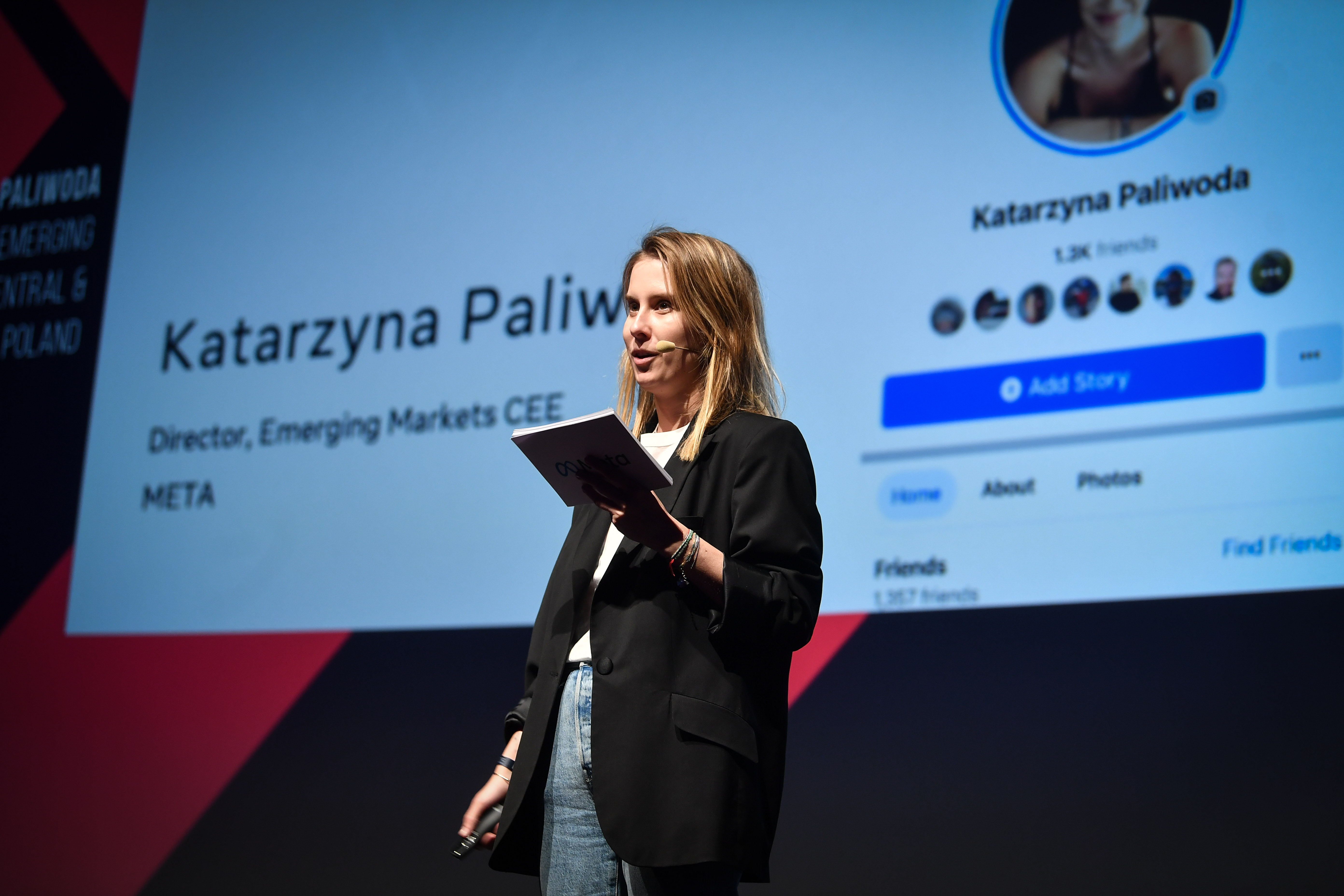 Katarzyna Paliwoda on trends and the importance of online shops
She repeatedly stressed the power of social networks, which today account for 47% of the discovery phase. This means that less than half of people make their purchasing decisions based on the discovery offered to them by their favorite social network. But she also advises businesses to:
Have an online presence. It's a must, even if you have a small business.

Harness the power of influencers and content creators because they boost trust and credibility.

Make 'reels' - the short and fun videos that are taking over Instagram, Facebook, and other networks. Use them to entertain as well as to sell.

Personalize the buying experience for your customers. Give them a virtual tour of your product.

Don't invite people to a physical showroom; bring it to their smart devices.
These tips will make every global entry much easier and harness the power of the metaverse.​
1096 attendees once again enjoyed an exciting live event
Podim always will be a conference that encourages attendees to form meaningful connections, and this year has been no different. There were a total of 1096 people attending Podim, which is an impressive number but still "pocket-size" enough to feel like you can network with everyone.
There were 346 members of startups and scaleup teams, 139 investors, and 286 Corpo & SME representatives. We pride ourselves on creating real, business-changing opportunities for attending startups, and this ratio certainly confirms that.
An impressive 122 startup environment supporters were there with a wish to help raise the ecosystem with their knowledge, connections, and experiences. There were also 105 researchers and students who participated in Podim with a desire to gain new knowledge and learned about big ideas in various industries. The number of other attendees – let's call them entrepreneurial enthusiasts – is 98, meaning this year's Podim audience was extremely diverse.
There were 95 great speakers sharing their experiences at 5 Podim stages, and our attendees participated in more than 40 events – talks, panels, workshops, and behind-the-scenes discussions.
Podim's audience this year was a very global one. Participants came from all over the world, from exactly 36 countries, including Slovenia, Austria, Germany, Poland, Serbia, Croatia, the United Kingdom, and the USA. Their goal was mutual – to learn, understand, and support each other in the business ecosystem of the world.
P2 and SK75 recipients at Podim 2022
This year's Podim was also attended by the recipients of the P2, SK75, and SI-SK tenders of the Slovene Enterprise Fund. They presented their products and services at the Podim Marketplace, made new business ties and acquaintances in the Podim Deal Room, listened to world-famous and experienced speakers, and shared their experiences with other startups.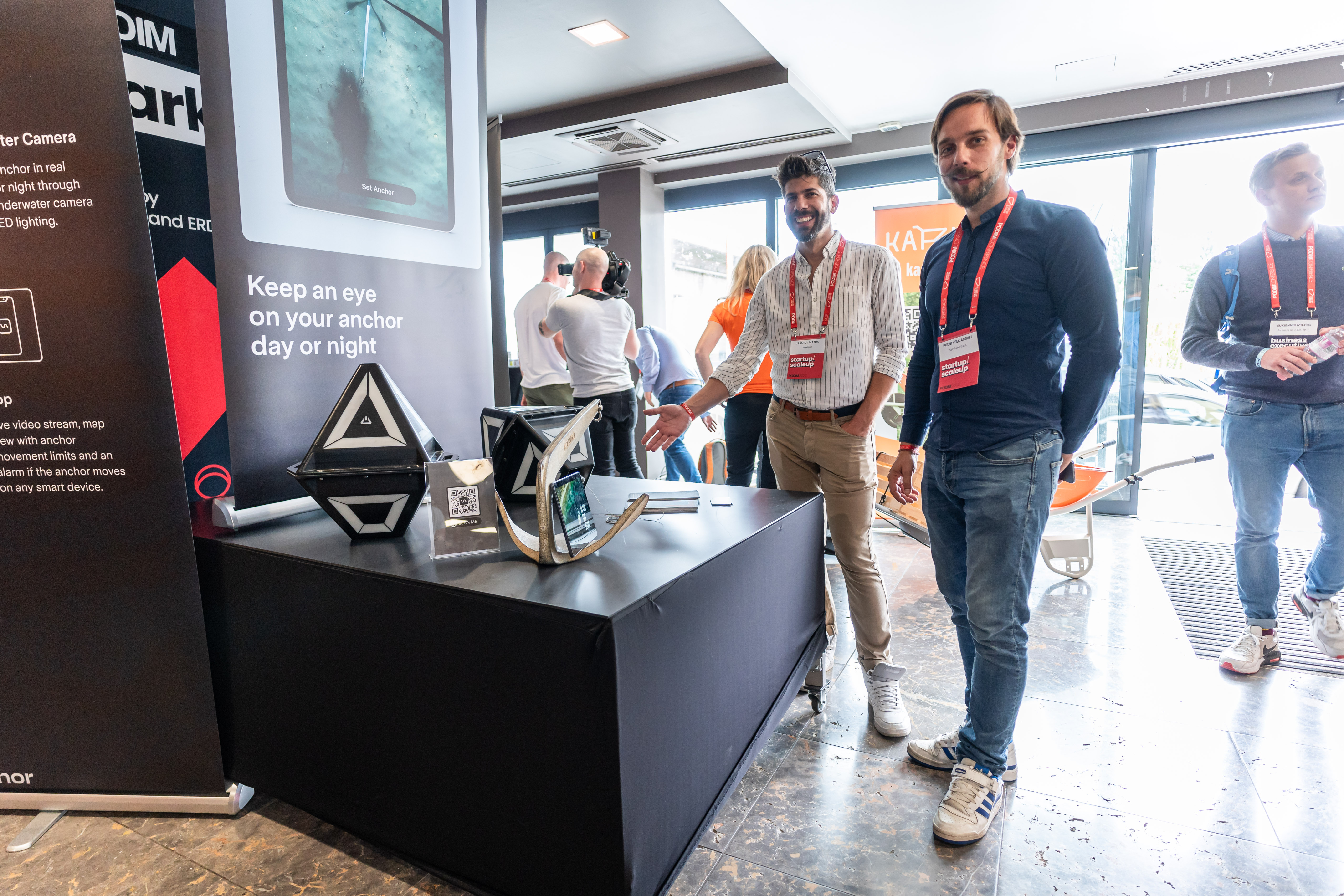 Startup SEAVISION at Podim 2022
What do some have to say about Podim:
"Every year, Podim exceeds my expectations again and again. The event was top-notch. The speakers and the program are a surprise every year, so Podim is booked in my schedule well in advance. We didn't look for investors this year, but we always like to attend the Deal Room meetings. It's great to meet new people, talk to them, maybe find some similarities and collaborate on other projects or in a different - more partner-like way. We were surprised by how open people are to working and talking with 'anonymous' small entrepreneurs. The biggest added value for us was definitely the Deal Room and the opportunity to network in person." - Blaž Jakopin, PRIOT
"Podim has more than lived up to our expectations. It provides a really great networking opportunity, and we made the most of it. We met several new potential investors, met existing investors, and mingled with potential clients. The biggest added value of Podim was the opportunity to meet new potential investors." - Sabina Veronika Golob, OPTI-SPACE
"I have a positive overall impression of this year's Podim. We spent two and a half months in Tel Aviv before attending the conference, where we were promised many connections and new acquaintances. In the end, it turned out that we got the biggest number of connections at home in just a few days of the Podim conference. I was pleasantly surprised, as I attended Podim without much expectation, and it turned out to be an incredibly smart decision. We had something like 8-9 meetings in the Deal Room, and we've also found that since Podim, we've been much more sought after on LinkedIn. We don't invest in social media, we're not active there at all, we don't post anything, and yet our numbers have only gone up since Podim. We weren't looking for investors at Podim at this stage; we were more interested in partnering. Specifically, we got 3 business connections at Podim, which we are currently working on, and hopefully, things will continue to develop over the next few months." - Luka Pitamic, WHALE TAIL
"Podim exceeded all our expectations. This year was the first time we experienced it live, and we didn't think something so well organized and with such top-notch speakers could be in Slovenia. The organization was of a very high standard. The networking and meetings were great as we could connect in person, meet many people and catch up with someone we hadn't seen for a long time. Everything was really well done; we found all the information we needed on the Podim app, the talks were superb, and I am sad that we didn't get to all of them, as some things happened simultaneously. We also got a lot of feedback; we had the opportunity to present ourselves at the Marketplace. We will see you again next year; we can't wait." - Matija Jašarov, SEAVISION
1139 meetings in only 3 days and only 1 winner of the Podim Pitching Competition
One of the main drawing points of Podim is most definitely the Deal Room and 1-on-1 meetings going on in there. Startups, investors and business executives love to participate as the 20-minutes meetings are short and relevant.
This year, we've had 1139 meetings during 3 days of Podim! These meetings were between 346 startups from 23 countries, 139 investors and 286 business executives from various corporations & SME companies! We can proudly say that those are record-breaking numbers for Podim! What a thrill! There was also a fantastic feeling at the Podim Marketplace, where 51 startups presented their products and services to investors, business executives, and other attendees. The best part? Trying out all the presented products and even bringing some of them home with us!
One of the most exciting and tense parts of Podim was once again the Pitching Competition, where a lot of great and ambitious startups pitched their ideas to our expert juries. 132 startups from 22 countries participated in the Podim Demo Day which happened on 4th May. Our jury had to work hard, but by the end of the day, they'd chosen the top 10 startups that then participated in the Podim Pitching Competition semifinals on 16th May live in Maribor. All 10 pitched their hearts out, including the P2 and SK75 call recipient Valentina Metež from the startup Proky.io, but by the end of the day, only 5 startups remained.
Those 5 finalists were:
Omniaz from Poland
Mutumutu from Czech Republic
Kickscale from Austria
CloudCart from Bulgaria
Capskin from Switzerland.
In the Podim Pitching Competition Finals on 17th May, the winner was chosen fair and square! This year's crown went to CloudCart from Bulgaria. Congratulations!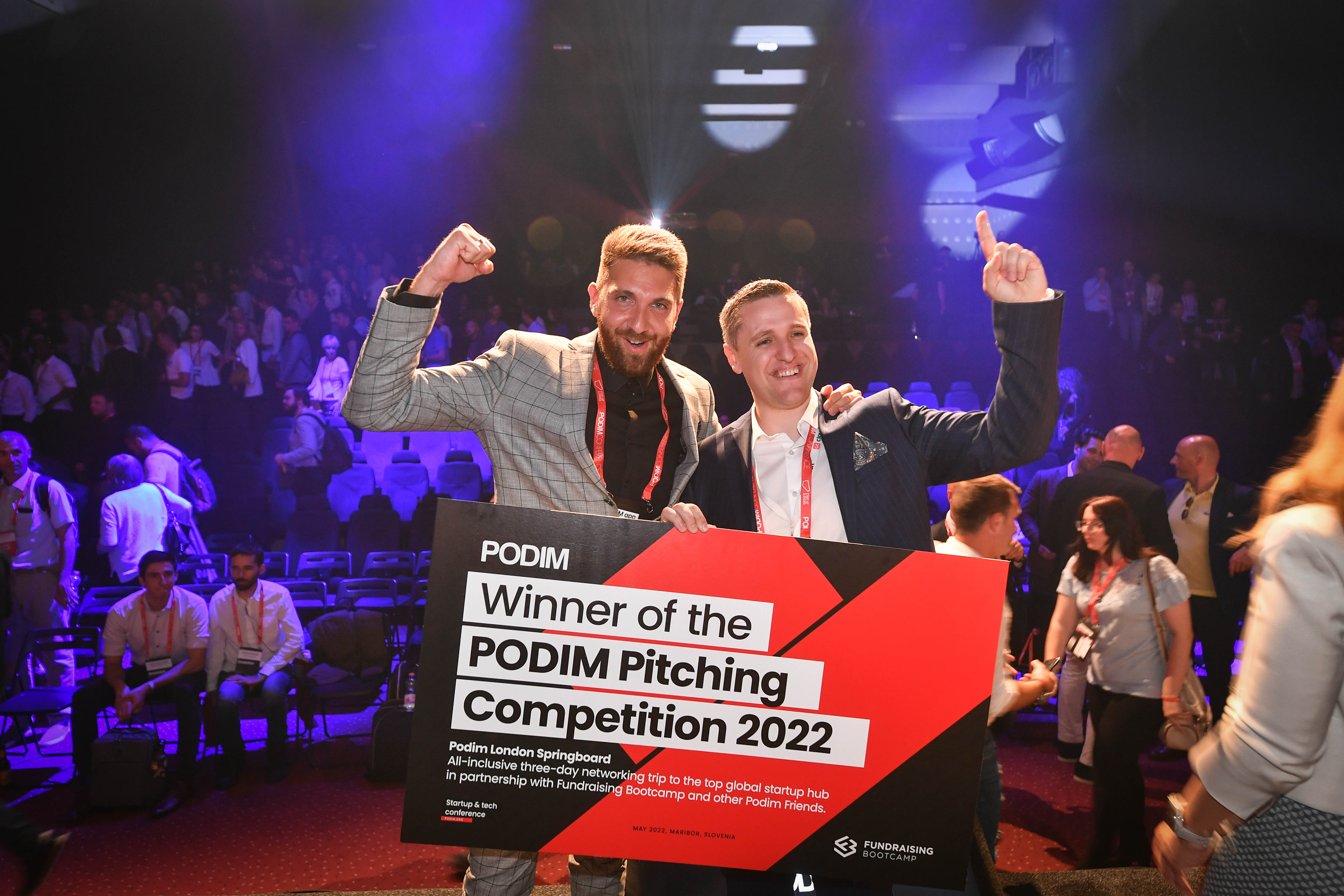 The winner of the Podim Pitching Competition 2022
We'd like to thank all of our great jury members: Nenad Marovac (DN Capital), Jan Habermann (Credo Ventures), Jure Mikuž (South Central Ventures), Francois Mazoudier (Fundraising Bootcamp), Julien Coustaury (Fil Rouge Capital), Alina Klarner (Impact Shakers), Mirna Marovic (VentureXchange), Martin Mössler (Science Park Graz), Krisztián Gyepes (Elevator Ventures), Monika Kek (BluHeera), Or Haviv (Arieli Capital) and Maja Tomanič Vidovič (Slovene Enterprise Fund). And thank you, Slovene Enterprise Fund, Ministry of Economic Development and Technology Slovenia and European Regional Development Fund for making this happen. The competition wouldn't be possible without you!
As the winner, Cloudcart will receive a spot at the Fundraising Bootcamp in London, one of the best programs that will help you get funded.
Urban Lapajne, Podim's program director, had the following to say about the competition:
"The number and diversity of startups that pitched at the Demo Day, in the semifinals and finals, testifies to the international dimensions of Podim. There were 132 startups from 22 countries at the Demo Day! Our juries also consisted of international and eminent experts. There were plenty of international investors from the most elite European venture capital funds, which further confirms the weight and importance of the Podim conference in Europe."
But Cloudcart was not the only one celebrating! Our friends from Fil Rouge Capital announced some really cool news. Instead of the intended €50.000, they decided to invest €100.000 in the Bosnian startup OREA Bazaar, a platform for buying and selling handmade, original products with a local label based in Southeast Europe. Just wow!
Podim 2022 was attended by a number of investors who made new business ties with the entrepreneurs, including P2, SK75 and SI-SK recipients: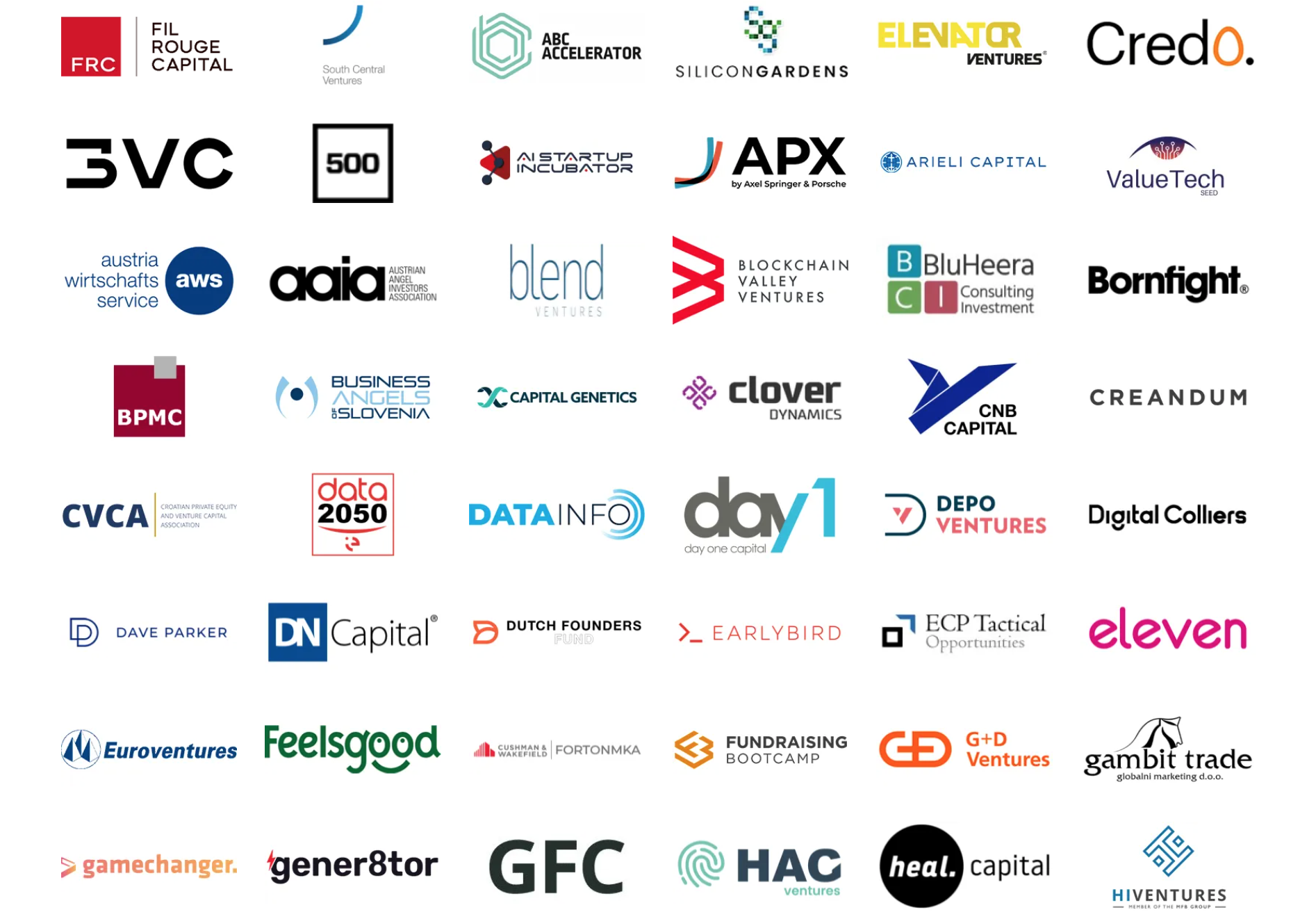 A handful of partners and investors at Podim 2022
to browse some pictures, check out the FLICKR phOTO ALBUM.
###
The program is co-financed from the Slovene Enterprise Fund and the European Union from the European Regional Development Fund. This is implemented on the basis of the Content Support for Funds Recipients (SMEs) Programme in the 2018-2023 period, under the Operational Programme for the Implementation of the European Cohesion Policy 2014-2020.
Tags
Podim
Maribor
Startup conference
Startup