A group of friends, each with diverse and rich experience in fields such as finance, insurance, law, IT, mobility, energy, venture capital and private equity, has launched the venture capital fund Suricate Ventures. Peter Merc, one of the founders, who is also an experienced startup lawyer, told us more about the fund.
Always on the lookout like suricates
They call themselves suricate, hence the fund's name. They say that it is the nature of meerkats to always watch and observe what is going on around them. That is exactly what they are in business, always keeping an eye on the latest technological trends. As fearless risk-takers, they are always on the lookout for new technological ventures. Venture capital is just one part of their commitment, as all the founders have a wide range of competencies and are ready to support startups not only with investment but also with their expertise, connecting them with other successful companies and investors. Meet the founders here.
[Interview] A new venture capital fund has launched
Peter Merc, co-founder of Suricate Ventures
Where did you get the idea and the motivation for the Fund?
"I got the idea a while ago when I was working with startups and investors in different investment rounds. Due to the amount of work I had to do, I put this idea aside for a while. Then Bloq.it came along, a startup that launched an investment round in the middle of last year, and I participated as their legal advisor. I was so impressed by the enthusiasm and energy of the Bloq.it team that I started thinking of starting my own investment company again. I invited 10 good friends who have a background in entrepreneurship, venture capital and business management while covering different fields such as finance, IT and law. Luckily, all 10 accepted. At the end of last year, Suricate Ventures was born."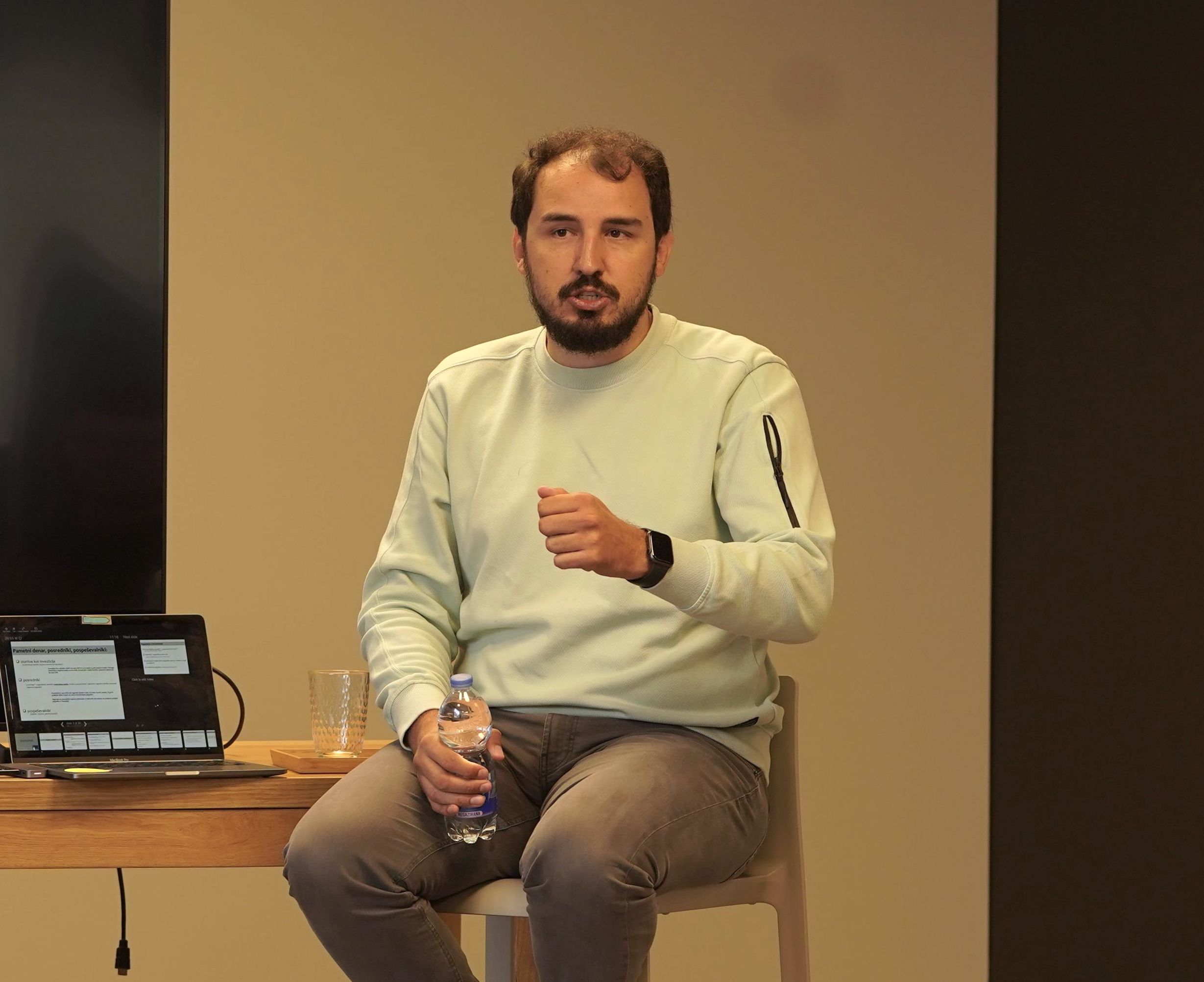 What do you have to offer startups?
"In Suricate Ventures, the founders have invested their own capital, so we are flexible in terms of investment policy, but we have set a basic starting point right from the start. Among other things, we have chosen a few industries that we are particularly interested in and where we think we can add value to any startup we invest in with our knowledge and connections. Our aim is to provide startups with smart capital, in the form of knowledge and connections in the industry, as well as support to help them refine their business model, in addition to capital injections. In working with startups in practice, I find that it is often easier to get funding than to arrange a pilot project with a reputable company in the industry or to set up a meeting with the actual decision makers in those companies."
5 industries
Suricate Ventures has focused on investing in five different industries:
-Fintech & Insuretech
-Metaverse
-Gaming
-Logistics & Supply Chains
-Healthcare

Read more about these here.
How is Suricate Ventures different from other funds?
"The main advantage of Suricate Ventures is definitely its very personal approach. Each of the co-founders is involved in the project out of personal satisfaction and with their own funds. This all together motivates us to help the startups in our portfolio with all our available strengths. Surcates face tough challenges in the wild as a close-knit group. Similarly, during their life cycle, startups also often find themselves in unpredictable circumstances reminiscent of the wilderness. And that's when it's easier for them to have their 'gang' around them to help them navigate the journey."
How much funding do you invest in each startup and what is the limit?
"Our investments in a startup are limited to EUR 50,000. Together with our partner business angels, we can secure investments of EUR 150,000 - 200,000. If our initial investments prove successful, we will also consider the possibility of participating in future rounds, with larger investments."
What was your first investment?
"Our first investment could easily be said to have been love at first sight. One of the unwritten rules of investing is to invest in the team, not the product. In the case of Bloq.it, both the team and the product have a lot of potential, which is already evident in the company's business results. Bloq.it, with its innovative business model, operates in the logistics industry, which is in itself very promising. Our task now is to help Miha and his Bloq.it team to grow their business as best we can.
At the same time, our first investment served as a basis for us to set up key internal processes, such as sourcing investment opportunities, preparing and coordinating legal documentation, following up the startup after the investment, etc. We now have these processes in place and are ready for new investments."
6 key criteria that influence the investment process
Before the team decides to invest in a startup, the company has to meet a number of criteria they have set for themselves:
They focus only on tech opportunities that represent the digital infrastructure of the future and have significant market potential.
They invest in startups that are at an early stage and can provide early growth funding. They do not invest in pre-seed. They also prefer to invest in startups that have already been invested in by private investors. They provide an investment of up to EUR 50,000, with the possibility of further investments.
They do not invest in only business ideas. They are interested in startups that already have a proof of concept and have built up a customer base. One of the key criteria for deciding to invest is customer proof of concept.
They want to work with startups that have a good team. They expect the founders to have a team made up of fully committed professionals and entrepreneurial enthusiasts.
They feel most comfortable investing in partnership with other venture capital funds, business angels or other investors. As industry insiders, they also have close relationships with top investors, venture capital funds, business angels, private equity firms and institutional investors.
Lastly, they only invest in startups that have a positive impact on our planet and society and meet ESG standards.
Do you meet their criteria? Apply here!
Tags
Suricateventures
Startup