Maribor entrepreneurs and medical students, Žan Michel Žurga and Matej Žnidarič, launched their first Kickstarter campaign a few hours ago. They have already shown that their heart's in entrepreneurship with several projects. They set up the NajZdravnik.si web portal to search for private doctors, dentists and doctors with a concession. Matej is also a co-founder of Actimatch, a social network that encourages people to connect and socialize, and the founder of Mentacube, in which they developed a series of cubes that promote math skills, train memory, develop musical skills and more.
An innovative inhaler on Kickstarter
Now they have presented their new project on Kickstarter - an innovative wooden inhaler for essential oils - Kiff. The purpose of the product is to help people quit smoking and at the same time alleviate symptoms associated with a stressful lifestyle, such as anxiety and insomnia.
The product is not only intended for those who want to quit smoking, but is also suitable for anyone who enjoys natural aromas.
Kiff is a two-part reusable wooden inhaler that allows you to quickly change cotton fillers. On the Kickstarter campaign, the customer can choose between 4 different flavors (lavender, black pepper, lemongrass and "fresh breeze"). The added value of the Kiff inhaler lies in the fact that it is handmade from Slovenian wood. Given that Slovenia has a long tradition of woodworking, wood was the perfect choice, both in terms of design and usability.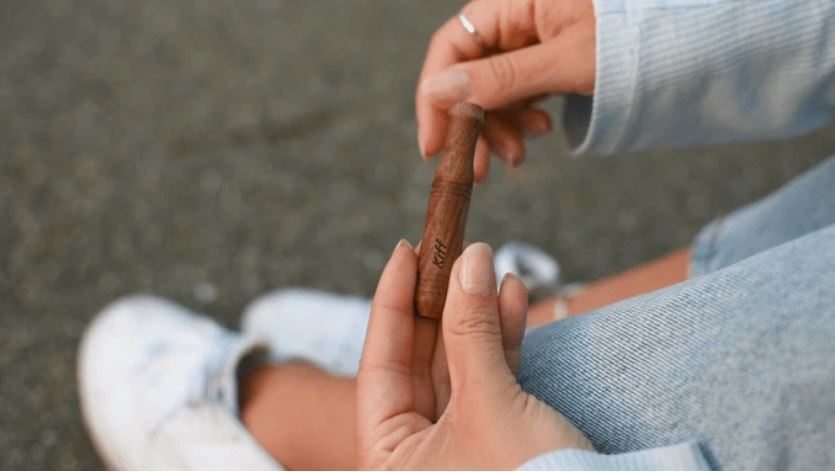 Regarding the development of the product, Žan and Matej said: "When designing the product, we always kept in mind that it must be both fun to use and have a positive effect on health. The selected essential oils are certified and have aromatherapeutic qualities."
Let's support the team
Žan and Matej's goal is to present the product to the widest possible audience and then continue to develop the Kiff brand.
Let's support the boys and their Kickstarter campaign so that they can achieve the set goal and thus raise initial funds to start the production and to increase the brand's recognition abroad.
You can support the project here, but you can also share information about it to reach as wide a circle of people as possible.