LayOn is a new Slovene solution on the crowdfunding platform Kickstarter. It is a cushion/neck pillow and an inflatable bed at the same time. Its author Urša Sačer solves the problems of most travellers around the world, which are often confronted with a lack of beds at airports.
Urša, a former athlete and now an entrepreneur, is convinced that every traveller needs to have a good rest at the airport, but airports usually do not provide comfortable seats and beds. LayOn is a completely fresh startup that provides a solution to the eternal problem of most world travellers - a quick inflatable bed and a pillow in a single product.
Although it may look like a normal inflatable pillow at first glance, it is much more than that. LayOn is the first and only bed in the world that you can easily take with you on an airplane. It takes up very little space and is suitable for both outdoor and indoor use, and can be thanks to its precisely crafted aerodynamic shape, inflated and emptied extremely quickly and elegantly. Besides that, the bed is free of additional valves that could cause air leakage overnight. In the morning, it will be in the same condition as it was in the evening, ensures the LayOn team. The product is made of durable nylon, which allows it to be used even on rough outer surfaces. You only need to make sure that there are no sharp objects underneath.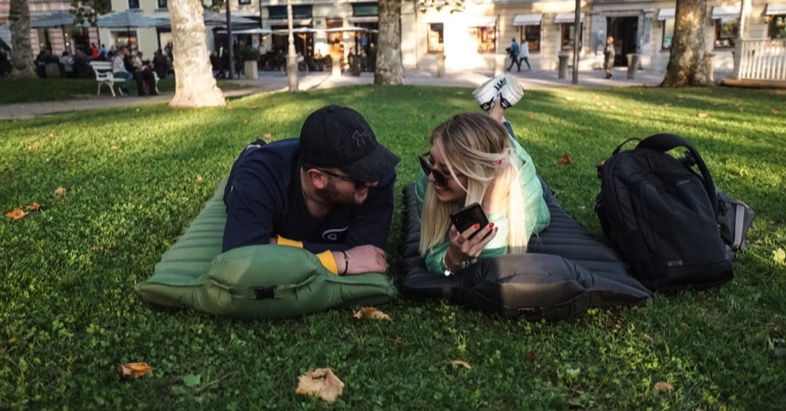 Because of the quick and easy inflating feature, LayOn can be used on a long plane flight, while waiting at the airport, in unforeseen situations where you need to spend the night at the airport, on trips and camping, and at any time anywhere you want to rest. The bed is durable, with a carrying capacity of up to 180 kilograms, coated with antibacterial protection and washable in a washing machine.
Urša, who is 26 years old, was an avid handball player until her injury 4 years ago. She started her entrepreneurial journey by making gift-wraps for flowers, continued to sew backpacks, and today she and her team represent a completely fresh startup. LayOn is also the recipient of this year's startup P2 grant of the Slovene Enterprise Fund of 54.000 euros, which also gives them rich content support #StartupPlusProgramme
__________
More info:
Lucija Zelnik
lucija@layon.eu
Tags
Startup
Kickstarter
SEF
#StartupPlusProgramme
Slovene Enterprise Fund
MGRT