Are you also facing challenges in your company to increase sales and enter foreign markets? Are you wondering how to handle legal matters or protect your intellectual property? How to organise your company's business processes? How to go about attracting investment?
You are not alone in finding answers and very concrete solutions to these questions and challenges. For the recipients of the Slovene Enterprise Fund's P2 incentive, the SK75 convertible loan and the SI-SK co-investment, the Startup Clinic within the Startup Plus Program offers first aid from carefully selected experts in the various fields that startups urgently need in order to develop and attract investment.
Experts help you with very specific business problems, free of charge. And best of all, this help is designed to give your business fast results and concrete knowledge that you can put into practice immediately.
Read on for some useful tips on the topic of acquiring investments and intellectual property from Nina Dremelj from Startup Clinic, President of Business Angels Slovenia.
Don't be too late - come at least 9 months before you run out of money
In the interview, Nina Dremelj highlighted the following key mistakes that startups make when seeking investment for further growth and development: they come for help too late, with unrealistic expectations and without content. They do not realise that finding investment is a laborious and time-consuming process that requires the full attention of one person.
Watch what Nina Dremelj has to say about this and what she advises startups.
The organisation of a company's processes is key to its survival
It is crucial for a company to organise its processes. It is also very important to keep track of KPIs in the company, to write regular meeting reports from day one, otherwise the company can quickly lose its track and focus.
»Startups most often get stuck because they don't have internal processes in place. Startups don't die because of the market. Most of them die because of internal disorganisation, lack of monitoring and lack of understanding of what they are doing. You can see this very quickly when the team starts to expand and when they no longer know how to divide tasks.«
Nina Dremelj
When a company starts to grow, the CEO needs to be able to delegate and start dealing with the business, with the people, with managing growth, but certainly not with micro-management. If internal processes are not fine-tuned, the latter is often what happens.
Clearly define the rules of the game in the field of intellectual property
It is very important for a company to regulate their intellectual property at an early stage, as it is the only core asset of the company at the start. And this is very important for investors. In the next stages of the company's development, it allows the company to differentiate itself from the competition and to raise larger rounds of funding.
Intellectual property is more than just patents, trademarks and a model. Intellectual property is also all the company's databases and source code. The rules of the game of what we do with this intellectual property need to be clearly defined, especially for software companies. It must be clear where we store this data, how we protect it from external intrusion, what we do in customer service, who has access to the source code etc.
The key problem is that the rules of the game of internal business usually do not exist. So it often happens that a company's source code is in the hands of an external developer without a contract. The company must be aware that if it does not fix this,, the source code remains the work of the external developer and the company has no product. And investors are paying attention to all this.
The more things you have in place, the easier it is to get an investment
Before we start to get investments, it is very important to know and understand the investors well and to be prepared for the investor. The company also needs to understand that sooner or later the investor has to exit the company and that the value of the company has to grow to be able to provide a sufficient return to the investor.
Companies often have unrealistic expectations when looking for an investment, unrealistically assess the value of a company and are very fond of inflating numbers, but do not understand the steps to get to those numbers. The value of a company depends primarily on its content and is not something that can be made up. The valuation of the company has to be done in a rational way so that the company can continue to win the next rounds. The more things are in order in a company, the easier it is to get investment.
Above all, it is important to present a realistic picture to investors. Nina sees a big mistake that companies make:
»People tell investors what they think investors want to hear. And that's the biggest mistake. A good pitch means nothing. It's the basis, but every investor will start checking the background. And if you sell the investor the story they want to hear, not the story as it is, you have wasted your investment.«
Business Angels of Slovenia, within the Startup Clinic, help companies that are ready to find an investor. They also help startups with guidance and networking, with the aim of getting them investment-ready as soon as possible.
Help for startups always at hand
When your business is stuck and you don't know what to do next, the Startup Clinic has the best experts in the following areas to help you solve those tough business problems:
organization of business processes,

effective sales and marketing,

business finance,

law and intellectual property protection,

talent management,

assistance in obtaining additional funding.
How has the Startup Clinic helped startups?
Watch the video where Jure Cerar tell you:
what challenges the team at Internacionalni šport d.o.o. is facing,
how the experts saved them a lot of money and time,
how they managed to solve problems they had been putting off for a long time,
what to advise startups.
Get concrete results fast
Rok Matjaž, CTO of 4FUN, the company that developed Printee, a photo development app, also shared his experience with the Startup Clinic.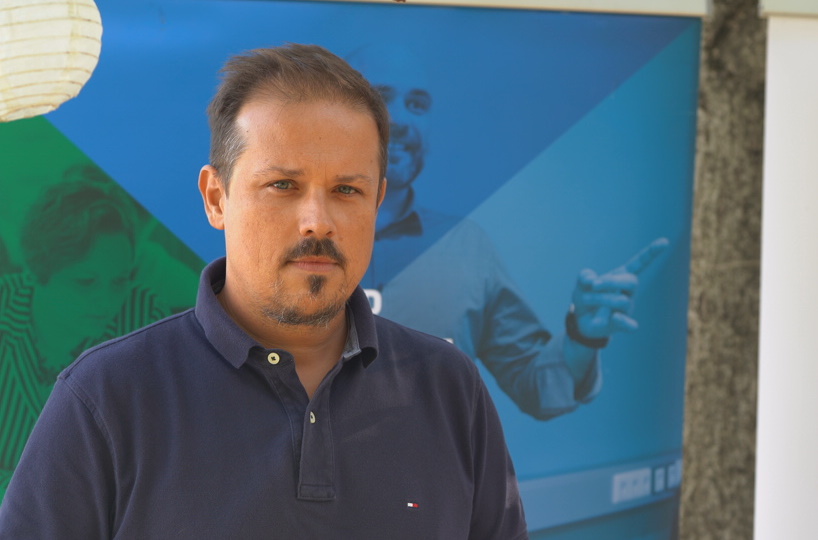 As Rok says, fast-growing companies are always facing new challenges, and it's much easier to overcome them if you can go to an expert and ask for their opinion.
On the benefits of the Startup Clinic, he said:
»Through the Startup Clinic programme, we have access to high quality consultants who have a wealth of knowledge and are very successful in all areas of business. When we encounter a problem in a particular area, we find the right expert and agree to work with them. We work with them to analyse the problem and find optimal solutions, which ultimately leads to better results and a service that can be developed to a higher level than it could otherwise be. They also provide moral support and motivation, so that we can quickly get concrete results with their help.«
From protecting your brand to preparing your business for investor entry
The Startup Clinic has already helped the Printee team in various areas. Initially, a consultant helped them with advice on how to protect their brand. As the complexity of the company and the work processes within it grew, they teamed up with an expert to help them introduce systematization of work processes. When they opened their first foreign market, they partnered with experts who had already successfully penetrated foreign markets and worked with them to define the optimal entry strategy. They are currently working with Nina Dremelj, an experienced business manager with strong competences in business strategies, to prepare the company for investor entry.
Quick assistance when entering a foreign market
We also spoke to Luka Poklukar, co-founder of SnapGuest, a company that has developed software for digitising guest check-in processes in tourism, about his experience with the Startup Clinic.
After entering the Croatian market and acquiring new users in this market, SnapGuest started to face new challenges, which the Startup Clinic successfully helped the company with. While offering a free app to users, questions about GDPR started to arise.
The Startup Clinic's response was very quick, as the company immediately got a suitable mentor for this area, who helped them regulate GDPR and data processing, prepare all the necessary documentation, including the contracts to be concluded by the customers for data processing, and in the preparation of a privacy policy.
»We know that whatever problems arise along the way, the Startup Clinic has experts with the competences who would be willing to help us.«
Luka Poklukar
New in this year's Startup Clinic
This year has also brought some new features to the Startup Clinic, with the aim of providing startups with high-quality, expert help that delivers results at key moments.
1. Cleaned up expert base
The consultant base has been thoroughly cleaned up. This means that only reliable and responsive experts who have experience in advising startups and with whom startups have been satisfied in the past and have achieved results with their help remain in the database. All advisors have also been contracted.
2. Only the best mentors in the Startup Clinic
A high quality, responsive and professional team of mentors who understand startups and their needs has been formed. The changes are reflected in the satisfaction of both the startups and the consultants.
3. New leadership of the Business Angels of Slovenia
At the end of 2020, the term of office of the previous leadership expired and new president was elected at the assembly, Nina Dremelj, who took over the leadership of the club in January this year. At the same time, the composition of the Board of Directors was changed and the Advisory Board was constituted.
With the new members of both bodies, the Club has secured and strengthened its links abroad (China, UK, USA, Canada, Switzerland). The Club has managed to significantly increase its membership this year (currently 54 members), including a number of foreign members. They have also strengthened their cooperation with EBAN, Czech, Hungarian and Austrian business angels and have partnered with accelerators from the US, Dubai and Austria. This year, they have already managed to secure investment for 8 companies and are in final negotiations for 2 more investments. They have signed an exclusive partnership for the Adriatic region with a UK company that provides interest-free loans for growth-stage startups.
4. Focus on attracting new investors
In the future, there will be a strong focus on improving the knowledge of angel investors, attracting new ones and thus raising new capital. There will also be an emphasis on finding the best opportunities for startups and investors, and to this end, even stronger networking with stakeholders in the startup ecosystem in Slovenia and abroad will be pursued.
Great Startup Plus programs
The Slovene Enterprise Fund also organises a number of other top entrepreneurial programs for portfolio companies, such as the push2start accelerator programme, SK GROWTH CAMP, NextRound, GROWdigital, the vertical accelerator programme in healthcare, INTL, Nextround, Korpostart, HardwareSTART, CEED Founders Talk and ScaleUPgrade. The content programmes effectively complement the P2, SK75 and SI-SK financial products, which provide Slovenian start-ups with between EUR 54,000 and EUR 600,000 in start-up funding.
###
Content support for recipients of P2, SK75 or SI-SK financial products under the "de minimis" scheme is co-financed from the Slovene Enterprise Fund and the European Union from the European Regional Development Fund. This is implemented on the basis of the Content Support for Funds Recipients (SMEs) Programme in the 2018-2023 period, under the Operational Programme for the Implementation of the European Cohesion Policy 2014-2020.

Tags
StartupPlusProgram
SPS
SlovenskiPodjetniskiSklad
MGRT
EvropskiSkladzaRegionalniRazvoj
P2
SK75
Startupklinika
Poslovniangeli