The well-developed startup community creates an entrepreneurial environment in Slovenia, which is attractive for new entrepreneurial stories. Startups at home as well as those, who have gone abroad, are constantly in touch with their home country, they are a valuable source of information and experience, and their willingness to (informal) networking and sharing advice, creates excellent conditions for transfer of knowledge. Keeping in touch with the home business environment is the routing loop of brain escape that is with it successfully transformed into a circulation of brain.
Good business advice is never far away, in Slovenia. In addition to the nearly one hundred independent startup experts (mentors and evaluators) of innovative start-ups and other small and medium-sized companies (MSP) on the Slovene Enterprise Fund's (SEF) list in the systematically built support environment, the core of which are the so-called entities of the innovative environment (SIO). While other entrepreneurs are happy to share their tips to entrepreneurs as well.
This time we are presenting three of them, Jaka Levstek (CEO and co-founder of D.Labs), Darko Butina (Growth Director and Board Member of Netcetere) and Urška Sršen (founder of Bellabeat).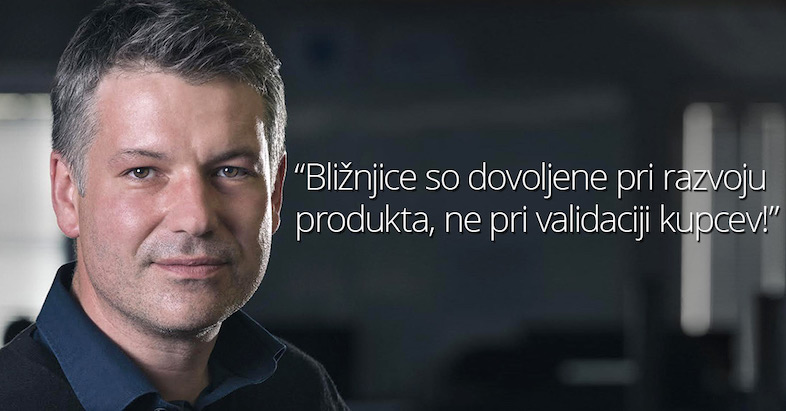 Jaka Levstek: "Be the center of your team, every day"
Jaka Levstek is an experienced startup mentor, manager, online veteran and entrepreneur based in London.
With his extensive experience, he provides young startups with valuable tips, which they should follow from the very beginning of their entrepreneurial journey.
"Shortcuts are only good for implementation, never for product and customer validation"
"Three things. First: shortcuts are only good for implementation, never for product and customer validation. Second: find the biggest market for your product and be there. Learn to speak your customer's language and start getting feedback as quickly as possible. And third: be the centre of your team, every day, " advises Levstek, who leads D.Labs, one of the most prominent consulting and development companies for British and European startups, and attributes his company's success on global markets, to a clear 2009 orientation, where they focused their developing and consulting services only on startups.
"Find the biggest market for your product and be there. Learn to speak your customer's language and start getting feedback as quickly as possible."
Levstek is well aware of the complexity of jumping from the domestic to the global market, which requires, above all, courage and perseverance: "The courage, to take that step, the perseverance, to overcome obstacles and the awareness, that there are people who are ready to help you."
Darko Butina: "Don't deal with exits, don't say that your product will be a new Instagram or Facebook"
The mentioned, as stated, are not missing in Slovenia. Darko Butina, an experienced manager, entrepreneur and mentor, who gained years of experience in leading positions at the largest Slovenian companies such as Nil, Trimo Trebnje, Najdi.si, Mimovrste and Elektro energija, was a pioneer of the Slovenian startup scene in 2005, when he managed to raise venture capital with the company Adeptio. He now works in Switzerland and is happy to help the local entrepreneurial community.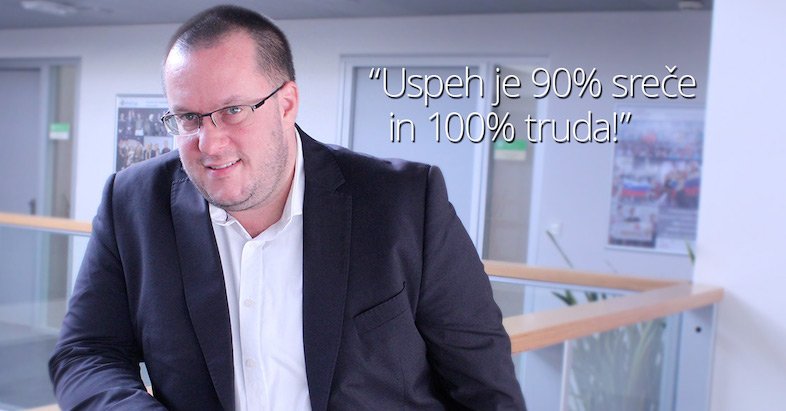 "Do not deal with 'exits', don't say that your product will be a new Instagram or Facebook. Work on making your business profitable from day one, everything else will come from itself," says Darko. About his entrepreneurial fearlessness, talks also the fact that when his son was just one year old, he and his wife sold their apartment and invested money in a company.
"Work to make your business profitable from Day one, everything else will come from itself"
"Success is 90% happiness and 100% effort!"
When asked, what are the important factors for breaking into foreign markets, he says that happiness is an essential element that is often ignored: "You can do everything 'by the book', but there is no guarantee of success. You must not think about the global market narrowly and you should not be afraid of the rest of the world. From the beginning, you need to think and act globally, because it is easier to succeed this way, than if you are setting up services locally, and you think you will just jump abroad. " He also serves the formula for success: "Success is 90% of happiness and 100% of effort!"
I WANT TO GET TO KNOW STARTUPERS ABROAD
At least when it comes to administrative procedures and overcoming technical barriers on the entrepreneurial path, less effort is required as Republic of Slovenia also takes care of this with the adoption of the action plan Slovenia – The Land of Startups in March 2018. This action plan confirms the government's commitment to eliminating the identified barriers to entrepreneurial environment. The list of 17 obstacles, that were presented at the PODIM Conference, the main event of the Slovenian startup community and the most influential startup and technology event in the Alpe-Adria and Western Balkan regions, is getting shorter.
"You must not think narrowly about the global market or have a fear of the rest of the world."
PODIM, which has evolved over the years and decades into an excellent networking platform, and also became an opportunity for access to capital thanks to the PODIM Deal Room - last year in two days, 900+ meetings among startups , investors and corporate representatives happened.
"Access to capital is necessary for building a lasting ecosystem. Founders and startups need time and space to find out where they can place their technological innovation. But this path is often very unpredictable and can lead to findings far different from initial .That is why it is important that such capital does not bring to-tight business plans and similar concepts of 'senior school' entrepreneurship, "says Jaka, adding that capital should primarily select strong and ambitious teams and markets where there are many opportunities.
"Founders and startups need time and space to figure out where to put their technology innovation"
Urška Sršen: "Young people can change their industry"
The Bellabeat startup team, led by Urška Sršen, one of the most successful Slovenian startup entrepreneurs, also accepted in the famous Y Combinator is present in markets, where there are many opportunities (Croatia, United Kingdom, USA, China). Urška said in the interview with Delo newsletter about her experience with Y Combinator: "It has been a great success for us to be accepted into Y Combinator, as they have the most experience and knowledge. However, this is not just an incubator, as usual in Europe, where they only help you to develop a business model. Investments are very important, which means investing in a team, helping with advice, getting to know you, and give you a base of contacts or connections. We gained the most out of this in those three months. Then we managed to increase the startup investment to 4.5 million dollars."
I WANT TO GET TO KNOW STARTUPERS ABROAD
Urška, who was also placed at the top of the eminent Forbes list of young Europeans changing the world in technology field, says that such things are of course not, the goal of her work, but they are very delightful. "This is an award to our whole team, working together. I am just the face of the brand, so my name stands out. The purpose of such lists is to encourage others. To recognize young people in different sectors," Urška told in the interview for the newsletter Delo, and added: " The big problem of young people is that nobody takes them seriously. It takes a long time to gain trust, credibility. Lists like Forbs's 30 under 30 show that young people can change their industry. "
"The big problem of young people is that nobody takes them seriously. It takes a long time to gain trust, credibility."
Urška can advise technology startups with facts that are good to know when expanding to foreign markets: "In Europe, technology is being adopted at a slower pace, there is less demand for technology products, also in the healthcare field. Access to health care is very easy for us. In the US, this is difficult, especially financially, so people have turned to technology for help sooner. They have recognized the possibility that technology can help them take care of their own health or prevent problems. "This made it easier for Bellabeat in the US, because it's easier to gain visibility and investments where the market is, it's easier to build a brand, Urška explains.
If you are a hardware company, then Urška also has valuable advice for you: "Sustainability and profitability have become very important to hardware companies in recent years. Founders need to find business models that make financial sense - that's the first thing that should be evaluated. "
She also talks about the possibility of entering American market, considering the fact that their team comes from Slovenia and Croatia. "Most of the world doesn't care where you are from. They don't care where Slovenia or Croatia is, they care about how successful the company is, how much potential and users you have. It's the same in America. Of course, it's harder for us who came there with some weird accent and unverifiable pedigree, competing with the locals, with people who came from Stanford or Harvard, but of course, the content is important. If you prove that you can, everything else becomes irrelevant, " Urška also adds about their experience in entering and operating in the US market.
And perhaps the most valuable Urška's tip to end with: "The most important lesson is that your unique idea is the most valuable thing of your product and you should never compromise on things that you believe in with all your heart and that make you different from others."